Home > Diving Indonesia > Indonesia Dive Resorts
Raja4Divers
Pulau Pef, Raja Ampat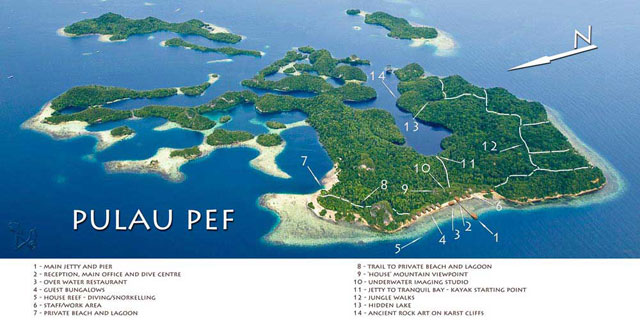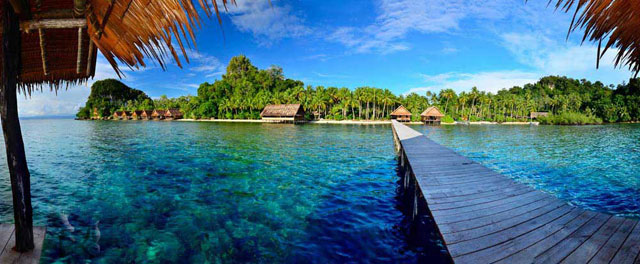 Pulau Pef is an exclusive private island under Swiss management, open year round, located 48 km south of the equator in remote central Raja Ampat West Papua, north of the Dampier strait, 109km from Sorong.
In all aspects, Raja4Divers fosters co-operation with the surrounding villages, from the first traditional island blessing ceremony to the daily resort activities, supporting the local economy by buying fresh fish and produce and using local materials at the resort, as well as employing and training many friendly Papuans from the nearby villages.
Raja4Divers on Pulau Pef redefines the Raja Ampat diving holiday by offering an authentic Papuan experience, one with nature, without compromising on quality, comfort and service.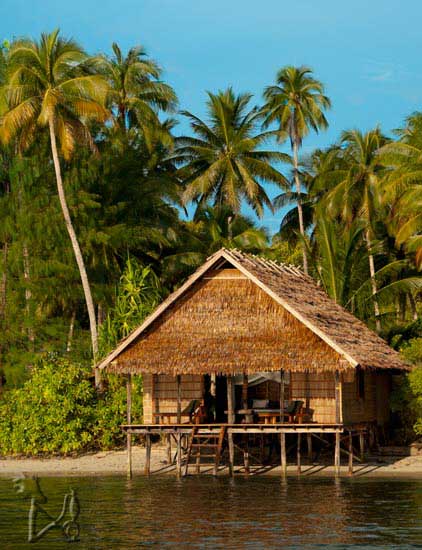 Along a palm fringed beach, the water bungalows are private and extremely spacious at 128sqm with en-suite indoor/open air private garden bathroom, large deck with incredible open views and Wi-Fi broadband internet.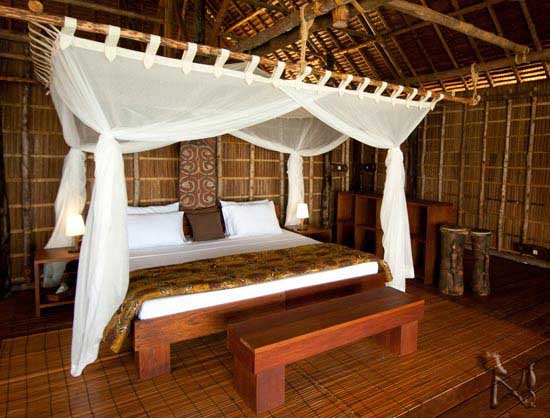 The landscape of Pulau Pef consists of mountainous terrain covered in lush jungle, surrounded by spectacular bays, white sand beaches, coconut palms, pristine blue water mangroves, hidden lakes, blue lagoons, limestone 'mushroom islands, ancient rock art, incredible fauna and flora and some of the world's richest reefs in every direction.
The un-paralleled world class diving and snorkelling in the central Raja Ampat, is all about amazing diversity of species and habitats. A myriad of dive sites and snorkelling locations can be found around Pulau Pef, with a large variety of habitats and experiences: lush colourful soft corals and gorgonians, hard coral gardens teeming with life, large schools of fish, superbly fishy reefs, caverns and overhangs, sea grass beds, pristine blue water mangroves, world war II wrecks, adrenalin filled drift dives, walls and slopes, giant Manta rays, wobbegong sharks, endemic walking sharks, macro critters, dolphins and whale sightings and pygmy seahorses as big as a grain of rice.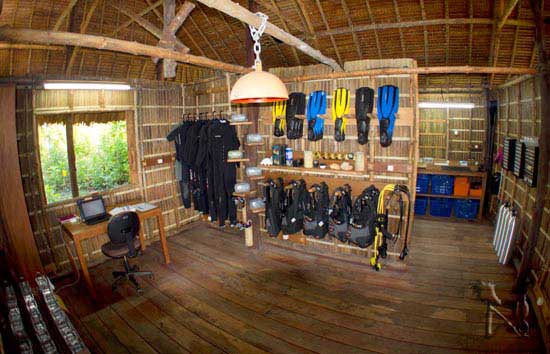 The Dive Centre offers Nitrox free of charge, there are no fuel surcharges for dive trips and the unlimited diving package offers the freedom to dive as much or as little as required. Diving is tailored to suit a fair mix of logistics, weather conditions, and guests' wishes. Depending on the diving plan, surface intervals are often spent enjoying a picnic on a beautiful beach or exploring mangroves and islands.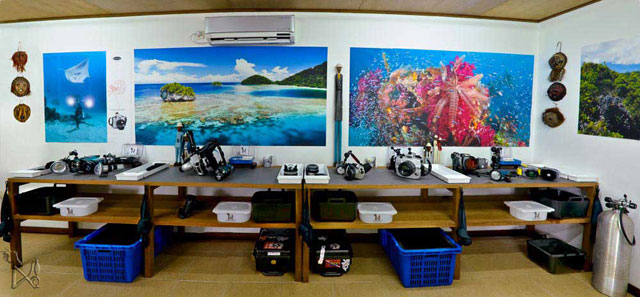 For underwater imaging enthusiasts, the Raja Ampat is a known to be a hot-spot - a 'wide angle' feast for the eyes and a 'macro' delight. The dedicated state-of-the-art Underwater Imaging Studio offers on site expertise, custom imaging services, rentals, workshops, trip movies, instruction, production support, presentations and more – one of a kind in the Raja Ampat area. Guided photo walks are also available for topside imaging enthusiasts. Pulau Pef allows for a host of activities close to nature: Kayaking along it's many islets, bays, beaches, cliffs, lagoons and hidden lakes, for snorkelling, swimming, exploring, birding and photography; climbing to the top of the 'house' mountain for spectacular 360° views; hiking through the jungle; bird-watching; walking the jungle trail to private beach and aquamarine lagoon for sunbathing, relaxing and swimming; diving and snorkelling along the house reef's fishy colourful coral gardens, bommies and overhangs. Not to mention the many photographic opportunities: flora and fauna in the surrounding jungle, birds, views, beaches, islands and panoramic views on boat tours around the island.
Pulau Pef is simply put, a mini Raja Ampat all in one...