Home > Diving Indonesia > Indonesia Liveaboards
Seven Seas
Welcome Onboard!
When it's exquisite diving aboard a luxury liveaboard in the company of a welcoming and professional crew, look no further than The Seven Seas, a traditional Buginese schooner, equipped with modern conveniences that bring that essential touch of luxury to your holiday.
Comfortably accommodating 16 guests in 8 state rooms with en-suite bathrooms, The Seven Seas promises you a high quality diving and adventure holiday mixed with relaxation and a unique opportunity to enjoy onboard spa treatments, amazing pampering at great value.
The Seven Seas is fitted to the highest standards:
Four double & four twin state rooms
En-suite bathrooms with warm water showers
Air-conditioned state rooms, lounge & dining area
Large sundeck & shaded outside lounging areas
Spacious dive deck
State-of-the-art galley serving mouth-watering buffets & a selection of fine wines
Dive & snorkel equipment for hire, including Nitrox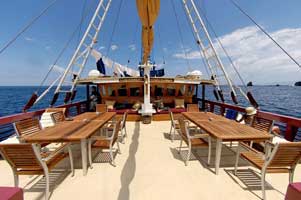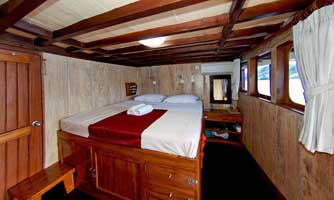 About the vessel
The Seven Seas is a traditional Buginese Schooner. The hull was purchased in April 2005. Mark Heighes and Jos Pet had been discussing their dream boat for years and when they finally ran into the right vessel, they were immediately sold on her. While still unfinished, the vessel was clearly a piece of solid traditional boat-building.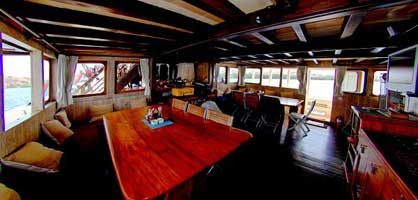 For the finishing of our dreamboat, Mark called in some of the experts that he had worked with previously when building and refurbishing wooden boats. A seasoned boat builder from South Sulawesi, Pak Darwis, headed the local carpenter team. Michael Lock ("Locky"), an old friend and experienced carpenter, also joined the team as the project manager who would finish the boat with the help of dozens of tradesmen, in just under 1 year. With over 10 years of experience in leading live-aboard trips and keeping live-aboard vessels operational, Locky understood what this boat needed to be.
While Seven Seas is primarily catering to divers, its concept is all about safety, exquisite reefs, untouched nature, and comfort. This means that throughout the year, for special group charters or just to step on with your individual family, the team of Seven Seas organizes adventure cruises that offer the best diving in eastern Indonesia, but also consider needs and wishes of snorkellers, free divers, kayakers, nature history lovers, and families with children.
Specifications
Traditionally, Phinisi vessels were build in South Sulawesi, this is also where The Seven Seas came from. The skilled builders are commonly grouped under the category of Buginese, but other ethnic groups from South Sulawesi also join the ranks of traditional boat builders. The Phinisi schooners have a 7 sail rig, the form of the hull is very easily distinguished and is often between 30-40 m long. The shape of the hull enhances the vessels stability while at the same time reducing the water replacement, optimizing for speed. In Indonesia, Phinisi's are still used for transport of goods between the larger islands.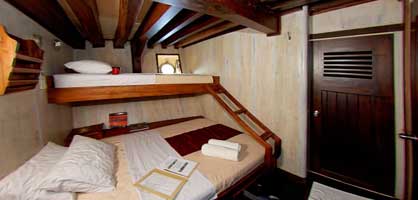 Seven Seas was designed as a comfortable live aboard but the original shape and size proportions were maintained. Details:
• Size: 33 m - Beam: 8 m - Tonnage: 250, Engine: Mitsubishi 8M22 450HP V8 -
• Cruising Speed: 8.5 - 9 knots, Water Capacity: 9 tons per day, 2 freshwater makers
• Fuel Capacity: 18 tons
• Passengers: 16 - Crew: 14 people, Tenders: 3 with twin outboards
• Communications: Satellite phone, SSB, VHF, Navigation: Radar Furono, Sat
• Nav. Furono, Sounder RayMarine, Back-up GPS plotter: Navman Tracker
• Safety Equipment: 2 life rafts (20 persons each), 40 adult, 10 infant life jackets
• Dive Equipment: Twin 9 CFM compressors (Shiffaur), 24 aluminium tanks, 9 sets
• Rental Dive Equipment, Snorkeling gear and Wet-Suits
• Full Air Conditioning: All Rooms and Indoor Spaces, Entertainment System:
• DVD, TV, Stereo Sound, Deck Showers, Full service bar, Library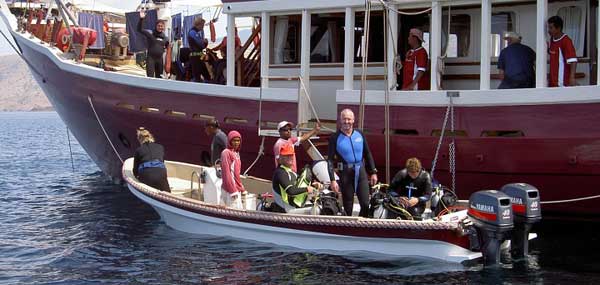 About our destinations
To make optimal use of the best seasons in different areas, The Seven Seas operates during different seasons in different outstanding areas. We suggest guests consider these areas for the recommended seasons, but The Seven Seas is also available for custom-made expeditions to other destinations in central and eastern Indonesia.
1. Komodo - With dragons on land and a utopia underwater, you'll find an array of dive sites to suit every level of experience. Great landscapes, superb hikes, exotic wildlife and stunning views and beaches complete the picture.
2. Raja Ampat and Triton Bay (Papua) - There aren't many liveaboards the calibre of The Seven Seas that cover this area, which simply helps in making this adventure even more special. The region boasts the richest tropical coral reef biodiversity recorded anywhere.
3. Banda Sea and Halmahera - Once sought by Columbus and Marco Polo, the Spice Islands in the Banda Sea have long been the most coveted destination on earth. Now coveted for their spectacular diving and snorkelling on some of the world's richest reefs - steep drop offs, impressive hard coral and great fish life make this area simply breathtaking.
4. Alor and Wetar - Now recognized as one of Asia's top ten dive destinations. Muck diving is a must here as is diving with the huge shoals of reef fish. Greater hammerhead can be found near Reong Island and crocodiles still live on Wetar. Whales and dolphins pass here in large numbers.
5. Wakatobi - Fast attracting a reputation as one of the top dive spots in the world, you will enjoy some of the healthiest coral reefs you are ever likely to dive. Especially the small outer Islands, with their colonies of nesting seabirds and steep drop-offs, which bring you eye to eye with some impressive schools of fish and some massive dogtooth tuna.
Komodo
Komodo National Park is a World Heritage site situated in the straits between Sumba and Flores and consists of the three larger islands of Komodo, Rinca and Padar, as well as numerous smaller ones. Because of its unique geology, the islands have developed equally unique wildlife. With dragons on land and a utopia underwater, you will find an array of dive sites and hiking trails to suit every level of experience.
From pristine corals, mantas, sharks, turtles, dolphins, dugong and giant pelagics to tiny pygmy seahorses, nudibranchs and frog fish, you'll find the diversity of marine life inspiring if not mind boggling. The islands feature a dramatic wild savannah landscape with patches of forest especially on the southern hills of Komodo and Rinca. White and red sand beaches, blue lagoons teeming with fish and some of the most spectacular underwater scenery in the world entice divers and guests from around the world. The underwater topography is as varied as the marine life it homes. Dive sites vary from gentle coral slopes to sheer cliff walls, channels, flat bottoms, pinnacles, caves, swim-throughs and a host of hard and soft corals. From the Flores Sea in the north, the warm waters gradually become cooler as you travel southwards into the Indian Ocean. Komodo boasts countless beautiful deserted beaches, hiking trails, great wildlife, shallow reefs for snorkeling and lagoons for water-skiing. Perfect for divers to take their family on a holiday, as there is something to be discovered for everyone.
Dive conditions vary with the tides, throughout the day. Therefore it is important to dive with the tide tables to hit every site at the optimal time. This is where your Seven Seas crew and dive guides excel!
- Southern waters: Generally provide better visibility from December through April. Lower visibility in the dry season - in the south - is due to oceanic up-welling and plankton richness, which makes this area very rich in marine life, especially invertebrates. An underwater photographers dream! Highest temperatures in the south are during the rainy season.
- Northern waters: Generally provide better visibility year round. Water temperature is usually higher. Fish are abundant everywhere but the rocks and reefs in 'current' areas provide the best chances for spotting the bigger fish, especially the sharks and pelagics.
Activities
• Superb for diving and snorkeling
• Hikes of 45 mins to 2.5 hrs to see the Komodo dragons, wild deer, horses and buffaloes
• Deserted beaches and surrounding hills are ideal for your sunset drinks on the beach
• Bays where the boat will anchor are perfect for afternoon water-skiing
• Slow tours with one of the tenders or kayaks to explore the coastline from the water
• Fishing is allowed in the pelagic fishing zone and outside the National Park
• Near Sangean Island, troll for tuna, Spanish mackerel, sail fish and giant trevally.
Raja Ampat and Triton Bay (Papua)
There aren't many live-aboards the caliber of The Seven Seas that cover this area, which makes this adventure even more special. More than 1500 islands make up this archipelago off mainland New Guinea, and those islands support the richest tropical coral reef bio-diversity anywhere in the world:
• 1,000 species of fish
• 700 molluscs
• 540 species of scleractinian (hard) corals = 75% of the world total
• 4.6 million hectares of reefs, seagrass beds, mangroves and rocky coastline
• low resident human population and minimal industrial development
No wonder that this ecosystem attracts more and more divers and is earmarked by the Indonesian Ministry of Tourism and Culture for future eco-tourism development. With this in mind, the Government of Indonesia is looking to nominate the archipelago as a World Heritage Site.
Some of the highlights include war wrecks, encounters with dolphins, the karts hills and underwater caves of Misool Island and the thrill of drifting easily over some of the most pristine and remarkable coral scenes. Then there are the extensive mangrove forests and the many deserted beaches. Some excellent diving can be found in the "blue water mangroves" just west of the Island of Misool. In the north there is some superb critter diving at Waigeo Island and great coral and fish dives in Dampier Straight.
Activities
• Spectacular diving and snorkeling
• Sensational kayaking in the shallow bays, especially in the mangrove forests
• slow afternoon cruise with one of the tenders - get up-close-and-personal with the stunning land scenery
• Bird spotting - find the illusive Bird of Paradise from the water
• Hiking into the forest to experience the diversity of birds and animals, we have a number of contacts with the local people who can guide you on your search for mysterious birds and plants
• Fishing - unexplored fly- fishing for bonefish or deep water trolling for marlin and sailfish
Banda Sea and Halmahera
Once sought by Columbus and Marco Polo, the Banda Islands were the original Spice Islands and the most coveted destination on earth, particularly by the Dutch and Portuguese who colonized the islands and exported the indigenous nutmeg and cloves. History tells of a violent past under colonial rule. Now, the seas around these tropical paradise islands are coveted for their spectacular diving and snorkelling on some of the world's richest reefs, unspoiled corals, and large pelagic fish.
The Banda Sea is surrounded by islands from the large islands of Buru, Halmahera, Ambon and Seram in the north towards Gorom, Kei and Aru in the east, the islands of Tanimbar, Wetar and Reong, and a series of smaller islands such as Babar and Moa, touching East Timor in the south. Ambon Bay is host to some of Indonesia's best critter diving. The nearby island of Halmahera is still largely unexplored and has recently produced some stunning sites.
The small limestone island of Reong lies off the northwest coast of Wetar. Spectacular walls and an interesting critter dive are on the agenda and, if you're adventurous, you have a good chance to see resident saltwater crocodiles. Blue whales also frequently visit.
Gunung Api: an isolated volcanic peak ris ing from the heart of the Banda Sea. Surrounded by crystal clear waters this uninhabited island is home to thousands of nesting seabirds. Exuding sulphur both above and below the landmark, the water is also home to extraordinary numbers of banded kraits (sea snakes), which have become a special attraction for divers. It's not unusual to have swarms of these non-aggressive sea snakes around you while diving on Gunung Api.
Lucipara: these 5 tiny atolls in the middle of the Banda Sea are the tops of undersea mountains rising up over a mile from the ocean floor. The uninhabited beaches are ideal green turtle nesting sites, while the reef's breathtaking drop off to ocean waters is ideal for diving and snorkeling. A highlight here is night diving with the rare Photoblepheron bandanensis or more commonly known as the "flash light fish".
Activities
• Wall diving with great visibility: Excellent and colourful hard coral, healthy fish life
• Spectacular island backdrops with many volcanoes
• Beautiful uninhabited beaches for sunset strolls
• Fishing around the islands in deeper waters has been spectacular, especially for tuna
• Enjoy the combination of superb diving and intriguing history
Alor and Wetar
Unspoiled, remote, yet bewitchingly accessible aboard The Seven Seas, Alor and its 18 islands are now recognized as one of Asia's top ten dive destinations. Muck diving is a must here as is diving with the huge shoals of reef fish who live on the pristine coral reefs. Marvel at the wondrous walls and grand coral gardens that are home to a huge array of marine life.
On land, the area is mountainous as a result of volcanic activity, which makes for stunning scenery. The waters around the islands are known for their strong currents, particularly in the narrow strait between Pantar and Alor and also between Lembata and Pantar. The straits in the area play an important role in the exchange of marine life between the Indian and Pacific Ocean. Each year whales and dolphins travel from the Pacific and Indian Oceans through the deep but narrow Nusa Tenggara island chain, which has been identified as an important migration route for numerous whale species as well and great schools of tuna.
Flores and Alor are rich in large marine life, especially whales and dolphins. Coastal communities living along eastern Indonesia's marine migratory routes, especially in the villages of Lamalera and Lamakera, have been hunting whales for centuries. Equipped with simple spears, they take only what their village needs to eat and barter in return for vegetables and rice.
Coral reefs are mostly found along the northern coast of the Solor and Alor island group with some coral reefs lining the channels in between major islands. The southern coastline of the islands, particularly on the island of Lembata, is lined with rocks and only little coral. The reefs also include rocky bottoms along the northwest tip of Alor starting in the strait between Alor and Pantar.
The Solor and Alor islands are located east of Flores in Nusa Tenggara Timor. Kalabahi is the largest town on Alor and the capital for Alor Regency.
Activities
• Whale & large marine life watching, spot whales surfacing & slip into the tenders to
• take a closer look (seasonal)
• Visit traditional whale hunters, option to go with whale hunters on a trip (plan in advance)
• Land trips including:
• Visits to traditional weaving villages
• Option to see crocodiles on Wetar Island
• Spectacular diving especially for experienced divers
• Fishing for Spanish mackerel, dogtooth and yellowfin tuna
Wakatobi
Also known as the Tukang Besi Archipelago, the Wakatobi Marine National Park is the second largest Marine Park in Indonesia. Its four main islands of Wangi-Wangi, Kaledupa, Tomia and Binongko each lend the first two letters of their names to give the area its name.
Fast attracting a reputation as one of the top dive spots in the world, it's hardly surprising as the islands enjoy some of the healthiest coral reefs you are likely to dive. Wakatobi has the largest atoll in the world (Kaledupa), which is home to some of the most bio-diverse marine life in the world. Dolphins, manta rays, whales, turtles, hammerhead sharks, whale sharks and dugongs can all be found here.
Especially the small outer Islands, with their colonies of nesting seabirds and steep dropoffs for fantastic wall diving, will bring you eye to eye with some impressive schools of fish and some massive dogtooth tuna. March to May & October to December are usually periods of relatively calm weather.
Activities
• Superb for wall-diving on the outer atolls and invertebrates at the larger islands
• Village trips to visit the Bajo communities, living in houses on stilts over the water
• Bays or atolls where the boat will anchor are perfect for afternoon water-skiing
• Explore the coastline in one of the tenders or kayaks
• Fishing for dogtooth tuna, yellowfin tuna, Spanish mackerel and trevally