Home > Diving Indonesia > Indonesia Liveaboards
Arenui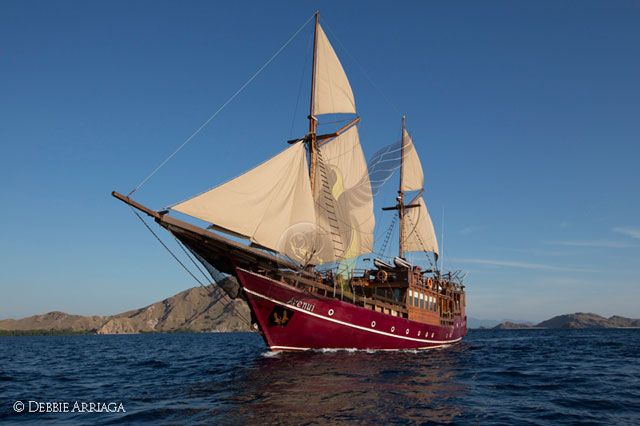 To live up to our motto of being "The Boutique Liveaboard", attention has been given to every aspect of the Arenui to ensure that it fully embodies our philosophy of providing a unique dive holiday experience, giving you the best there is in terms of diving and leisure activities, without sacrificing any of the comforts and luxury you would expect to get from a top-notch hotel on land. Intimate but roomy, the Arenui is an exquisite ship and a work of art in itself with its wooden detailing and decorative touches. Moreover, it aims to differentiate itself from other liveaboards by providing personalized accommodation, services and facilities.

Accommodation
Each of the Arenui's cabins have been decorated and furnished in a stylish and inspirational manner according to a specific theme. The Arenui can host a maximum of 16 passengers who can luxuriate in exceptionally spacious cabins that are tastefully furnished with exquisite handicrafts from each of the Indonesian provinces. Each cabin, which far surpasses anything one would expect to find on a liveaboard (starting from 17 square meters), has a private en-suite bathroom and individually controlled air conditioning. A king-size bed and separate salon area assures our guests' comfort. The Arenui can be your private sanctuary and second home, but one located amidst a constantly changing tropical landscape!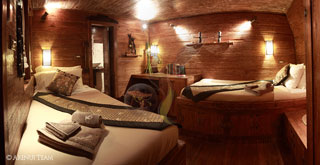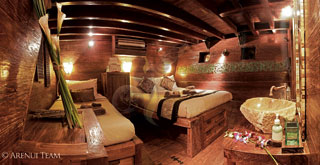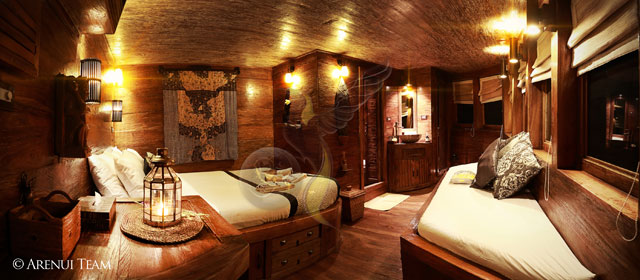 Services and Facilities
On the Arenui, all amenities, such as a full range of massage and spa treatments, are included with the intent to make you feel as comfortable and relaxed as possible at all times. We constantly strive to ensure that our service is attentive yet relaxed, and never intrusive. We believe that this individual service and our personalized touches on board will make your holiday an unforgettable one.
Meals
We have given the same attention to making our meals extraordinary, from the setting to the décor and choice of dishes. Rather than the typical dive liveaboard buffets, you will be able to choose from our daily à la carte menus. Our food is plentiful, fresh, and centered around local and flown-in ingredients and our internationally trained chefs then add in their own touch of magic, drawing inspiration from local and international cuisine. Even lovers of gourmet cuisine are sure to discover new taste experiences.

Leisure activities
In addition to providing the perfect setting for enjoying the beautiful surrounding scenery in between dives or at the end of the day, our Skydeck and Indoor Bars are equipped with a full range of leisure and recreational facilities such as an on board spa, a computer with internet connection, as well as an extensive selection of books and movies in our library/entertainment centre for your relaxing moments.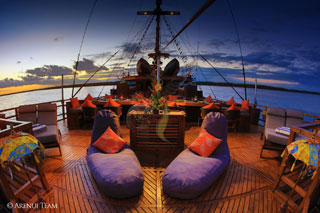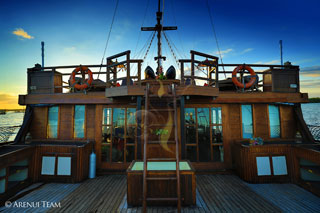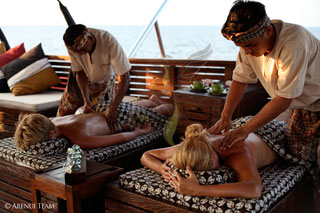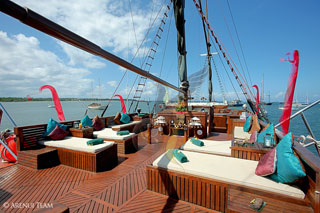 Diving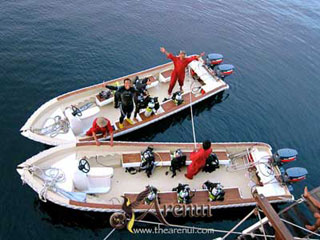 Here at the Arenui, we aim to provide you with the convenience of a fully equipped dive liveaboard, combined with all the richness, artistic touches and comforts of a 5 star luxury boutique hotel. But unlike a land-based resort, this luxurious floating hotel drops you off directly at the best dive sites that Indonesia has to offer!
The Indonesian archipelago, located within the Coral Triangle, boasts the world's highest marine biodiversity and offers truly unique diving in a picturesque island setting. This region is truly a dive mecca and high on most diver's wish-list.
Just like our vessel design and services, the same attention to detail was given to our cruise itineraries, which not only include all the usual popular diving sites in Indonesia but also other world-class destinations which have been overlooked by most recreational diving operators. When it comes to our annual schedule, the Arenui has chosen the best dive sites based on the best times of year to explore these world famous destinations.
To showcase the best of Indonesia, we spend the May to October months mainly around the Komodo National Park area, taking in dive sites and landscapes from Bali right across to Flores and Alor. In November we move towards Ambon in Maluku and the Spice Islands in the Banda Sea, working our way to the Raja Ampat area of Western Papua to continue dive cruises from December through until April.
In Indonesia, whether its nudibranchs and rhinopias you're after, or manta rays and schooling fish, this region really has it all. From black sand muck dives to crystal clear drift dives, from warm water to cold, Indonesia is a place to visit time and time again; once is never enough!