Home > Diving Indonesia > Indonesia Dive Resorts
Bunaken Oasis
Bunaken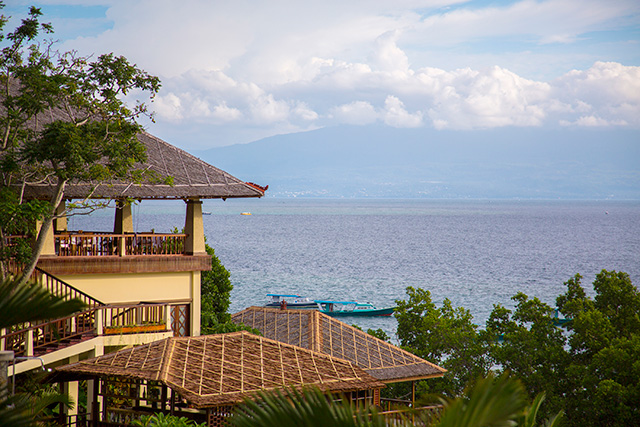 Bunaken Oasis is the first truly luxurious resort on Bunaken Island, offering stunning views across to the mainland, a 5* dining experience, a panoramic, free-form, fresh water swimming pool with waterfall and unparalleled levels of service.
We are the first resort on Bunaken to have water makers with UV water treatment, meaning all the water in the resort is fresh water - including showers and the swimming pool. We are also the only resort on the island to have proper black water treatment plants, including laundry and kitchen specific treatments, so our infrastructure is the first, and only, not to negatively impact the national marine park. Fresh water dispensers and thermos water bottles are provided, to negate the use of individual plastic bottles.
Bunaken Oasis has a private guest jetty for easy access for guest transfers and for access to the dive boats.
Our panoramic restaurant offers a combination of buffet and a'la carte menu, with dishes combining national and international flavours.
We are also the first resort in North Sulawesi to be awarded our permit under the new central government scheme, "Facilitator for Nature Tourism".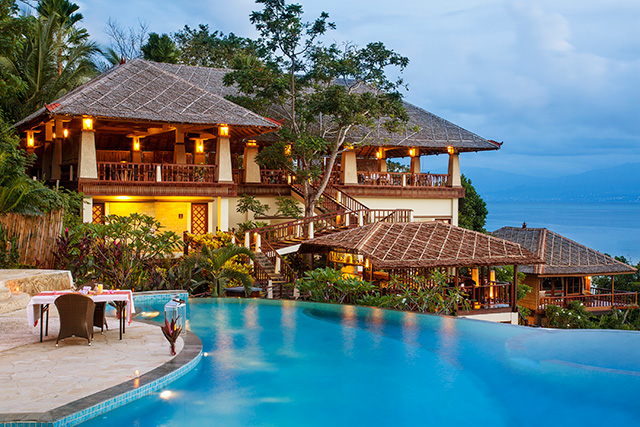 Accommodation
All of our luxury 70 sqm cottages are built on the hillside and therefore have great views. They all have air conditioning, a modern indoor bathroom, organic toiletries, hot and cold water dispenser, Dolce Gusto coffee machine, mini fridge, safe, hairdryer, international power adapters and an incredible sea view balcony, and WiFi is available throughout the resort.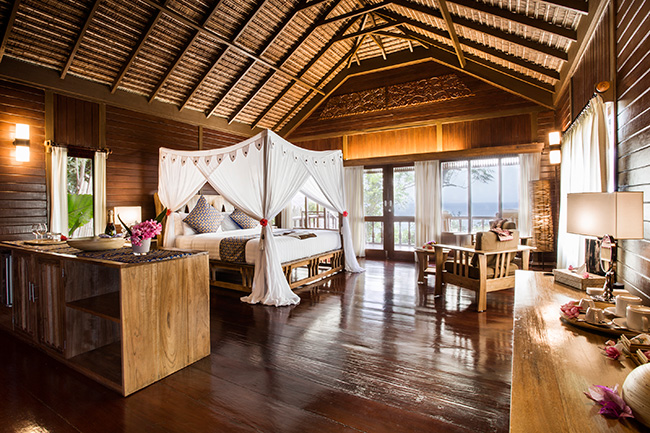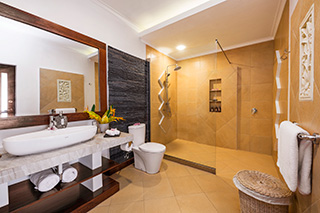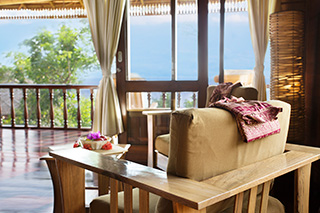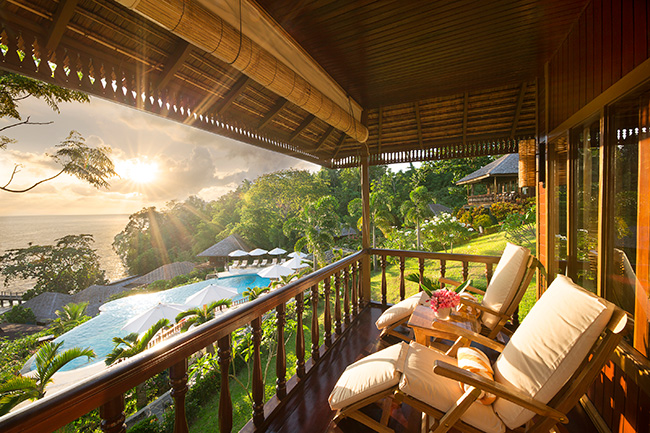 Diving
Our PADI dive centre has been purpose built for the resort and offers courses for all levels to DM.
The dive centre consists of a classroom, a dry room, a wet room where guests' wetsuits and equipment are hung after being washed at the end of every day, and fresh water camera rinse tanks.
For the photographers, we have a large, climate controlled camera room, with 220V and 110V in every bay, as inside each cottage, we also supply international 3 way extension leads, so there is no need for lots of power adapters.. We have individual bays around the room, with a few larger ones for those (like me) who have a larger rig. A central table is available for those who wish to spread out a bit or during housing cleaning, we also have air tanks and nozzles for drying camera housing before changing ports, batteries or cleaning. All bays and the central table are covered in neoprene and we have plenty of fresh towels available.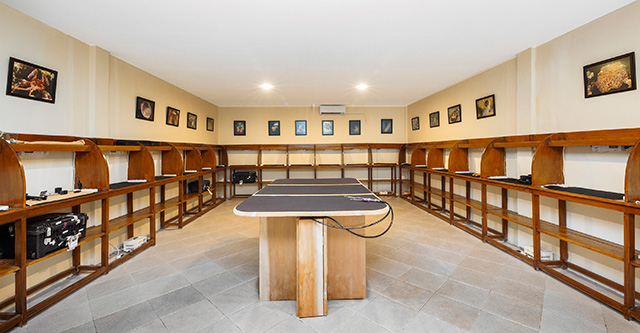 All of our dive guides are DM or above. We have a maximum of 4 divers to a guide.
For divers who are Nitrox qualified, this is also included FOC.
Our wooden dive boats were also custom built on Bunaken, by local craftsmen. Every dive boat has a fresh water deck shower, sun bathing decks, a rinse tank for camera equipment and a proper flushing toilet! The boats have hot and cold water, hot drinks and fruit and snacks for after dives.
Our fleet consists of 2 x traditionally styled, 16m, wooden boats with twin 100bhp 4 stroke engines, 2 x larger wooden boats with 3 x 100bhp engines, and one larger fibreglass catamaran with dual truck engines.
The power and speed of our boats mean that we can explore the whole of the national park (and beyond) and we are not restricted to the local dive sites.
Most importantly, we limit the number of divers on each boat, 4 on a standard wooden boat, 6 on the larger ones and 8 on the catamaran. So we make sure that the boats are never crowded and no dive site is too busy for guests to fully enjoy their diving experience.