Home > Diving Indonesia > Indonesia Liveaboards
Tiaré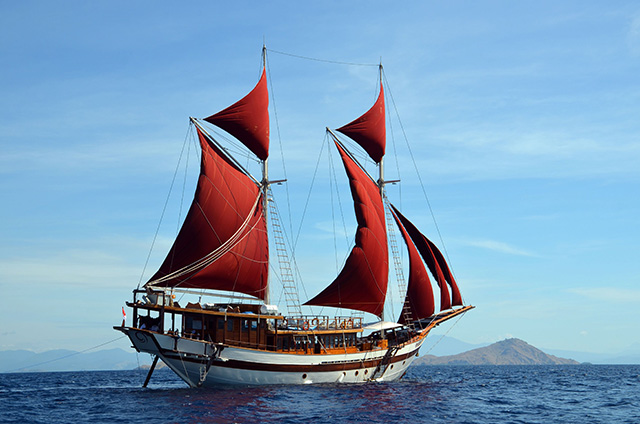 Welcome to Tiaré, a luxurious yet traditional Indonesian Phinisi that will take you on a journey of discovery to some of the most stunning diving spots in the world.
The Tiaré began as the dream of 5 cousins, discussed over a summer dinner party. This dream to create a luxurious dive boat built by the master builders of South Sulawesi came together with careful design, the sturdiest and most beautiful materials sourced from sustainable sources, high-tech components and safety equipment… and of course, time.
Experience diving in the rich waters of the Indonesian archipelago and meet people from the many different cultures on the diverse Indonesian islands that you would never have the opportunity to see while staying in more tourist-heavy areas.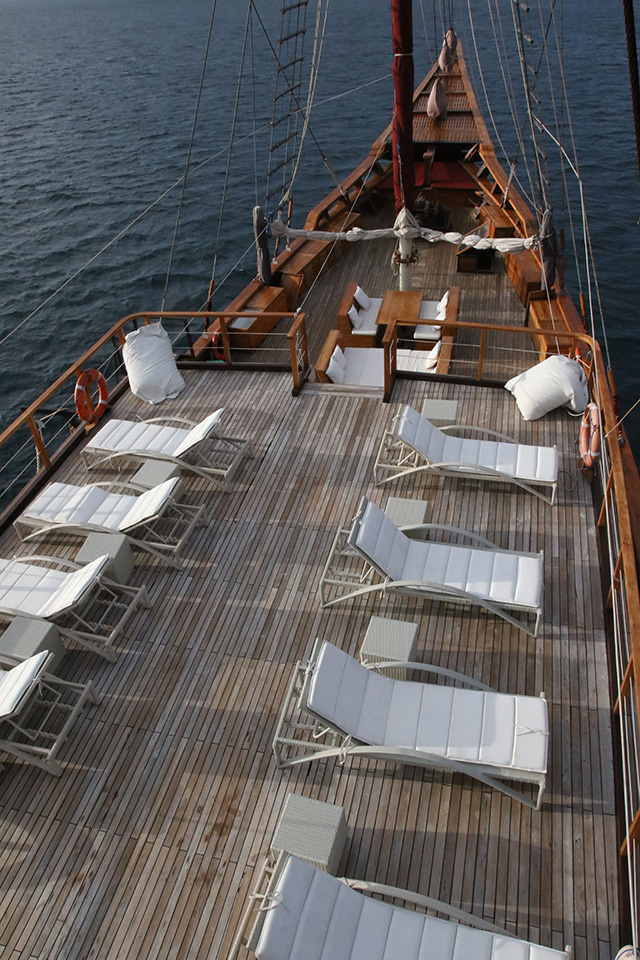 What You Can Expect On Board Tiaré
Tiaré offers a spectacular experience for divers as well as non-divers, with bright airy cabins, spacious bathrooms and a large front deck where you can socialize, eat under the stars or just relax in the Indonesian sunshine. There is also a separate diving deck with hot water showers to warm up after a night dive.
All indoor and outdoor living areas, decks, and cabins are made with antique teak salvaged from old Joglos, which not only gives the feel of "real Indonesia", but has helped to reduce the use of Indonesia's disappearing rainforests.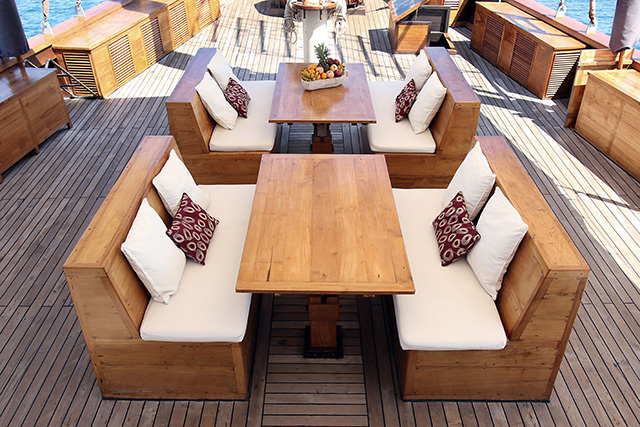 Living Area
Designed to be a space where you feel totally at home with an extra touch of luxury, comfortable couches and tables are the perfect place to socialize and catch up with your fellow divers. If you need to rest, have a nap, read a book or watch a film. A bar stocked with imported wines and a selection of other drinks is a welcome treat after a day of diving and a small cigar store is available for cigar connoisseurs. As well as comfortable couches, the air-conditioned indoor lounge also has tables where dinner can be served as an alternative to the main deck depending on weather conditions and your preference.
There are also PCs where you can edit photos or videos and also an indoor camera room, which has plenty of room to store your lenses, charges, lights and even your spare cameras.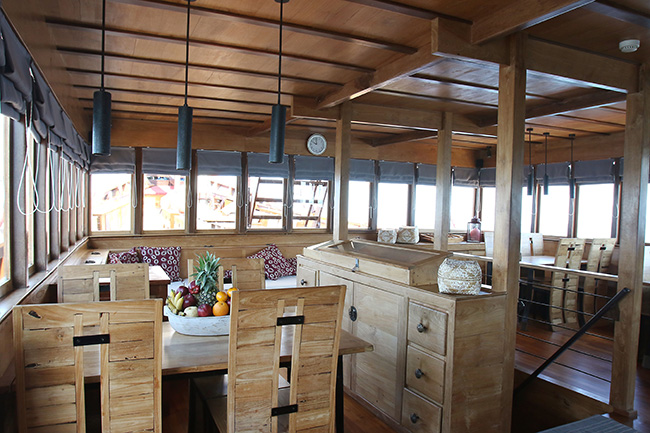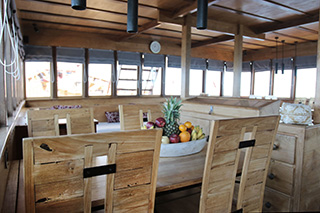 Bow lounge
In addition to the indoor living area, the outdoor bow lounge is a space to enjoy and experience the freedom of being at sea. Watch the crew at work, birds flying overhead or count the millions of stars in the clear night sky from comfortable loungers and couches.
Cabins
More like a 5-star hotel than a boat, the six cabins on Tiaré are your home away from home designed with relaxation and the perfect sleep in mind. You'll enjoy soft linens and well thought out lighting and plug placement as well as spacious ensuite bathrooms, hot water showers and environmental friendly body wash and shampoo.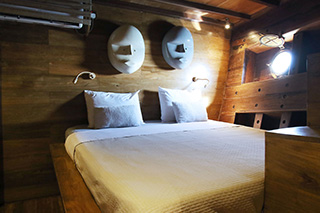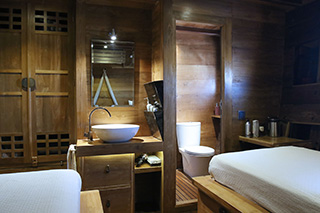 Two triple cabins are spacious enough to accommodate two adults and one child or three adults, with under-bed storage to ensure ease of movement around the cabin. The other four cabins, two twin and two double, accommodate two adults each for a maximum capacity of 14 guests.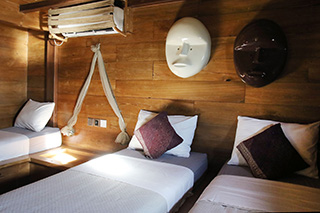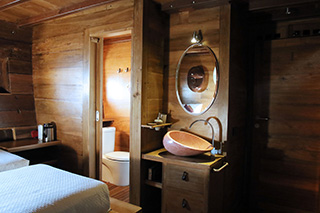 With 14 guests on board Tiaré is comfortable and spacious enough for both a social atmosphere and space to relax and enjoy down time in the luxurious cabins.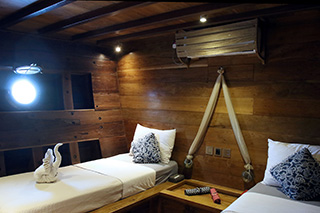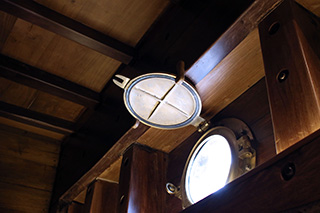 Dive Deck
We are passionate about diving and we want each diver to have his or her own personalized experience on board Tiaré. Every diver has their own area to set up their equipment.
Highly qualified staff is on hand to help set up and transfer your equipment to the waiting tender dive boats and after a dive your wetsuits will be washed and dried for you.
Safety
All on-board instrumentation, engine, generators, Nitrox, plumbing, fire detection and electric systems are at the top-of-the-range imported products.
With a wide range of knowledge from architecture to engineering and as seasoned divers, the owners and designers of Tiaré have settled for nothing but the very best when it comes to safety on board and while diving.
In addition, you will only dive if the weather and sea conditions are good and every diver's skill level and experience is taken into account. Only 4 divers are permitted in each dive group and PADI standards are adhered to at all times.
Each diver is fitted with an electronic rescue and location system and a waterproof pocket with a cell and whistle.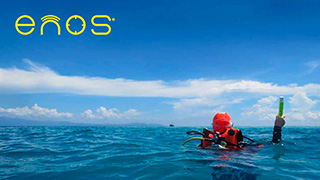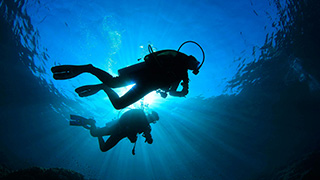 Safety Equipments
12 beacon ENOS plus, 1 receiving station for rescue*
* The beacon will be installed on each customer's BCD, while the receiving station is on the diving boat. If customer has problems on surface, he may activate the bacon, the receiving station report his positions.
30 Life Jackets
2 Life-raft carrying 20 people each
1 oxigen tank on main boat
1 oxigen tank on diving boat and emergency kit
Fire detector system
1 hydrant
Diving
12/15 litre aluminium cylinders, plus 7 litre tanks for those who want less weight on their back
Either air or Nitrox 32
All cylinders are fitted with INT/DIN adaptable valves
12 diving station located aft with little box for small gear and 1 big box under each seat
12 pool towels located aft, fresh and clean every morning
2 hot showers located aft
2 diving boat , 6 meters and 90 HPeach, 6 diver stations each, hot tea and coffee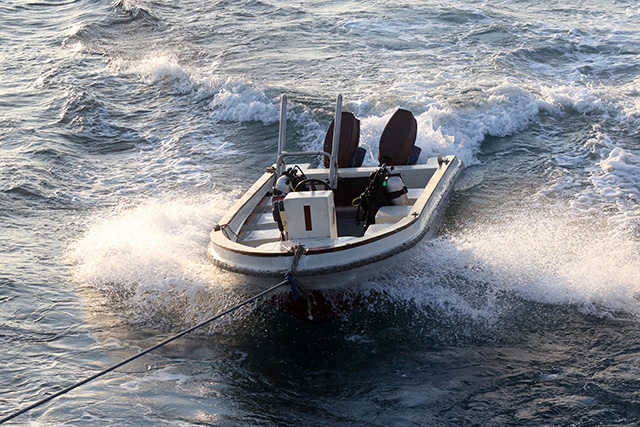 Where We Dive
Tiaré will take you to some of the most incredible areas for diving in the world. In the middle of the 'Coral Triangle' that extends from Australia to the Philippines and from Borneo to the South Pacific, Indonesia has some of the most colourful and varied marine life thanks to the nutrient-rich seas.
Encounter huge open-water fish species around the cool waters of Komodo, drift over colourful fields of coral in pristine Raja Ampat, be astonished at the enormous schools of fish in the Banda Islands and shoot the bizarre creatures around Maluku islands.
Tiaré cruises in the stunning Indonesian archipelago with a number of different routes and departure and end points. From Bali, Flores and Komodo National Park, Alor and all the way to the pristine reefs of Raja Ampat, East Timor and the Banda Sea, Tiaré offers trips from 5 to 11 nights.
For the even more adventurous, the 'Forgotten Islands', a 1000 kilometre chain of islands stretching from East Timor to West Papua are where you will find more incredible dives and marine life than you could even imagine.
Halmahera is another more remote site situated exactly between Lembeh Strait and the Raja Ampat islands, in the centre of the Coral Triangle. Here coral experts have already recorded 450 species, which is more than half of the corals in the world!