Home > Diving Indonesia > Indonesia Dive Resorts
Lembeh Resort
Lembeh Strait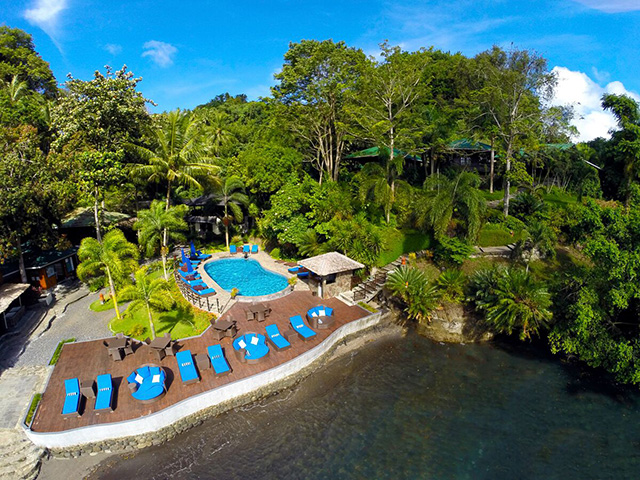 Lembeh Resort is nestled away in a private cove with a wealth of exotic flora and fauna in a central part of Lembeh Island. The secluded location of the resort ensures a quiet and tranquil experience, while the warmhearted team offers service with a smile to make certain that your experience of Lembeh will be the best that it possibly can be. You will discover that despite of the seclusion on a tropical island in North Sulawesi you will not have to give up the comforts of a luxury ocean front resort. Our cottages are charming, spacious and comfortable with a wealth of modern amenities.
The Lembeh Strait is widely recognized by marine biologists as having the Worlds highest concentration of rare and unusual marine life. The practice of Muck-Diving, also known as Critter-Diving, began in Lembeh Strait in the mid-nineties when marine biologists started to explore the black sand slopes of Lembeh Strait to identify the amazing diversity of animals that inhabit the underwater realm of Lembeh Strait. Today, 20 years later, divers who enjoy both macro as well as wide-angle underwater photography travel from all over the world to experience this magical place in North Sulawesi.
Perched slightly above the beautiful waters of Lembeh Strait and surrounded by lush tropical gardens Lembeh Resort was built to inconspicuously blend into the natural landscape. Westerly views of ancient extinct volcanoes and spectacular sunsets await you. Experience the warm hospitality, tropical beauty and unique wonders of our home, Lembeh Resort. We are committed to delivering North Sulawesi hospitality at its best and making our guests' stay enjoyable and memorable both above and below the water. With a 3:1 staff ratio t ensure a high level of service; our team looks forward to welcoming you to Lembeh Resort soon.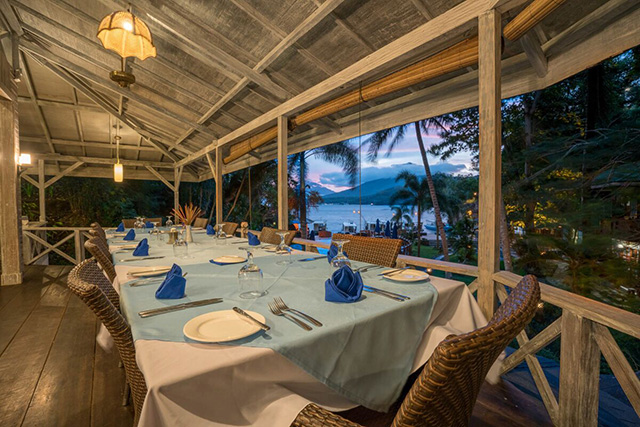 Rooms
Lembeh Resort offers a total of 20 rooms in the following categories:
1 x Cliffside Villa
13 x Luxury Cottages
6 x Garden View Rooms
Standard Room Features
24 hours electricity
Minibar
Air-condition
Complimentary tea, coffee & mineral water
Complimentary refillable aluminum water bottle
Complimentary Wi-Fi
Hairdryer
Safe
King Size bed (all rooms can be set as double or twin)
Resort information folder
The Cliffside Villa
This beautiful luxury unit is perched on a green hillside, surrounded by colourful floral gardens. So go head, jump in the pool, bask in the sun, enjoy a romantic candlelight dinner, relax and enjoy! The fully air conditioned one-bedroom Suite offers a spacious lounge with an espresso machine, minibar, flatscreen TV and a comfortable desk, perfect for working on your images after a day of underwater photography.
The bedroom has floor to ceiling windows, a kingsize canopy bed and is through sliding doors connected to an elegantly decorated bathroom with two sinks, one indoor shower as well as one Balinese style open air shower from which one can directly access one of the pool-side sundecks. Nowhere is the natural beauty of Lembeh Island enjoyed better than at the outdoor living areas of the Cliffside Villa. The two sundecks and one covered veranda offer privacy and 180° panoramic views of volcanoes, sunsets and the calm waters of Lembeh Strait. The large 27m2 infinity pool offer the best spot in the resort to enjoy a leisurely swim or a chilled sundowner cocktail with a loved one.
The Cliffside Villa offers the "Standard room features" plus the following features:
Private infinity pool (3x9m)
1 bedroom, 1 living room, 1 bathroom, 1 sun deck, 1 patio, 1 balcony
1 outside shower
1 inside shower
Air conditioning & ceiling fan
Flat screen TV and Blue Tooth Speaker
Nespresso machine & French press
Cookies, tea, 1 complimentary bottle of wine
First fully stocked minibar is complimentary
Butler service
Room service
Room-to-Room telephone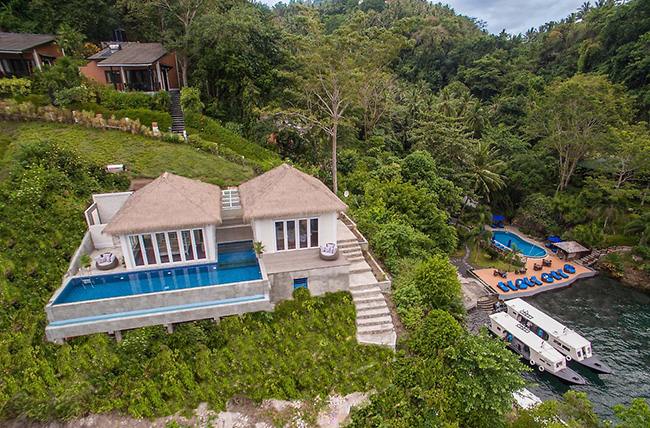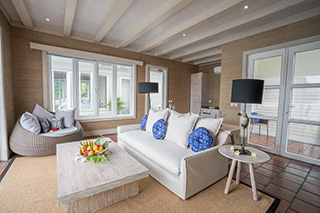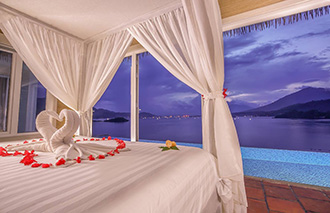 The Cliffside Villa
Luxury Cottages
All Luxury Cottages have great ocean & sunset views and include 24-hour electricity, en-suite bathroom with hot water, hairdryer, air-conditioning, wardrobe, table and chair, dispenser for cold and hot drinking water, complimentary tea and coffee, mini-bar, electronic safe and free Wi-Fi. All Cottages are standard equipped with a king size bed, fitted with 100% cotton bedding. All can be re-fitted for two single beds. With exception of our extra large Quad-share cottages all Cottages can accommodate up to maximum 3 guests.
The Luxury Cottages incorporate a mix of modern materials combined with traditional Indonesian detailing and organic touches to promote a sense of harmony and balance. Attention to detail has been applied throughout, from ambient lighting to elegant furnishings.
Premium Luxury Cottages are located closer to the central facilities (dive-center & restaurant) and have a different type of interior, it's a little less "Indonesian" and more bright and modern. They still have nice views but the views are not panoramic ocean views as they are higher up in the resort. They are not quite as private/quiet as the Hillside Luxury Cottages but have a more modern interior with a more luxurious feel.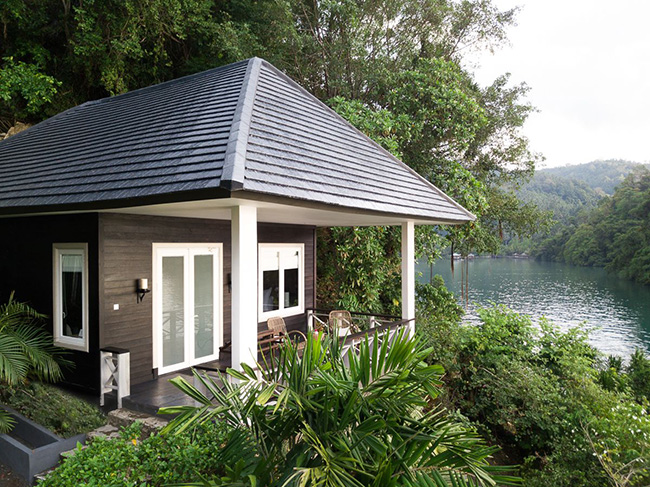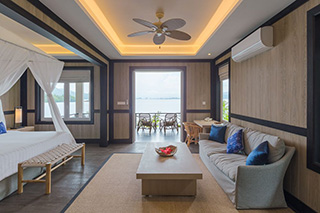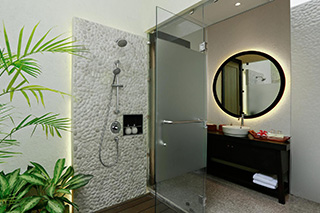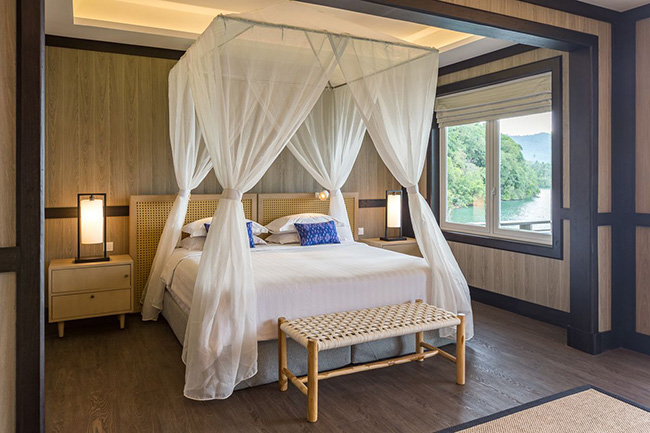 Premium Luxury Cottage
Hillside Luxury Cottages have the best views in the whole resort and are the quietest and private cottages. They require climbing more stairs than the premium Luxury Cottages, the higher location means that they have truly panoramic views. These Cottages are furnished with an Indonesian flair.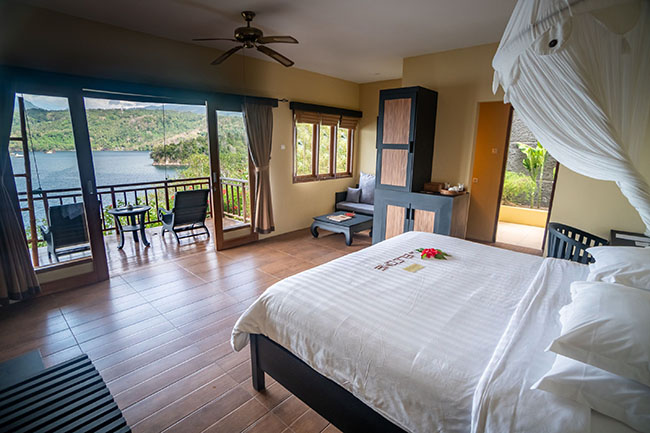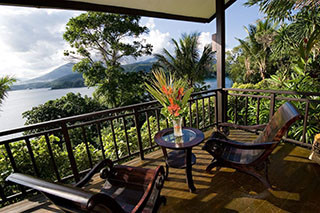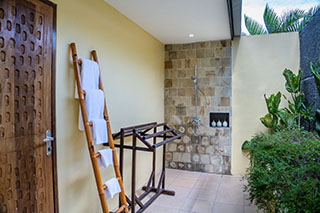 Hillside Luxury Cottage
Garden View Rooms
Constructed in 2012, the Garden View Rooms are located close to the Restaurant and Dive Center and are surrounded by and enjoy views of our lush tropical gardens. These rooms are perfect for single travellers or guests with a smaller budget.
The Garden View Rooms all have 24-hour electricity, en suite bathroom with plentiful hot water, hairdryer, airconditioning, wardrobe, table and chair, dispenser for cold and hot drinking water, complimentary tea and coffee, mini-bar, electronic safe and free Wi-Fi.
The Garden View Rooms offer the "Standard room features" plus the following features:
Fully enclosed bathrooms
Garden views
Note: Garden View Rooms can hold maximum 2 guests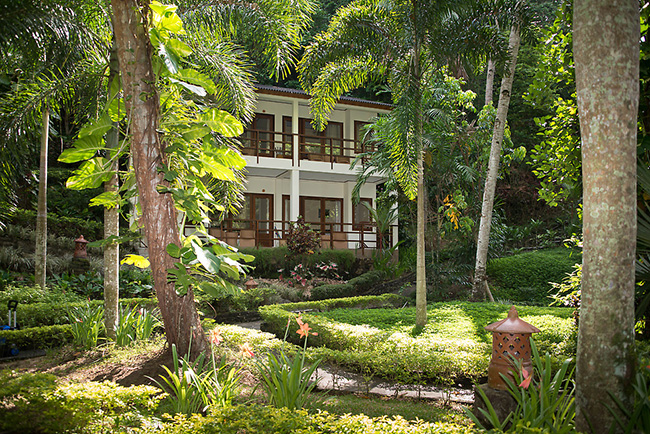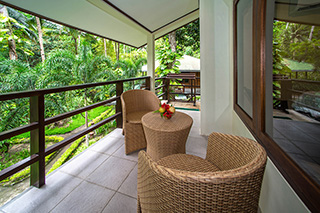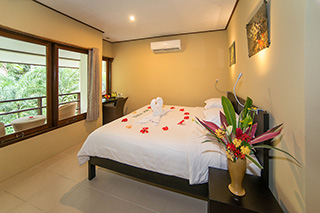 Garden View Room
Dive Center
The Critters@Lembeh Resort Dive Center provides you with all your diving needs. Open from 7:30 am until after the last dive. The Dive Center is staffed by English, French and German speakingstaff. There is also a full-time Marine Biologist on staff to help guests identify all their "critterphotos". Rental equipment from Aqualung and Apeks is available, as are LED torches for Night Dives and Ultraviolet torches for Fluorescence Dives.
Diving in Lembeh
The diving in Lembeh Straits is commonly referred to as "Muck Diving" or "Critter Hunting". This unique type of diving generally revolves around the search for a plethora of small and wonderfully unique "critters" that inhabit the black sand slopes of the area. The majority of the diving is done in the calm bays or along the lush coastline of both mainland Sulawesi and Lembeh Island. The body of water that separates the two is known as the Lembeh Strait and is less than 3 kilometers wide at it's widest point.
Lembeh Strait also has fantastic coral reefs and even the wreck of a 90m Japanese freighter, which was sunk during a naval battle in Word War II.
Amazing coral reefs are found within a 30min boat-ride of Lembeh Resort; 2- or 3-tank trips to these unspoiled coral reefs are frequently arranged. Lembeh Resort is ideally situated at the midpoint of Lembeh Island, giving our Guests easy access to the majority of the Muck dive-sites in under 15 minutes using our custom-built dive boats.
Our local Dive Guides have an unmatched knowledge of the area, with a combined 60,000+ dives in Lembeh Strait alone. All dive guides carry special magnetic slates on which they will write down the names of the "critters" that they find.
All are trained by our full time marine biologist to not only identify critters by common and Latin names but also to understand the behavior of the weird and wonderful animals that inhabit Lembeh Strait. With Guests divided into small groups with a maximum of 4 guests per Dive Guide, you are ensured personal service. Nitrox is available, as are smaller or larger tank sizes.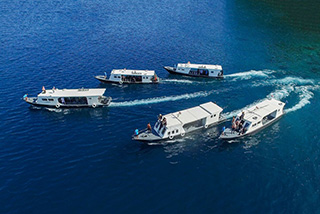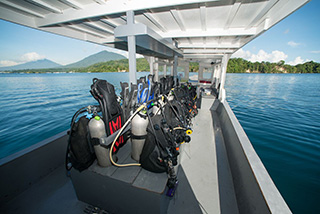 Snorkeling in Lembeh
The Lembeh Strait offers a unique snorkeling experience like no other place on Earth. With over 30 different snorkeling sites close at hand guests will see some of the rarest and most unusual marine life on the planet.
Explore stunning coral reefs; see where the reef and rainforest meet in a melting point of ocean and mangroves; try fluoro snorkeling at night to witness the phenomenon of luminescence and enjoy the best muck snorkeling in the world.
Maximize your holiday time in North Sulawesi and take a day trip with us to snorkel the kaleidoscopic reefs of Bangka Island, discover virgin white sand beaches and look out for dugongs. Snorkeling in small groups with experienced and professional guides makes a stay at Lembeh Resort the ultimate snorkeling vacation.
Boats
Divers and snorkelers are brought to the dive sites in comfort with one of our custom built twin-engine dive boats. Each boat is fully covered with plenty of padded camera & accessory storage.
Our boats are operated by licensed captains and have all the necessary safety equipment such as oxygen and first aid. Fresh drinking water, towels and fruits are provided on board. Your diving equipment is brought to the boat and assembled by the Dive Staff. After a day of diving it is brought back to the diving center, rinsed in freshwater, and stored in your personal locker.
Private boat service is available for those who wish to have longer dive times; dive at different times or simply to enjoy a more private diving experience.