Home > Diving Indonesia > Indonesia Liveaboards
M/V Mermaid I & M/V Mermaid II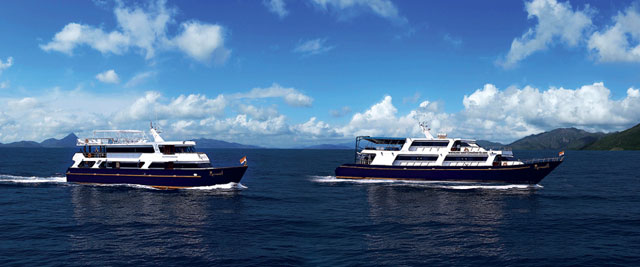 M/V Mermaid I
MV Mermaid I is proud to offer our exciting Indonesia schedules to your valued guests. We dive the best of the best, we know where and when it's running! As well as our awesome Bali-Komodo-Bali cruises we now also dive the truly spectacular destinations of Lembeh, Raja Ampat, Ambon, Banda Sea, Alor, Triton Bay and more ! While some destinations for Mermaid I are new, it is not new to many of our dive and boat crew who have spent years in these waters. Your guests will not be disappointed!
M/V Mermaid I is a 28 metre, double engine steel motor yacht. She comfortably holds 15 guests in 1 Master State Room (king size bed),1 Single and 4 Deluxe Cabins (double or twin beds) and 2 Budget Cabins (double/twin beds) below deck. The master, single and deluxe cabins have ensuite bathrooms, refrigerator and panoramic sea view windows with doors opening onto the gangway. The budget cabins are below decks with ensuite bathroom and refrigerator. All cabins are air conditioned, have flat screen TV and DVD players, bathrobes and toiletries and loads of fluffy towels.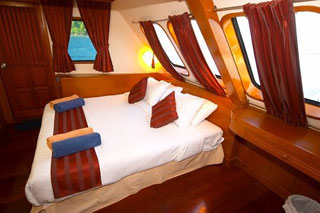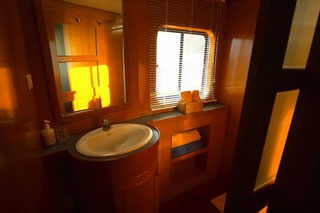 Our huge purpose built dive deck and wide stern dive platform with two exit ladders and fresh water showers are a diver's dream. 6 camera rinse tanks means your valuable equipment is well looked after. Delicious Thai, Indonesian and western meals are served in our "Sawasdee Restaurant" with large windows to enjoy the views or how about trying our delicious BBQs ! After meals relax in our saloon with our TV/DVD and music center, or select from our extensive library and full range of marine life books. There are two outside decks, one shaded with outside seating and the fabulous sundeck with sunshade plus cushioned sun beds - a great place to relax. NITROX is available on every cruise.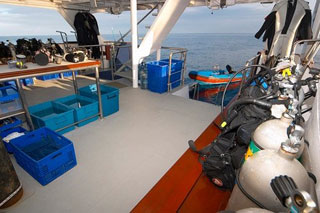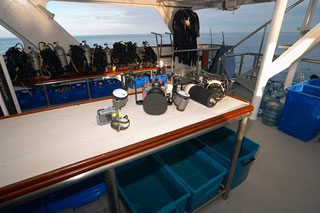 M/V Mermaid II
M/V Mermaid II is 33 metres, double engine steel motor yacht. One of the most comfortable diver boats in Asia, she easily accommodates 18 guests in 8 deluxe cabins and 2 guests in a budget cabin below deck. All deluxe cabins are on the main deck with large panoramic sea view windows. Each deluxe cabin has a double bed and single bunk (max pax 2 per cabin), individually controlled air conditioning and ensuite bathrooms. Below deck the budget cabins have twin bunks, vanity sink, air conditioning and share a bathroom with one other cabin via adjoining doors.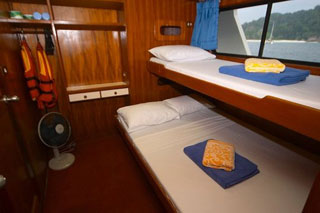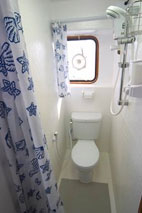 There is a wide stern dive platform with two exit ladders and fresh water showers with warm water. The dive deck is huge with plenty of room to gear up, individual boxes for your dive gear, camera tables and loads of rinse tanks. The dining room is located on the main deck where delicious buffet style Thai, Indonesian and western meals are served. The saloon is large and spacious with lounge suites and big windows, bar fridge, tea and fresh roast coffee and free soft drinks and juices. Flat screen TV, DVD, music center, library and a full selection of marine life books. There are two outside decks - the shade covered party deck with its comfy cushioned lounge suite around nearly the whole deck and the sun platform in front of the wheel house gives you the choice to sunbake or not !. EANX NITROX is available on every cruise via our new rapid fill nitrox membrane system.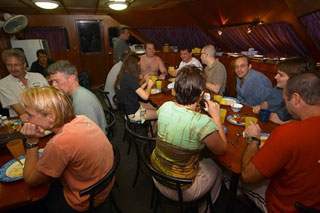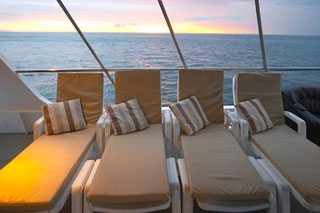 Itinerary : MV Mermaid II 8 Days / 7 Nights 20 Dives Bali-Komodo Bali
Day 1
Check-in on board MV Mermaid II between 14:00-16:00 hours in Benoa Harbour Bali. After the boat and safety briefing, we'll set up equipment and you can settle into your cabin. Dinner will be served at 19:00 hours as we cruise into the sunset on overnight journey to Moyo Island, north west Sumbawa.
Day 2
Start your adventure with a great dive in the calm, clear waters of Angel Reef at Moyo Island. Massive elephant ear Massive elephant ear and barrel sponges, schools of long fin banner fish and red tooth triggers In their hundreds, frog fish, nudibrancs, eels, surgeon fish, snapper, dog tooth tuna checking out what is for lunch ! Visit the local village then its lunch for us! Next is a great dive at Panjang Reef - are the pygmy seahorses here? Then we cruise 2 hours to Satonda Island for a world class night dive after watching a million bats fly at sunset. After a great dive and dinner we cruise overnight to Sangeang Island, off the north coats of Sumbawa.
Day 3
2 dives at Sangeang Island for rare nudibrancs, pygmy seahorse and underwater hot springs that support this very unique marine life Cruise to Gili Banta for exhilarating dives at Tanduk Rusa turtles, colorful reef stone fish, Spanish dancers - calm sea - a great place to stay the night.
Day 4
If the tide is right we hunt grey reef shark and dolphin at Taka Toko Gili Lawalaut. Dive 2 is a fast drift with pelagics and manta at Lighthouse Reef or the Old Passage. Then Crystal Rock awesome soft corals and the chance for sharks, turtles, giant Maori wrasse, a "fish soup" dive with a high chance of eagle rays too! Then we cruise south for fascinating night dive at Pink Beach near the entrance to the Komodo National Park.
Day 5
Start your day with an exciting visit to Komodo National Park to walk with the dragons ! Then relax as we cruise 2 hours south to Horseshoe Bay Raja Island. Spectacular Then relax as we cruise 2 hours south to Horseshoe Bay Rinja Island. Spectacular diving await at the world famous site Cannibal Rock - rare nudibrancs, frogfish, spectacular corals, sponges, ascidians, huge black coral bushes, turtles, cuttlefish, loads of reef fish too Watch dragons on the beach, monkey, deer, wild pigs along the shore, go beach combing... Maybe even a chance to follow whales and dolphin feeding in the calm bay. We overnight at this peaceful place, night diving at one of the many fabulous spots.
Day 6
The Three Sisters call us to Padar Island for sharks and nudibrancs, surgeon fish and devil Rays. Manta Alley or Takat Makasar follows for the chance for a manta aggregation - WOW! Batu Bolung aka "Current City" is the home for large Napolean Wrasse, turtles, blue fin trevally Or maybe a dive at Tatawa Kecil - we check out the currents first to make sure the dive will be cool for everyone on board! Then we say goodbye to Komodo National Park with a fabulous Night dive at Gili Banta with Coral Cat Shark or we cruise west enjoying a post dinner night dive along the way. Overnight we cruise to Satonda Island.
Day 7
We enjoy two fantastic dives at Sumbawa Surprise - macro enthusiasts will be in 7th heaven then on to Moyo Islands for more chances for ghost pipe fish, ribbon eels, turtle, cuttlefish and more before we cruise overnight to Benoa in the south of Bali. Off gas as we cruise into the sunset with the crew rinsing and packing your equipment for you...paradise Mermaid Liveaboards style!
Day 8
After breakfast we transfer you ashore at 8.30am to continue your vacation...or its time to head home to start planning your next Mermaid Liveaboards cruise!