Home > Diving Indonesia > Indonesia Dive Resorts
Gangga Island Resort & Spa
Bunaken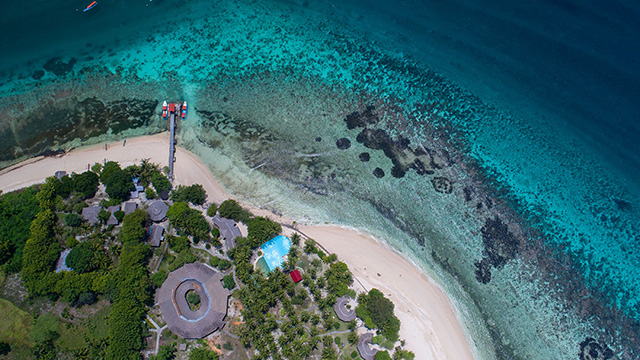 Manado, Lembeh, Bunaken & Bangka - More than a diving paradise -
On the tip of a small island near Manado in North Sulawesi, Indonesia, lies Gangga Island Resort & Spa. The resort's fifteen wooden bungalows are discreetly set on the edge of a long, white sand beach in the shade of coconut trees.
Gangga Island - Location An unparalleled scuba diving experience is waiting for you at Gangga! Gangga offers sensational diving where you can get up close and personal with diverse and remarkable sea life from both the Indian and the Pacific Oceans. The resort is an ideal starting point for the diving sites of Bangka Island, Bunaken National Marine Park and Lembeh Strait, making it a favorite destination for underwater photographers.
For both divers and non-divers the picturesque white sand beach, the large salt-water pool, a traditional spa and the high quality of service at Gangga Island Resort will guarantee a peaceful and relaxing stay.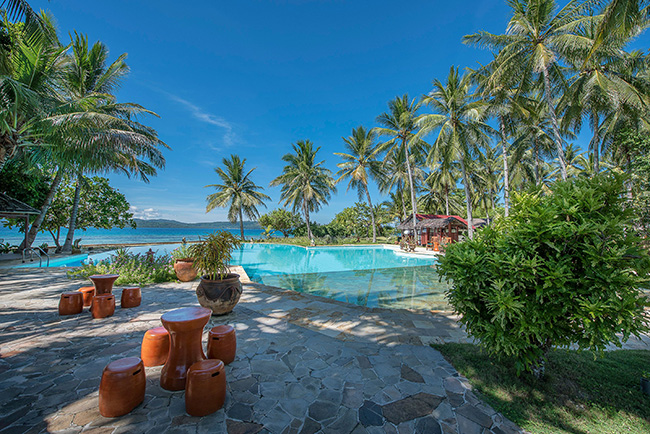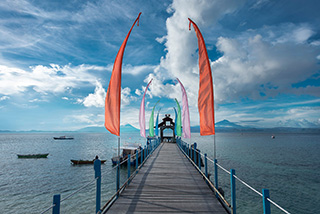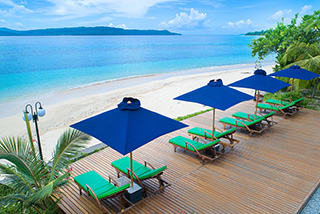 The magic of Gangga Island...
The resort lies on a white sand beach surrounded by a garden of tropical trees and plants at the base of a jungle covered hill. Your stay with us begins with our air-conditioned vehicle picking you up from the Manado International Airport and taking you through the beautiful North Sulawesi countryside. After an hour's drive you arrive at a pier, where one of our spacious boats is waiting to take you across the strait to Gangga Island.
Upon your arrival on the island, our staff will welcome and assist you to settle down in one of the fifteen wooden bungalows built on stilts with high ceilings and a spacious veranda overlooking the beach. Your elegantly furnished room will have air conditioning, a ceiling fan, a satellite television with international channels, a bathroom with hot water, tea and coffee making facilities and a mini bar.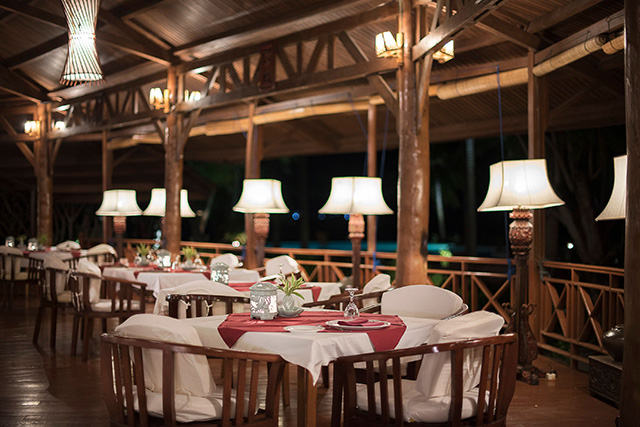 Accommodation
Gangga Island Resort boasts 15 gorgeous beachfront bungalows in the simple local Minahasa style, each with 2 separate units. Choose from a Superior Minahasa Room or an updated Deluxe Minahasa Room. Our beautiful bungalows have the choice of a king bed, twin beds, a king bed with an extra twin bed, or 3 twin beds to ensure the comfort of any combination of groups.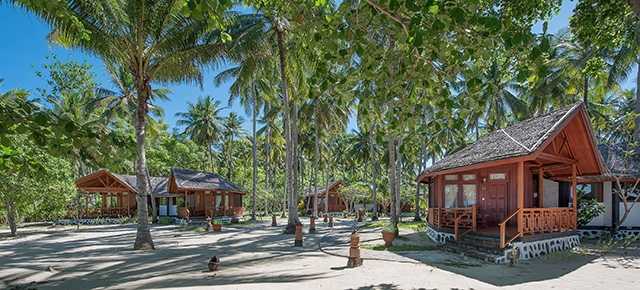 Superior Bungalows
Each of the 18 Superior Minahasa Bungalows feature a spacious veranda overlooking the beach and are fully equipped with:

Air conditioned, Cable/Satellite TV, Ceiling Fans, Double Bed, Linen and Towels Provided, Shower - separate, Tea/Coffee Making, Wireless Internet, Mini Bar, Complimentary fruit basket, Bathrobes Provided, Daily Room Service, Cots Available, Hairdryer, Non-Smoking, Telephone, Views, Desk, Verandah, Room Safe.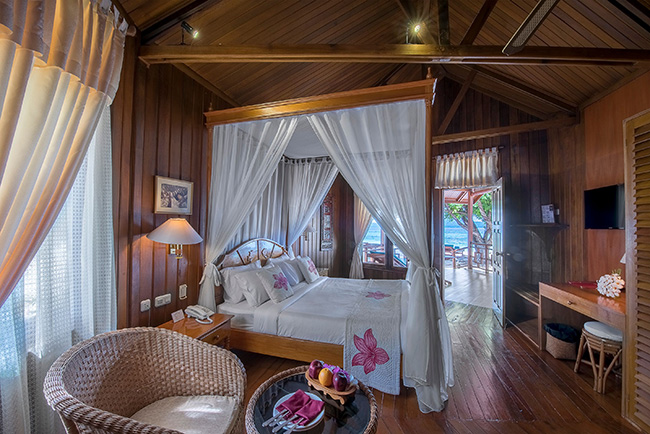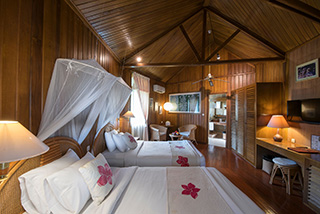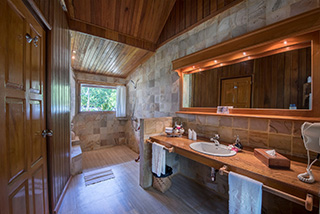 Deluxe Bungalows
The 12 Deluxe Minahasa Bungalows feature an updated design overlooking the beach and are fully equipped with:

Air conditioned, Cable/Satellite TV, Ceiling Fans, Double Bed, Sofa, Linen and Towels Provided, Rain Shower, Tea/Coffee Making, Wireless Internet, Mini Bar, Complimentary fruit basket.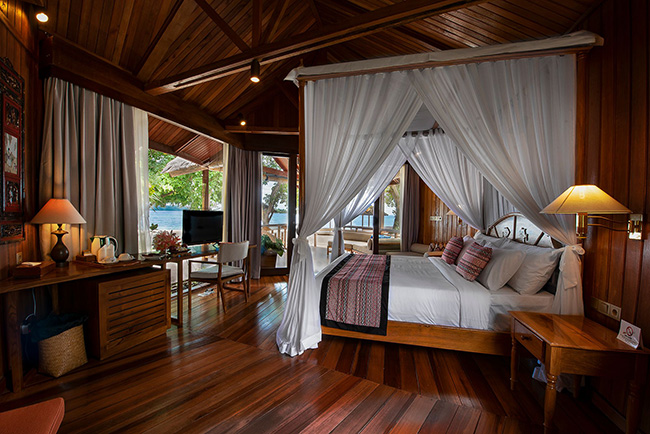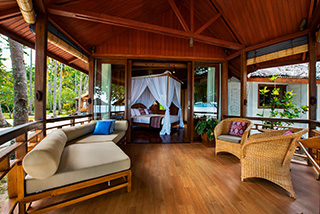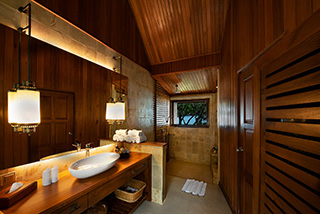 Diving
Discover the Underwater Worlds of Bangka, Lembeh Strait and Bunaken
Gangga Diver's PADI Five Star Dive Center is run by International dive instructors. Qualified guides and dive masters pride themselves in offering very personalized diving service to suit and divers of all levels of experience. The dive center provides racks for each room to store equipment and has toilet and shower facilities with hot water- perfect for after those night dives.
With its more than 30 world-class diving locations, the island offers a wonderful variety of marine life with rare species and pristine reefs. Gangga is the ideal starting point for diving the Bangka Archipelago, Bunaken National Marine Park (near Manado) and Lembeh Strait. During your stay, the dive guides will help you discover the marvelous underwater world and see the astonishingly rich variety of flora and fauna which delights underwater photographers. Scientists of marine biology from all over the world come to study and photograph the marine life found here.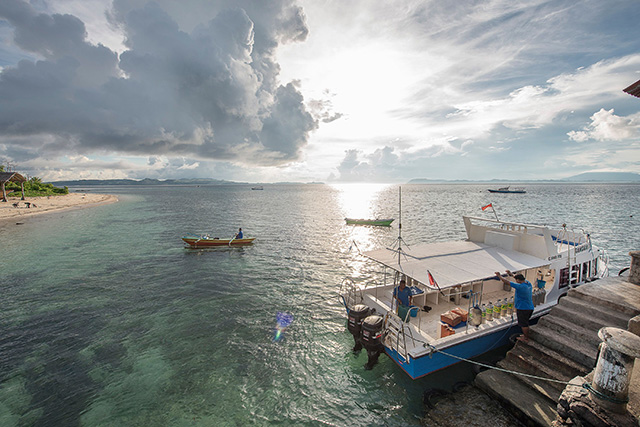 Gangga Divers has 5 all-wood boats specifically built for diving, three with onboard toilets, all with easy on and off access. The engine power ranges from 80 plus horsepower to 360 plus. The staff on the boats is trained to anticipate all your diving needs. Each boat is also full stocked with towels, freshwater tanks for cameras, drinking water, hot drinks and snacks.
Gangga Divers also has a regulator service room and three of the guides have diplomas for repairing and maintaining Scuba Pro and Aqualung regulators.
Being a member of the North Sulawesi Watersports Association (NSWA), Gangga Island Resort is committed to protecting the local reefs and is involved in conservation and development projects aimed at helping the local communities create sustainable tourism activities.