Home > Diving Indonesia > Indonesia Liveaboards
Dewi Nusantara
(formerly Paradise Dancer)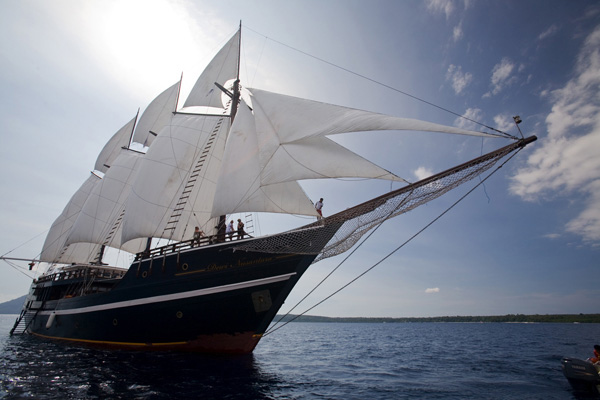 Living aboard Dewi Nusantara is as close to a five star experience as is possible in the faraway corners of the Indonesian archipelago.
With an overall length of 57 meters, our three masted topsail schooner moves with a grace and stability that only larger sailing vessels can offer. 2000 square meters of sail are complemented by two 500 horsepower marine engines and two desalinators that each produce 5000 liters of fresh water per day. We purposely designed the Goddess of the Archipelago to be totally independent for long periods at sea while offering unparalleled comfort. There are eight spacious air-conditioned staterooms, that can be adapted to either twin or double use, each with its own en suite bathroom. The master and commanders' cabin aft is the size of a large hotel suite.
While you experience the romance of a bygone area you will be able to indulge in the sheer luxury of finding lots of space everywhere you go from bow to stern. There is a huge lounge and the dining facilities are those of a superb restaurant.
With her state of the art diving equipment Dewi Nusantara has become the ultimate live-aboard diving platform in Indonesia. Her discreet and attentive Indonesian crew of fifteen is complemented by three dive-masters who all have a long experience in the area.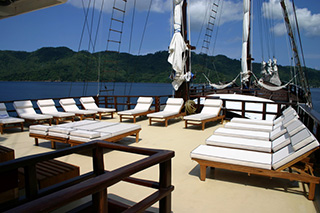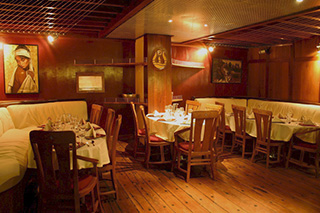 STATEROOMS
The lower deck is our main cabin area with four staterooms on the port side and four on starboard. These air conditioned staterooms are all individually designed and are adaptable for either twin or double use. Each has its own en-suite bathroom, reading lights, desk and chair, 220V power points and hanging storage for clothing. We have special metal flasks for drinking water and these can be replenished from the main supply in the lounge or dive centre.
Each stateroom has a floor space of 20 square meters while the bathroom is 5 by 1,50m. There is ample additional storage for all personal belongings.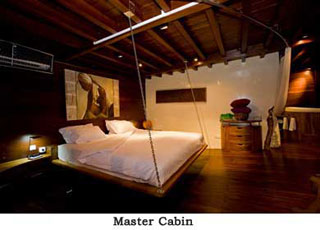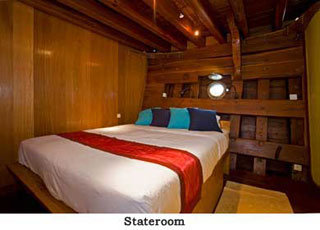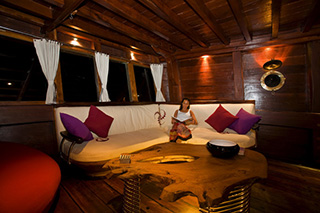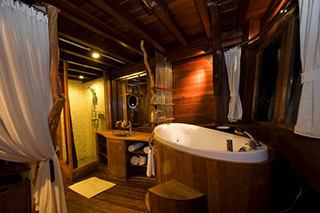 MASTER CABIN
The Master and Commanders Suite in the aft quarters of the main deck takes you back to the era of Captain Cook and is a marvel of design and comfort. It occupies the full width of the vessel and from the stern it has a 180 degree view of the ocean behind the ship.
DIVING OPERATIONS
Dewi Nusantara is renowned for operating in some of the most diverse and exciting dive destinations on the planet. With more species of coral's and marine life than anywhere else on earth, the seas of the Indonesian archipelago lead the world when it comes to marine life bio-diversity and our itineraries visit two of the country's most spectacular areas.
Depending on your trip itinerary you will be visiting either Komodo, Alor, Banda Sea, Cenderawasih Bay or Raja Ampat in Papua and you will be making up to four dives a day in two of the most sought after dive destinations on the planet. Site selection depends on many variables such as weather and sea conditions but also on you - tell us what you would like to see and do and we will do our very best to accommodate your wishes.
On Dewi Nusantara everyone is a VIP!!
All diving from Dewi Nusantara is carried out using our custom built tenders. The diving at some of the sites in the some areas is considered to be relatively advanced because of the strong currents which can be encountered there - but don't worry, we won't put you into any hazardous situations. You will be responsible during your trip for planning your own dive profiles. In doing so, we ask that you adhere to the standard safe diving practices set forth by your training agencies. Detailed briefings will be given before every dive.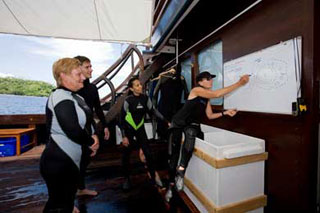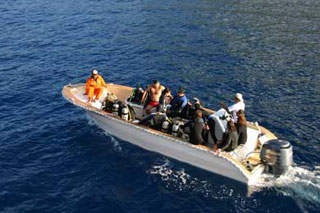 NITROX AND REBREATHERS
Dewi Nusantara uses a Nitrox Technologies membrane system to produce our diving gases. This method is very safe and accurate. We have several O2 analyzers on board for guest use and it is mandatory that divers analyze and log their personal dive cylinders with every new fill. Instruction is available on how to analyze and log a mix accurately.
In recent years the use of rebreathers has become popular among sport divers. Dewi Nusantara has the facility to service rebreather divers with a range of small DIN valve equipped cylinders, nitrox mixes up to 40%, oxygen supplies, booster pumps and sofnalime supplies.
DESTINATIONS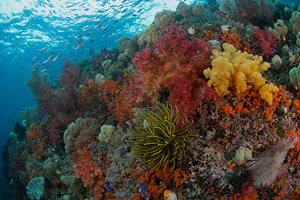 The Coral Triangle is considered by scientists to be the global epicenter of marine diversity and a major center of coral evolution. A full 76 percent of known coral species are found here and 37 percent of reef fish species. Extensive mangrove forests provide nurseries for the rich seas that have sustained our sea faring island people for millennia. The reefs serve as spawning and breeding grounds for whales and dolphins, sea turtles, and huge fisheries. The diverse reefs are also the seeding stock for the future of our planet's coral reefs helping ensure adaptation as our natural communities respond to climate change and other global trend.
The Coral Triangle, the global centre of marine biodiversity, is an area of 6 million square kilometers that includes parts of Indonesia, Malaysia, the Philippines, Papua New Guinea, Timor Leste and the Solomon Islands.
The Dewi Nusantara concentrates on the Indonesian part of the vast area!
Our dive cruises take you to Komodo National Park, Raja Ampat, Banda Sea, Ambon, Halmahera and Cenderawasih Bay. This last named spot has just appeared on the world dive map and is a 'must dive' place!