Home > Diving Indonesia > Indonesia Dive Resorts
Maratua Paradise Resort
Kalimantan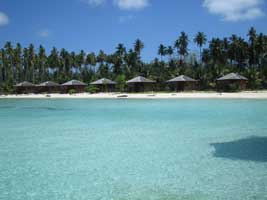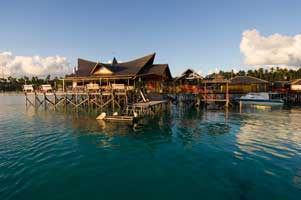 Maratua Paradise Resort is a exotic island off the east coast of Indonesian Borneo. Together with neighbouring islands Kakaban and Sangalaki, Maratua offers some of the best diving you can find.
The resort has both water bungalows and beach chalets, which are all very spacious and have private bathrooms and air-conditioning. From the beach chalets you can enjoy the beach while the water bungalows offer stunning views and relaxed balconies.
Your stay at Maratua Paradise Resort includes all meals, water, tea and coffee, snacks, etc. Beer and soft drinks are not included in the price. All meals are being served in the restaurant, which is located above the house reef and next to the landing dock for the boats. And during the day you can use the sundeck to relax, work on your tan, have a drink or boast about your dives.
When you come to Maratua, you have to check out marine life! Join our dive guides to marvel at the stunning underwater world! Diving at Maratua easily rivals any dive site you can think of. More turtles then you have ever seen, gigantic schools of barracuda's, grey sharks, white tip sharks and the occasional hammerhead are just some of the pelagic animals. But we also offer you mandarin fish, pygmy sea horses, leaffish, mantis shrimp, cuttle fish, etc. And also the numerous manta rays at Sangalaki, or the huge jellyfish lake on Kakaban. Oh, and did we mention the thresher shark that lives on our house reef? Read our section on diving to learn more about diving in the waters around Maratua.
Visit us and learn why our guest are so enthusiastic and love to come back!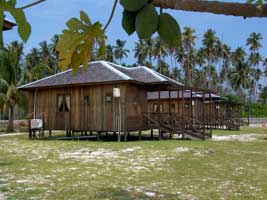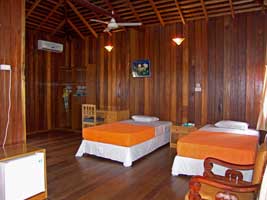 Diving
The dive sites in the Maratua area can be a shallow 5 m dive with lots of marco to deep 70 m slope dive with the thresher sharks. There are abundant soft and hard corals. The channel, is actually a 25 m deep entrance to the lagoon. During high tide, a rush of deep cold Sea Water into the lagoon making it an interesting spot to dive and meet school of barracudas, sharks, eagle rays, tunas, snappers and sometimes mantas or hammer heads.
Apart from that, around our jetty area, divers may find, mandarin fishes mating, the rare picture dragonet, leaf fishes, body cutler fishes, blue ring octopus, school of razor fishes, all kinds of eels and lion fishes.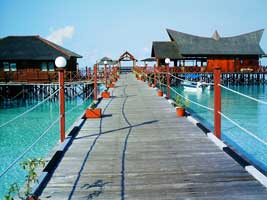 Around our house reef, there are many turtles, giant clam, bump head parrot fishes, pygmy sea horse (3 kinds were spotted), thresher sharks and the rare elephant ear.
Of course, there are many groups of small colorful fishes.
The water temperature is around 26 degree, sometimes may go down to 24 degree and strong current.
It is recommended for divers with advance level. Dive sausage is useful for boatman to see diver surfaces.
Apart from Maratua diving, there is a nearby island lagoon full of harmless jelly fishes, kakaban and a shallow dive to see mantas cleaning and feeding in Sangkalaki, only about 30 minutes boat from our resort.
Diving in Maratua Paradise is more of a good combination of dives to see small pygmy seahorse to big thresher shark and from the common schools of barracuda to the rare picture dragonet.