Home > Diving Indonesia > Indonesia Liveaboards
SMY Ondina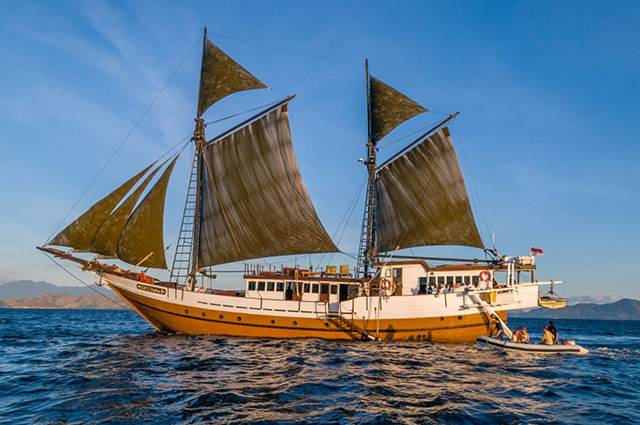 A different way to explore the beautiful inner seas of Indonesia
Sailing aboard the SMY Ondina you will have the opportunity to explore the most exotic and remote islands of this unique country, places where you would possibly find extremely difficult to get by yourself. You will not embark one of those Luxury Cruises where everything is fixed to timing and planning, we offer you a more adventurous trip with lots of unexpected: Unexpected diving encounters, unexpected beautiful beaches, unexpected quiet and traditional villages, unexpected on-board service.
We have tried to create a very comfortable accommodation to be our home and basecamp as we sail and dive from island to island.
On board the SMY Ondina you will have enough space to relax alone, or to share a nice chat sitting in the cool atmosphere of our a/c dinning room or enjoy a full moon evening from a comfortable hammack on our spacious sun deck before taking a rest in your a/c cabin.
In the unlikely event you don't feel like diving, swimming or snorkeling, we can arrange a walk through isolated forests, along desert beaches or in the undisturbed villages we will come across during our sail.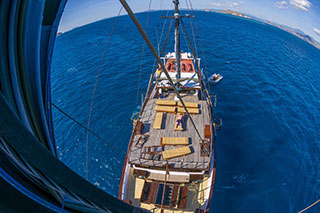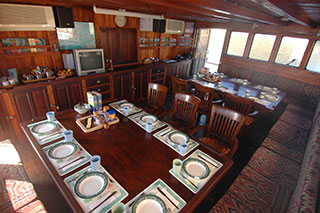 Cabins
6 Triple (double bed and single bed bunk) and 2 twin cabins all with ensuite and Air Con. Triple cabins are to be occupied by two guests only except for couples with children or groups of 3 guests with at least one non-diver.
Electricity onboard: 220v all-around-the-clock. Two round pins sockets Eu std.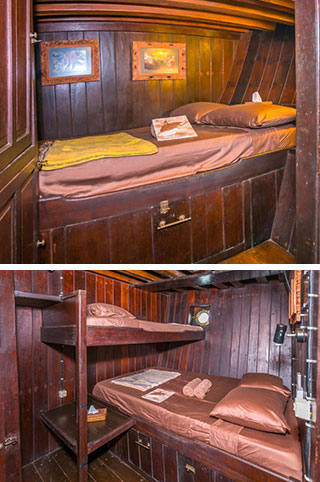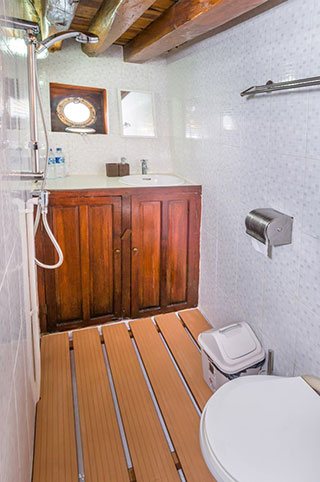 Technical Data
Deck Length: 32 meters
Beam: 8,0 meters
Draft: 2,6 meters
Hull: Teak and Tropical woods
Engine: 400 HP Man Medium Duty
Sails: 400m2 surface
Cruising Speed: 9 Knots
Water: Watermaker plus 10 Tn deposits
Fuel tanks: 12 Tn
Three power generators
2 Air diving compressors Mariner.
Nitrox membrane. (32%)
Diving gear for rent available onboard. (Please, book in advance: we have 6 full equipments)
12 and 15lts. steel and aluminium tanks. INT/DIN.
Weight-belts and safety buoys included in the price of the cruise.
3 dinghies: 2 semirigid and 1 rigid.
Maintenance kits and spare parts for diving equipment.
Depth finder
GPS Plotter with C-map marine charts.
Radar 16 miles reach.
Radio Multiband SSB
Radio VHF GMDSS system.
Handheld Radios ICOM VHF
Satellite telephone THURAYA for private communications in the most remote locations.
Satellite telephone ERICSSON R190
Safety Equipment
First aid kit
Oxigen onboard plus Emergency Evacuation DAN "Oxygen Unit"
Hiperbaric chambers in Makassar and Bali
2 rescue rafts 30 pax
Life jackets
Fire extinguishers, flares, fare gun