Home > Diving Indonesia > Indonesia Liveaboards
MSY Seahorse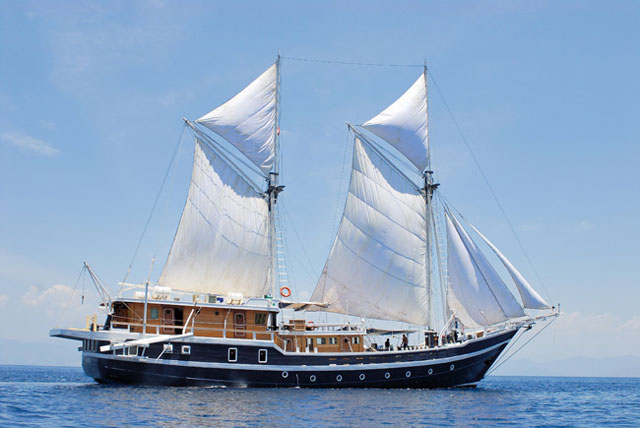 For luxury cruising, diving & recreational charters in Indonesia
Taking you where others have yet to dive!
The Sea Horse is Indonesia's fastest Phinisi liveaboard with a top cruising speed of 12 knots. Built in 2004 with speed, safety and comfort in mind, the ship spans an impressive 33 meters long and 8.5 meters wide, all powered by a 380 hp MAN marine engine. The elegance of her solid iron wood hull and teak wood interior combined with luxurious air conditioned cabins and modern safety, navigation and diving equipment make her the superior choice amongst liveaboard dive vessels in Indonesia.
Indonesian 'Bugis Prahus', commonly known as Pinisi, are made from locally-grown timber (Ironwood & Teak amongst others) according to a tradition that dates back to long before Portuguese colonists reached the area. The classic beauty of the MSY Sea Horse combines this traditional craftsmanship with modern conveniences, providing our guests with luxurious comfort even in the remotest waters of Indonesia. The MSY Sea Horse is Indonesia's ultimate luxury liveaboard scuba diving vessel.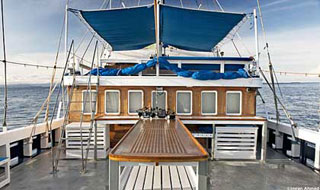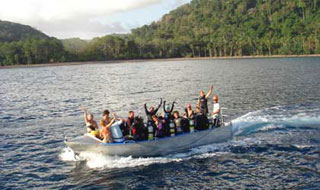 Vessel Specifications
The vessel has been extensively customised and refitted to suit long range live aboard scuba diving expeditions and underwater photography. With a 380 hp MAN engine, the ship is very fast and has a cruising speed of 12 knots to ensure swift travel.
| | | | |
| --- | --- | --- | --- |
| Type: Phinisi Schooner | Hull: Ulin Wood (Iron Wood) | Gross Tonnage: 220 GT | Cruising Speed: 9-12 Knots |
| Length: 33 Metres (110 Feet) | Beam: 8.5 Metres (28 Feet) | Draft: 3.5 Metres (11.5 Feet) | Fuel Capacity: 20 Tons |
| Main Engine: 380hp MAN Marine Diesel | Generators: 1x12kw, 1x40kw, 1x60kw | Water Capacity: 11 Tons | Desalinator: 6 Tons/Day |
Accommodation
6 x Below Deck Twin [Capacity: 2 pax/cabin]
2 x Main Deck Double [Capacity: 2 pax/cabin]
1 x Bridge Deck Double [Capacity: 2 pax/cabin]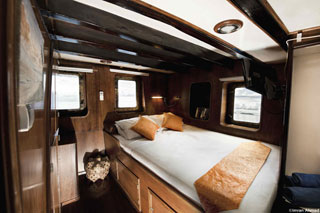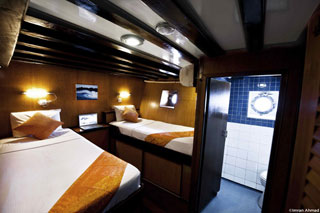 Dive Support Equipment
2 x Lenhardt & Wagner E450 Air Compressors
1 x Atlas Copco Nitrox Blending Unit
1 x Aluminum Dive Tender - 620 cm - 1 x 85 hp
1 x Aluminium Dive Tender - 520 cm - 1 x 40 hp
1 x 6 Cylinder Air Bank System
Safety Equipment
3 Units Inflatable Life Rafts
80 Life Belts
12 Life Buoys
Smoke Detectors in each cabin
Fire Hoses & Hydrants
C02 & Powder Fire Extinguishers
Navigation & Communication
1 x Faruno Chart Plotter with GPS
1 x Magellan GPS
1 x Koden Radar
1 x Koden Echo Sounder
1 x VHF + 1 x SSB Radios
1 x Satellite Phone