Home > Diving Indonesia > Indonesia Dive Resorts
Wakatobi Dive Resort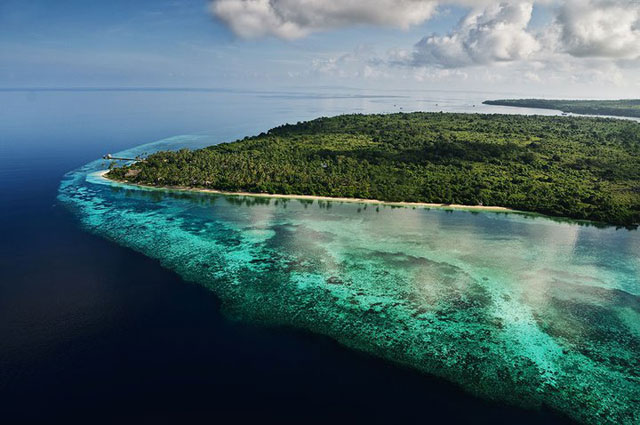 Our intimate, eco-friendly resort is located in the Wakatobi archipelago in remote Southeast Sulawesi, Indonesia where we are the only fully licenced dive tourism operator. The resort itself is situated on a small island locally called Onemobaa. Our island is beside Tomia Island, one of four major islands covering an area of 821 sq. km. The beautiful resort is built directly at the seaside, with all bungalows spaced along our exquisite beach.
Wakatobi Dive Resort is a destination that caters to divers and nature-lovers looking for world-class diving far from crowds and commercialism -- off the beaten path.
The main Loungehouse contains all the common guest facilities such as the dive center (with separate equipment and camera room that offers both 220v and 110v charging stations, fridge for film and much more). There is also a rental equipment room, dining area, kitchen, video lounge and marine life reference library as well as storage rooms, the bar and bathrooms. Guests visiting Wakatobi experience accommodations that embrace ecotourism principles. The main house was designed in the traditional architectural style of the Indonesian longhouse. It was constructed by local craftsmen with traditional (hand) tools. Additionally, we also have a range of guest bungalows also built in a traditional style and inspired by the home of the last sultan of Tomia.
New for this year is a superbly crafted restaurant and bar that has brought our guests' dining experience to a whole new level.
Over the years Wakatobi's grown from being a simple, remote outpost to a fully equipped resort offering comforts otherwise not associated with the best diving. Often you have to choose between comforts and diving quality. Well, not anymore!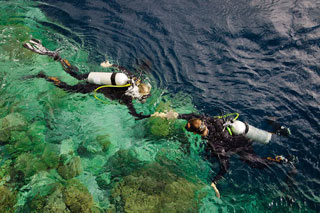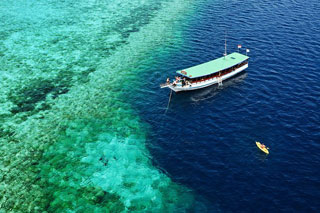 Our Accommodations
What used to be a simple and very remote outpost has over the years been transformed into a beautifully crafted and very comfortable remote outpost. While the island and its surrounding marine life is unspoilt our team has created a range of bungalows and villas that smoothly caters to even the most discerning travelers. Most of our bungalows follow a theme of traditional architecture to honor the local style but they all offer the modern comforts such as round the clock reliable electricity and fresh water. All rooms have both air-conditioning and ceiling / standing fans.
The Loungehouse
The main house that in the past contained several guest rooms has been converted to common areas / lounge space / library / projector room and a shop. Here you can find space for the enjoyment of all guests. It also houses the dive center (with separate equipment and camera room that offers both 220v and 110v charging stations, fridge for film and more). There is also a rental equipment room, bathrooms and a lounge area with marine life reference library and a small bar (just in front is also the jetty bar;).
The Bungalows
We have three levels of bungalows in addition to the latest addition which is our Cliff Villas (see below). All Bungalows are of equal floor size and what sets them apart is their location and appointment level. All are available with a combination of a king-size bed and twin beds (up to three adults or two adults and two children). All bungalows are beautifully hand-crafted in wood. They are spacious and, some would say, homely. With a balcony in front as well as a couple of lounge chairs with umbrella there's space to sit back and relax. There's a desk with internet access, a mini-bar and a safe (not that you'll need it really).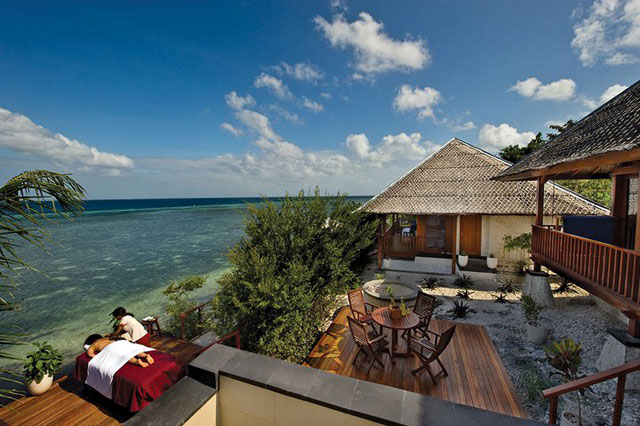 The Garden Bungalows
These very comfortable "cabanas" are located slightly behind and in-between the front-row bungalows amidst beautiful palm trees and other tropical plants. Available both on the south and west section of the Resort. Some garden bungalows have partial ocean view.
The Beach Bungalows
Front row with an ocean view on the south beach. See the fish jump, hear the gentle waves and listen to the birds - all while seated on the balcony or in one of the comfortable lounge chairs in front of your Bungalow. These are the units with the best breeze from the ocean and is an excellent choice for those who prefer to enjoy a holiday in the tropics without the use of air conditioning.
The Premium Bungalows
The Premimum Bungalows are of the same construction and size as the Beach Bungalows, but are located on the western beach facing the sunset. A little extra care has gone into their interior and they have small upgrades such as own marine life library, torch for walks at night, in-room orchids and more. Look inside one in this virtual 360 tour or in this one which is slightly newer.
The Premium Select Bungalows
The Premimum Select Bungalows are our four original Premium Bungalows (those on the north side of the jetty) that have received a complete interior makeover. They're simply gorgeous! And they have a huge front porch with comfortable lounge beds / cushions and a stunning view.
Recently refined interior setting a new style for our Premium Bungalows
The next level - The Cliff Villas
Located on the northern end of the resort beach these villas are perched on the cliffs with superb views over the ocean and sunset. With a modern design and earty materials such as wood, glass and sandstone they are more spacious than the Bungalows and equipped for even more luxurious comfort and relaxation. For couples seeking the best - these are our by far nicest rooms.
All the comforts you need created in the style you desire.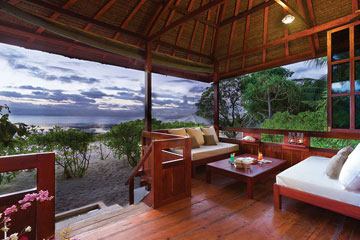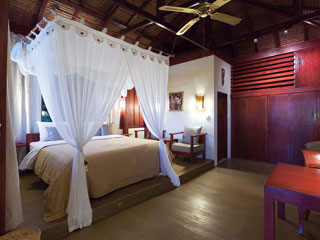 Guest Conveniences
We of course provide reliable electricity (24-hour, 220V/50Hz) in all rooms with additional voltages available in the camera room and the studio. To keep in touch with the ouside world, we also provide guests access to the resort's own satellite communication unit which handles voice, fax and email. All bungalows have complimentary internet connectivity. The toilets and showers are western standard with hot and cold running fresh water.
Delightful Cuisine
Our team of renowned chefs prepare ample, delicious meals using exclusively flown-in and imported produce and a touch of magic. Guests enjoy a sampling of local and international cuisine including fresh tuna sashimi, savory soups, barbequed fish, meats and fruits as well as salads, steaks, poultry and divine deserts handcrafted every day by our pastry chef. Finish off a multi-course meal with tiramisu, fruit tarts, chocolate cakes or a bowl of fresh fruit salad. Complimentary coffee, tea and cookies are available around-the-clock in the lounge and in the bungalows' minibars. We are of course able to accommodate special diet needs and in advance of your arrival our attentive Bali admin staff will enquire if you have any special wishes or needs.