Home > Diving Indonesia > Indonesia Liveaboards
MSV Amira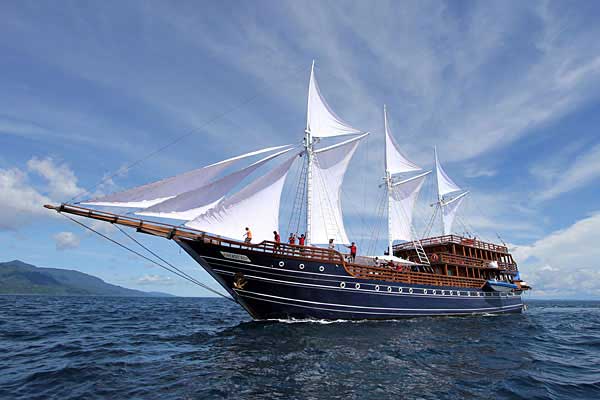 • Traditional workmanship combined with state of the art technology
Amira was built with locally grown timber by indigenous crafts men using ancient Pinisi boat building traditions. She is equipped with a state of the art navigation system, security and rescue equipment and technology. With a length of 52 meters Amira offers 8 comfortable double cabins and two single cabins, all equipped with personal showers and toilets and natural lighting. There is a cozy restaurant, a romantic lounge area and a huge sun deck and... and... and...a dream boat, our dive boat.
• Created by divers for divers
We asked: what would a perfect dive deck entail? The answer is for you to admire and explore: Generously designed space to gear up with a fixed site for each diver, several rinse tanks, plenty of surface space and a large camera room. All in all an ideal base camp for the most beautiful dive excursions in Komodo, Raja Ampat and Banda.
Decks
• Sun Deck
A large sundeck with 120 m² offers an ideal place to sunbathe or relax on sunny days.
• Upper Deck
There are 3 guest cabins (13 m²) situated on the upper deck. All cabins have their own en-suite, several windows and individually adjustable air-conditioning. The wheelhouse, the owners' cabin and a small office are also situated on the upper deck.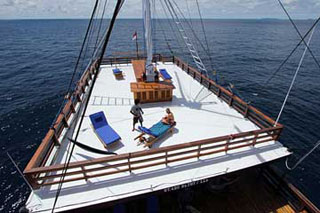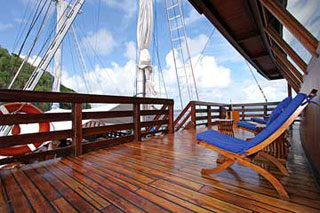 • Main Deck
On the main deck a comfortable, covered lounge invites you to relax between dives.
On this deck you will find the restaurant seating 20 guests (26 during a full charter), as well as a comfortable TV and lounge area.
In the computer room, computers and DVD/CD burners are available for you to edit and save your daily photographs.
The large fore deck is equipped with deckchairs and a shade canopy for hot days.
• Lower Deck
The dive deck offers space for maximum 24 guests and a maximum of 6 dive guides. There are also storage areas for cameras, dive lamps etc. and several rinse tanks. The diving equipment stays mounted on the tank during the whole trip and the tanks are filled in situ with air or Nitrox.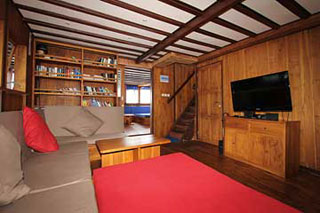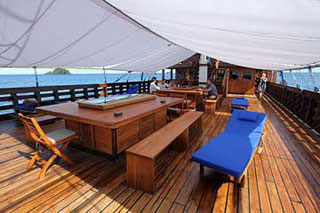 Cabins
For a total of 18 guests, there are five double cabins (14m²) and two single cabins (8m²) available on the upper deck and three double cabins on the lower deck (13m²). All cabins are equipped with air conditioning, hot showers and toilets.
For full charter service it is possible to comfortably accommodate three people per cabin up to a maximum of 24 guests.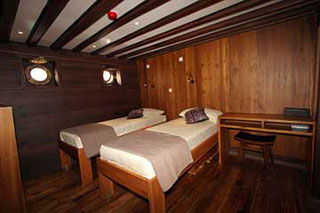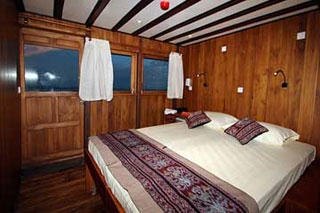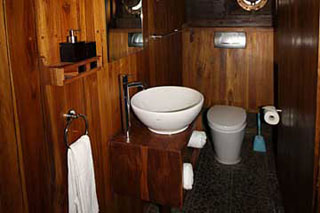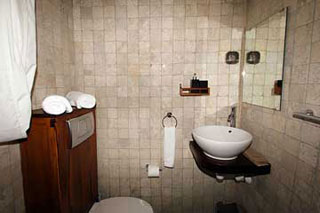 Diving with Amira
• Depth is what we aim for; competence and organisation is how we achieve it
Bruno Hopff originally from Switzerland is our tour director, a kind and highly competent host. Bruno has lived in Indonesia for the last seven years working as a dive guide and tour director. His enthusiasm is visibly contagious even after more than 4000 dives. He speaks German, English, French and Indonesian. As initiator and co-owner of Amira Dive & Travel GmBH he and his crew make the well being of everyone on board their ultimate goal.
• Dive, eat, sleep, repeat
A regular dive day on the Amira consists of usually four dives (3 during day time, 1 at night). Exceptions may occur (e.g. first and last day of a trip, crossings, and unfavorable weather conditions). Extensive debriefing takes place on the nature of each dive site before heading out to sea with the three dinghies. Every dinghy is equipped with a radio transmission system, emergency oxygen tanks and each diver wears an ENOS homing device. A carefully chosen and well trained dive guide is assigned to every group (4-5 divers). Nitrox (32%) is available with extra cost. Nitrox courses are available for a fee.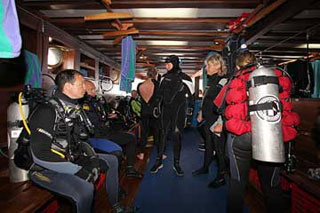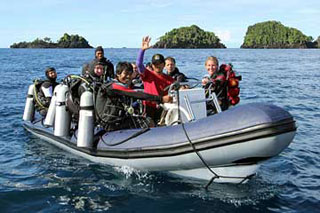 • The dive deck, a safe port, equipped with perfect infrastructure
Every diver is assigned a personal space on the liberally designed and fully covered dive deck. The equipment remains mounted on the tank during the whole Safari and will be filled on situ. There are rinse tanks available, spaces to place cameras etc., and there is drinking water on deck. The camera room is spacious and easily accessible.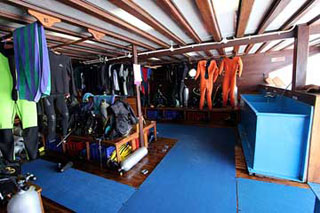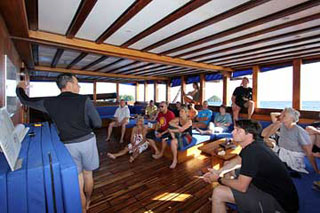 • Courses
Upon request dive courses can be organized following and adhering to PADI regulations.