Home > Diving Indonesia > Indonesia Dive Resorts
Triton Bay Divers
Triton Bay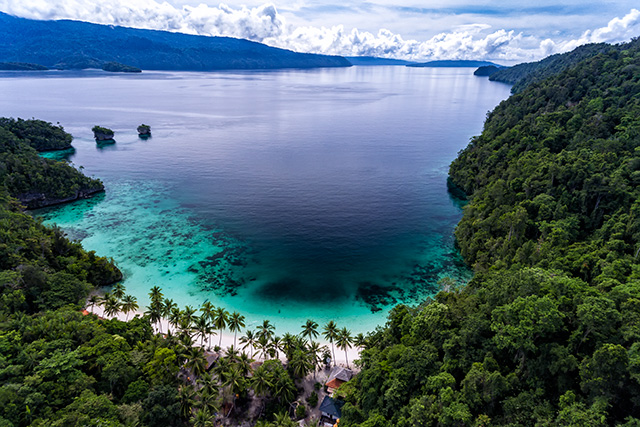 We are located approximately 30 nautical miles from the town of Kaimana in the Indonesian province of West Papua, previously known as Irian Jaya, on the western part of the island of New Guinea. Our location is indicated on the Google map above. Triton Bay is one of three regions in Indonesia's West Papua province that comprise the Bird's Head Seascape (the other two are Raja Ampat and Cenderawasih Bay), which is now considered by marine biologists to be the epicenter of the Coral Triangle and which contains more fish and coral species than anywhere else on the planet.
During our initial surveys of the area in 2006, we were particularly blown away by the biomass of big reef fishes – especially groupers, sweetlips, snappers – and huge schools of fusiliers and surgeonfishes. We recorded the highest average abundances of commercially-important reef fishes here of anywhere we've surveyed in the Coral Triangle! We also immediately recognized this area is very unique, with a plethora of new and endemic reef fish species and reefscapes dominated by soft corals and ahermatypic corals. At the time we left, we really felt we'd only just 'scratched the surface' of this stunningly beautiful area, and all of us have been hungry to get back and spend more time exploring the area. As such, we're delighted that Triton Bay Divers is now opening and will have the opportunity to really explore this magical region.

Dr. Mark Erdmann – Marine Biologist, Senior Advisor for Conservation International
Accommodation
The resort's 6 bungalows, all with sea views, are each able to sleep between 2 to 3 people comfortably. At the end of your day relax on your deck or enjoy a hot water shower in your private garden bathroom.
Each room is equipped with a large ceiling fan and designed with "natural" air conditioning in mind. There is a desk with extra (220v) power sockets, allowing you to download and view your photos whilst charging your camera in preparation for your next day of diving.
Unfortunately, at this time we do not have 24 hour electricity available, but are planning to install solar panels in the not to distant future. Power will be on from 6:30 am to 11:00pm.
We are conscious of our environmental foot-print and have built the resort using sustainable natural local materials which blend in with the tropical surroundings. Any wood from trees that had to be removed has been utilized elsewhere throughout the resort using local craftsmen and traditional techniques whilst still allowing for a modern touch.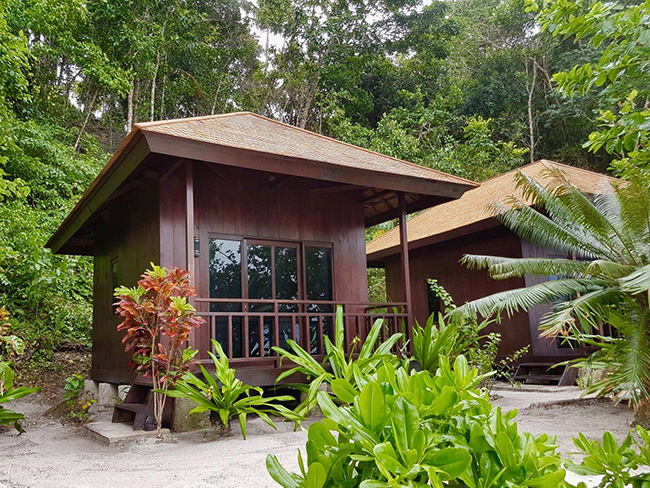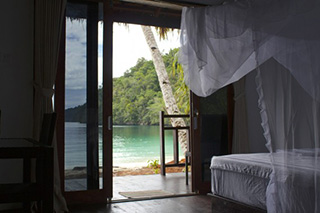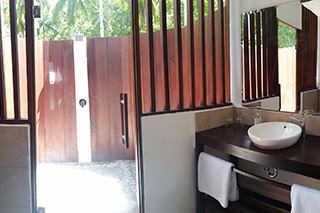 Dining & Relaxation
Enjoy three delicious meals plus a local snack in the afternoon every day in our spacious open air dining room, which is designed to make you feel at one with nature. Eat, chat and hangout with new friends or simply relax between dives watching the waves lapping on the beach.
There is free coffee, tea and water available all day. Soft drinks and beer are also available at the bar and will be billed to your room. If you prefer something a little stronger we recommend you bring in duty free as most alcohol and spirits are not permitted in this part of Papua.
Dive Center
Our Dive Center is located at the far end of the beach and inside you will find your own personal storage area where your dive equipment will be kept during your stay.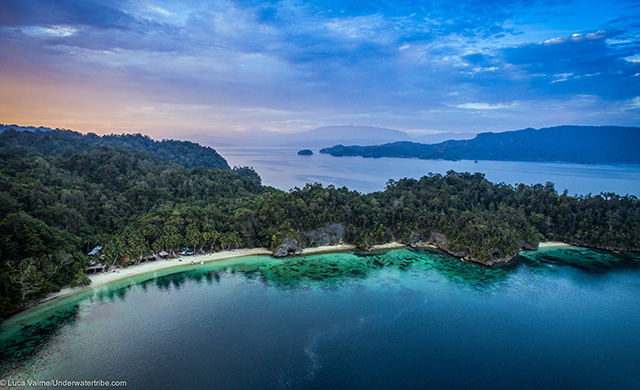 © Luca Vaime/Underwatertribe.com