Home > Diving Indonesia > Indonesia Liveaboards
MSY Damai I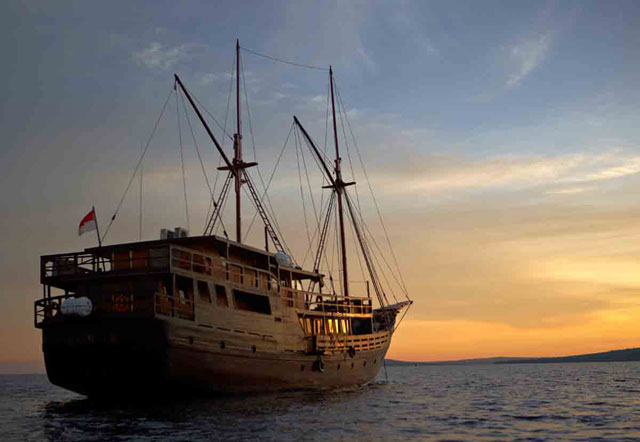 The MSY Damai I was built in Tanjung Bira, South Sulawesi, by Pak Hadji Baso, the most prestigious builder in the area. The collaboration of traditional skills and experience with the years of experience in the Indonesian liveaboard diving industry has created a remarkable vessel.
The MSY Damai I has been designed to offer a personal service that only a vessel of this size and that is dedicated to small groups can provide.
With an overall length of over 40 meters (130 feet) and a beam of over 8 meters (26 feet) the vessel has four staterooms measuring over 30 m (300 sq.ft) each with queen sized beds for single occupants and king sized for couples, separate heads and en-suite bathrooms.
Specifically designed for divers the vessel offers a large dive station with individual rinse tanks and a camera room with separated camera work stations with 4 cabins well over 30 sq. meters each, coming with either queen or king sized beds, separated ensuite toiletts and showers/bath tubs integrated 110v and 220v charging station for each customer.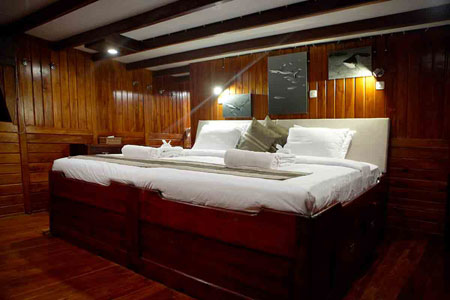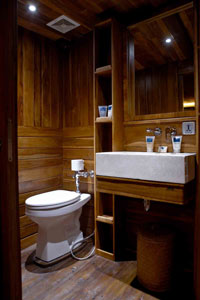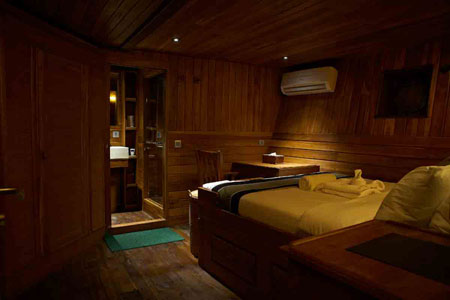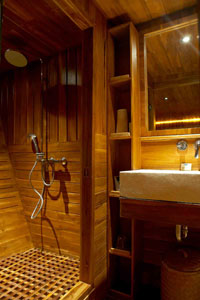 The vessel is the first in Indonesia to offer a divemaster/guide to customer ratio of 4 to 1 ensuring the best service underwater as well as onboard.
The vessel has been designed with three large deck areas for relaxing either in the sun or shade.
Our guests can enjoy the all inclusive service onbaord where even spa therapy is included in the price of a cruise.
We will be 24 hours dedicated to you!!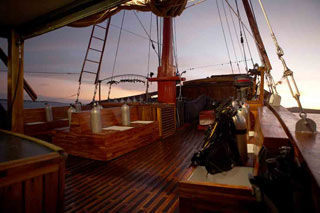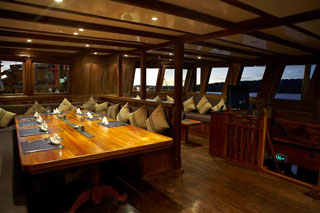 Diving
Our well trained and professional dive master team will be at your disposal. The low number of customers allows us to pay individual attention underwater and being able to know exactly what is that you want to achieve on the trip and try to provided, if Mother Nature behaves... We just want to see crowds of fish and corals surrounded but...you!!!!
Every destination in Indonesia has its own strength, let us share with you the different places we will be diving at and see what to find in each of them
BALI Not only a great island, more famous for its culture than for its diving, Bali has treasures underwater: Great macro in the north and the Mola Mola in Nusa penida are just examples of it.

KOMODO in a career that has spanned more than 35 years and 10,000 dives, a lot of the destinations blend together in my mind.

TRITON BAY Of all the tropical reefs we have seen in our combined 70 years of diving, Triton Bay is at the top of the list for fish diversity.

RAJA AMPAT These jewel like islands are caressed by a convergence of swift nutrient rich currents. Here the pulse of marine life thrives from the sea floor to the surface where the kaleidoscope of corals can start in less than a meter of water.

DERAWAN The east coast of Kalimantan offers some of the most spectacular walls in indonesia.Schools of thousands of Barracudas, mantas, the unique jelly fish lake and the nesting turtles are its highlights.

BANDA SEA Located between the much publicized Raja Ampat islands to the north and the venerable Komodo islands to the south, the Banda Sea is an exciting outpost that offers some of the most unique diving adventures to be found in the Indo-Pacific regions.