Home > Diving Indonesia > Indonesia Dive Resorts
Sorido Bay Resort
Raja Ampat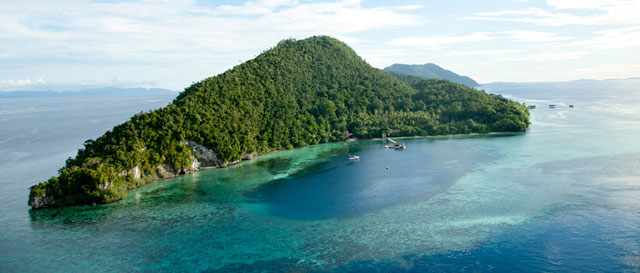 Our "Sorido Bay Resort" allows our guests to experience Western style comforts in a traditional Papuan setting. Located on a beautiful deep lagoon and white sand beach on Kri Island, the dive resort is central to the most spectacular dive sites in the Raja Ampat.
Our house reef is "Cape Kri" where Dr. G. Allen recorded 283 different species of fish during ONE dive. This made this not only the fish richest dive site known to science, but also the richest house reef anywhere!
Irian Diving - Report from Dr. Gerald Allen's visit: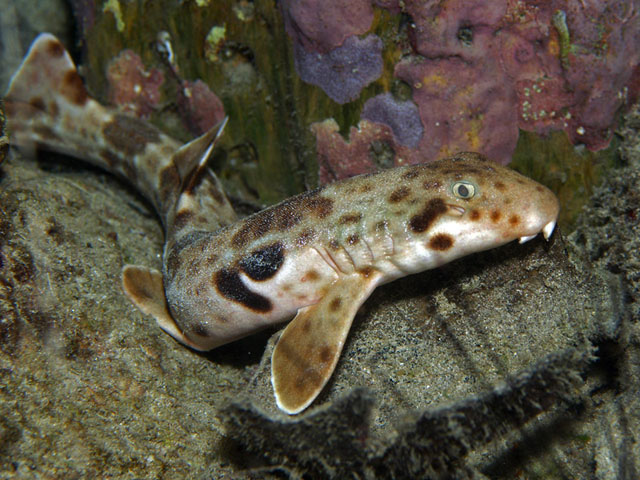 Dr. Jerry Allen visited Irian Diving, in Indonesia, for the second time doing a freshwater fish collection trip around the islands of Waigeo, Batana, Salawati and Misool. He started first with a week of diving as a regular guest. It was during this first week that Dr. Allen made his record fish count ever. Dr. Allen counted and documented during the dive, 273 different fish species while making a one-hour dive on one of the new favorite dive sites!
On his first visit with Irian Diving, Dr. Allen stated in a report for Conservation International, that the reefs were among the best he had ever seen and that he had never seen so many big fish during any of his previous visits in Indonesia!
This kind of response is not uncommon from the guests, but there are not many people as experienced as Dr. Allen. He is author of more than 25 books on the subject!
The resort has been build to offer all western comforts combining modern and traditional Papuan building methods. We have worked on finding a balance between traditional and modern, while always having in mind to create the ideal dive resort.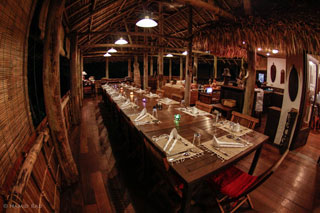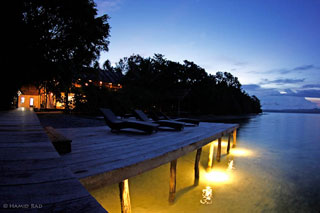 All bungalows are spacious and build on the seashore, a guaranty for a stunning view over the bay area. Each bungalow is decorated/furnished in a special Papuan style using museum quality artifacts. All luxury is available, Air-conditioning, hot showers, television, refrigerator etc.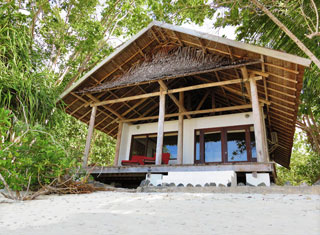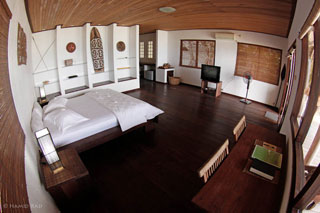 Great attention is given to the smallest detail. The resort is VERY photographer friendly. Each building has a 60 x 330 cm table especially for camera work with good light. The tables are supplied with 110V and 220V build-in electricity outlets. The camera tables have each a build-in sink and running water.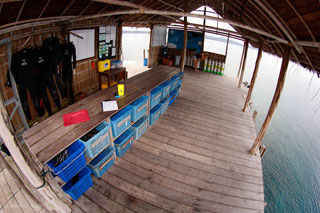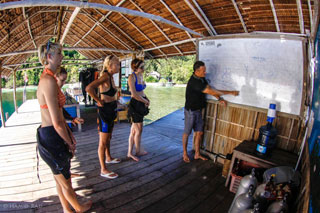 The whole resort is build by divers for divers. On the jetty we have fresh water showers + a camera dedicated area (power 220V & 110V and running fresh water). Every bungalow has a back entrance with a back yard (privacy) with a place to hang wet suits and the like. Once inside on your left is a 3.3 meter camera - video gear table. Two steps further is a large bathroom area with all western comforts. This lay-out ensures the roomy bedrooms to stay sand free (specially your bed!!!). To reduce the sand problem and enable comfortable walking all resort buildings are connected by a 2 meter wide walkway which is lit by night.