Home > Diving Indonesia > Indonesia Liveaboards
MV Pindito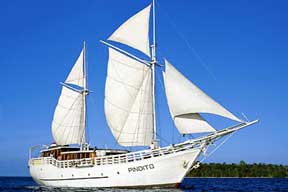 The MV Pindito offers cruises to the Komodo National park and to Irian Jaya (Raja Empat), as well as an adventure-diving tour, which lies in between these two regions, twice a year. Come along and dive with us and enjoy the breathtaking scenic of the underwater world of Indonesia. We know the areas for more than 15 years, Pindito has cruised for example to Raja Ampat years before any other liveaboard was there.
A unique combination of comfort and the ambience of the characteristically Indonesian way will assure you spending an unforgettable holiday.
You will find all necessary information on our webpage in order to see what services will be offered.
Our cruises will take you to virgin dive sites of unparalleled excellence combined the breathtaking beauty of the remote West Irian Jaya or Nusa Tenggara Isles during the best times of the season. During each tour our diving instructors will plan the dives to suit everyone's expectations and diving skills.
History and Construction of the Pindito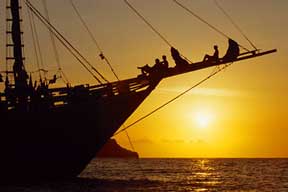 The Pindito and the name Edi Frommenwiler go hand in hand.
Edi had always dreamed of operating his own business, while working as a travel guide for adventure holidays all around the globe. He could convince his investors about the diving project and the beginning of the conduction of the Pindito was settled. Together with up to 60 local vessel workers he built the Pindito on a simple shipyard in less than 12 months and the Pindito watered the Indonesian Sea for the first time in March 1992.
Ever since the Pindito offers different tours, which are all well known by Edi and his crew, in the various regions of Indonesia, Irian Jaya (Raja Empat), Moluccas, Nusa Tenggara (small Sunda Isles) and around Bali. Several thousand dives, uncountable excursions to islands the fact that Edi lives in Indonesia and speaks the language (Bahasa Indonesia) guarantee that you will have the unforgettable holiday of your life, thanks to him and his experienced crew.
Cabins & Accommodation
Relax in the luxury of our teakwood-paneled cabins. Each 10' x 10' cabin is named after a mystical Indonesian island and, depending on your reservation, is appointed either with a twin bed plus an upper bunk, or with a spacious double bed…your choice. All cabins feature ensuite heads with hot and cold running water (vanity and shower as well as toilet), individually controlled air conditioning and five 220v AC electrical outlets (German 2-pole plugs), available 24 hours a day.
Our crew is devoted to your comfort and will attend to your cabin daily, keeping it clean and tidy and providing fresh towels as necessary. Additional towels are available for you on deck as needed.
Pindito offers six double cabins and two twin cabins, creating very comfortable accommodations for up to 16 guests.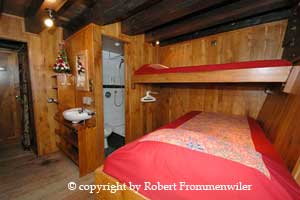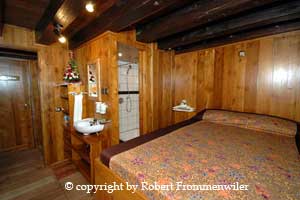 Dive Operation
A Typical Diving Day
After you've enjoyed a continental breakfast meet our crew on the dive deck, where you will be given a detailed dive briefing and shown a sketch of the dive site. Then the dive staff will transfer your gear to the Zodiacs. No need to haul your own heavy gear, just jump into the Zodiac and after a comfortable, short ride, you'll be ready to dive incredibly biodiverse reefs. For your safety and peace of mind, our well-trained Zodiac drivers will accompany you from a safe and prudent distance during your entire dive. While underwater you can join the guide for a special tour or just do your own thing.
After the dive, refreshments will be waiting for you aboard Pindito. Cool out and then enjoy a Balinese massage from our onboard masseuse. Kick back and chat about your diving experiences and sip a cool beverage while screening video and sharing photos of your dive.
Typically, we schedule four dives a day*:
Early morning (around 7:30 AM)
Late morning
Afternoon (around 2:30 PM)
After dinner – an exciting dusk or nighttime dive
Please note, all dives are offered depending on weather.
*More dives per day are available when Pindito is anchored or moored safely over a calm reef. Inquire with your divemaster about when you can expect additional dive availability.
Diving instructors & Dive guides
The primary focus of our Pindito diving instructors and dive guides is to look after your safety and comfort. Dive guides lead all dives. Though you are certainly not required to accompany your guides during the dives, they'll keep an eye out for your safety. And if you want a specially guided tour just ask—they'll be very happy to accommodate. Our guides' trained eyes keep you safe, and they can spot unusual marine life of interest to the keenest photo and video enthusiasts.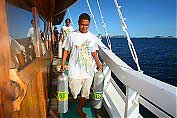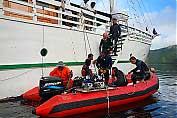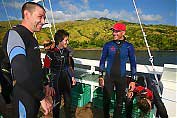 Zodiacs
Pindito has three Zodiac Pros, Model 500 RL, powered by Mercury outboard engines. Your crew will set up and break down all your diving equipment and stow it on the Zodiacs for you. Show the guides how you like your gear set up, and they'll take over and meticulously prepare, move and stow your gear for the entire trip, as well as carefully rinse and dry it at the end of your charter.
Explain the particulars of your camera system to your guides—they'll deliver it to your Zodiac with care and, after the dive, they'll gingerly transfer it to the special freshwater rinse tank aboard Pindito.
Need help on and off with your tank? No problem, your crew will be there to assist you. If you have back issues, the crew is happy to help you on and off with your tank while you are in the water…don't carry that load if it's challenging for you! Pindito's crew is all about safety and service, and with nineteen crewmembers aboard to serve you, you can look forward to diving with the greatest of ease.
Between dives your equipment will be carefully stored aboard Pindito in protected areas.
Saftey
In the unlikely event of an emergency, we always carry a first-aid kit, diver's oxygen, satellite telephone, VHF Radio, two life rafts, E.P.I.R.B. automatic signaling devices, and other important safety equipment. For safety reasons, we permit no dives on the arrival and departure days, and we serve alcoholic beverages only after your diving day is finished.
Rental Gear
We're equipped to provide rental BCDs, regulators, dive lights, and dive computers for four divers.
If you need complete diving gear...
...no problem! Simply let us know when you make your reservation and we take steps to be sure we have what you need aboard.
Please note: We carry a few wetsuits onboard that can be used for free in emergency circumstances. We are unable to carry a full range of suits, however; so if possible please bring your own wetsuit as well as mask, fins and snorkel.
Nitrox & Nitroxcourses
For our Nitrox Specialty certified guests, we offer Nitrox (32% oxygen) fills. There is a Nitrox analyzer aboard provided for your use. We require that you keep up with the Nitrox Log Board and analyze and document all of your Nitrox fills before the dives.
We also offer a P.A.D.I. Nitrox Specialty Course. The course will allow you to use Nitrox during the cruise, and you will be provided with a certification card to document your successful completion of the course. Remember—choosing to use and training for Nitrox is the diver's personal decision. Should you choose to do so, you are responsible for planning dives that take into consideration the maximum operating depth (MOD) of the gas mixture as well as oxygen toxicity issues. So, plan carefully and you will reap the benefits of Nitrox diving.