Home > Diving Indonesia > Indonesia Dive Resorts
Black Sand Dive Retreat
Lembeh Strait

Black Sand Dive Retreat is a small 6-bungalow quality dive resort located on a sheltered bay in a natural setting on Lembeh Strait , Indonesia 's Exotic Critter Capital. This resort is the realization of a long-term dream of Bruce and Fung Moore, who have extensive experience in North Sulawesi over the past decade.
We specialize in personalized service both above and below the water, offering an exceptional dive holiday experience in "The Mecca of Muck Diving" Lembeh Strait for our discerning guests.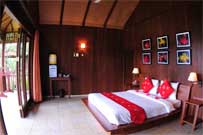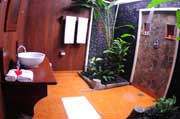 We understand that visiting divers have very limited holiday time and want to get the finest experience possible during their stay with us. It is the incredible diving that draws visitors to Lembeh Strait , but we are committed to providing an equally memorable resort experience.
The Location in Lembeh Strait
Our superb location in Kambahu Bay means that we are right in the middle of Lembeh's best dives and most of the sites in the strait are within five minutes by speedboat. Directly off our fine black sand beach lies our exceptional House Reef, offering calm and current-free conditions so that dedicated critter hunters and shutterbugs can have fantastic dives at whatever time they choose.
The Bungalows
Each coconut-wood bungalow offers wondrous views over Kambahu Bay and Lembeh Strait. The bedroom is equipped with both a ceiling fan and a/c for your comfort, with complimentary drinking water, coffee and tea close at hand. Each unit also has a walk-in closet to keep your bags and belongings organized and out of the way as well as a walled open-air "Bali-style" garden bathroom with a hot water shower to help reheat you after long repetitive dives.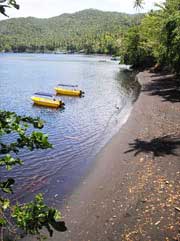 Our Diving Center
We have equipment closets for guest equipment to drip dry in the breeze between dives and provide space for easy suiting up.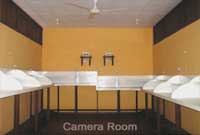 Within meters are showers as well as rinse tanks for washing both diving equipment and for soaking underwater camera gear.
There is a dedicated camera room that is mosquito-screened and fan-cooled, offering two heights of camera stations, each with outlets for charging both 220 V and 110 V.
Our two compressors and Nitrox blending system have their own room, there is a WC for guests, a rental equipment room, and a briefing center, covering all your diving requirements.