Home > Diving Indonesia > Indonesia Dive Resorts
Papua Paradise Eco-Resort
Raja Ampat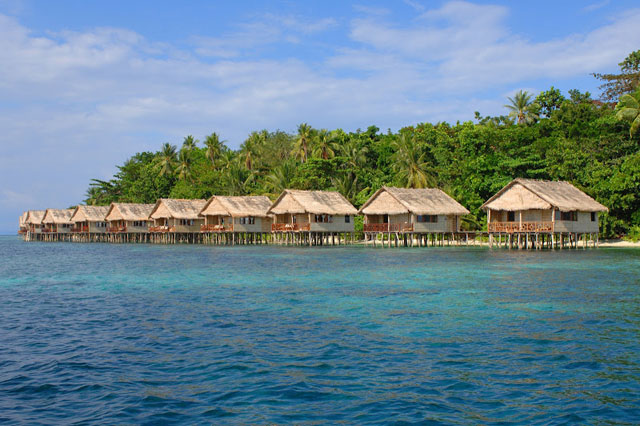 Papua Paradise Eco-Resort is located in Birie, an exotic island 60 km away from Sorong (West Papua).
Accommodation
The island is divided into two main parts: guest side and service side. On the north-west guest side, with ten bungalows built over the coral reef with natural materials by traditional construction method, Papua Paradise Eco-Resort offers unforgettable diving holidays on the island surrounded by peaceful white sandy beach and stunning coral reefs.
Each spacious 60 m2 bungalow has its own 20 m2 massive terrace, on which our guest could enjoy the slight breeze and the glamorous sunset lying in a hammock, and a 6 m2 indoor bathroom (with eco warm water) providing high standard of comfort. Luckily, we have fresh water on the island that runs in the bathrooms but we provide drinking water for our guests from gallons. Air-conditioning is naturally done by the slight ocean breeze and the sun heats up the water at daytime for a nice hot-water shower after a long diving day.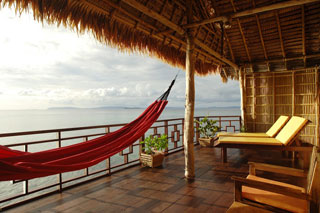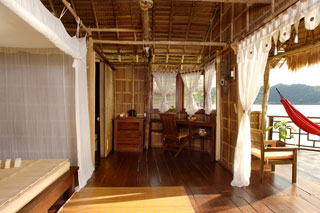 Room Description
Our local architectural inspired water bungalows with essential facilities are built on stilts and made with traditional materials. Featuring a total of 16 bungalows with spacious verandas overlooking the turquoise house reef and the Pacific Ocean, All rooms are equipped by:
Private bathroom with hot & cold fresh water shower
Complimentary coffee/tea making facilities
Pedestal fan
Mosquito net
Ocean view desk
Long chairs and hammock on the sunset veranda
Additional Services:
Welcome drink and face towel on arrival
Evening turn-down
Bottled drinking water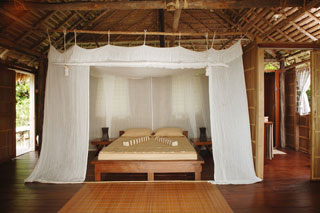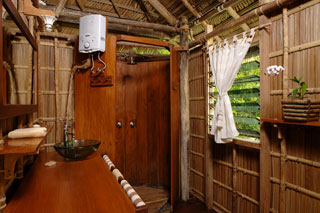 Facilities And Services
The Restaurant
Our ocean view restaurant serves a selection of Indonesian and International dishes. All dishes are prepared daily with fresh local products, centered on fish dishes as expected on an island location.
Other Facilities and Services
Internet Access: satellite Wi-Fi in the restaurant area and in-house PC (additional charge)
Concierge & ticketing confirmation service
Complimentary babysitting service, available on request
Beverage; only local beer is available the island. We recommend you to purchase duty free and carrying with you any wine or spirits you wish to bring on your holiday.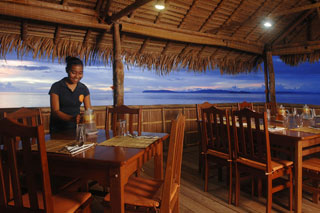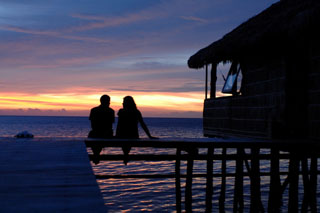 Dive Centre - Papua Paradise Divers
The diving facility operates according to best PADI standards and personalized service. With this standard, numbers of divers diving at the same time are maximum 4 divers with 1 guide, guiding you through the underwater world of Raja Ampat, with over 1300 fish species and 540 coral species, considered as the heart of the world's coral reef biodiversity, making Raja Ampat the richest coral reef ecosystem in the world.
Diving Center Services And Facilities
Library with a choice of marine books
1 Toilet
Washing sink and drying facilities
New or well maintained rental equipment by Aqualung
8, 12 and 15 Liters Aluminum tanks; Valves and adaptors INT and DIN
Nitrox 32% is available with additional charge
Two well maintained and well aerated Coltri Compressors for safe air
1 NITROX mixer
Boats
Description: All boats are designed and built for safe and comfortable diving
1 Fiberglass boat with sundeck and toilet which can accommodate 7 to 12 divers, powered by 3 silent, 4 strokes Yamaha outboard Engines 200 HP
1 Fiberglass boat which can accommodate 6 to 8 divers, powered by 2 silent, 4 strokes Yamaha outboard Engines 115 HP
2 Fiberglass boats which can accommodate 1 to 5 divers, each powered by 2 strokes Yamaha outboard Engines 40 HP
Safety equipment such as radio, life jackets, first aid kit, DAN Jumbo Oxygen twin tanks
Extra diving equipment
Binocular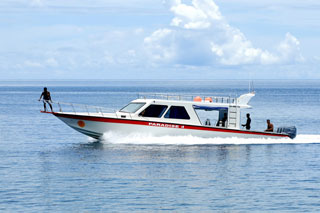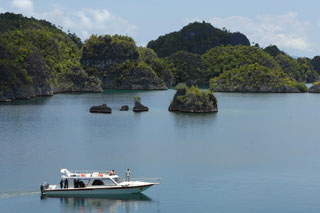 Diving
We count more than 30 dive sites. Our dive sites mostly within 10 km distance around the island with coral reefs richest in the world. Every diver could find their favourable sites to dive because the crystal clean bays, mangrove-side shores and deep water reefs offer perfect opportunities for both big fish lovers and macro maniacs.
The water temperature is 28-29 °C all year around, visibility is 15-20 metre in general. The best dive depth is from 5 to 25 metres and it is ideal for nitrox divers.
For those who prefer staying close to the resort, we can happily offer our 150 m long house reef around the resort for either diving or snorkelling. Our guests can observe schools of millions of different reef fish, baby black tip reef sharks, turtles, wobbegongs, pygmy seahorses and the very rare mandarin fish. Furthermore, blue spotted rays, colourful parrotfish, common seahorse, shy pipefish, hunting jackfish are everyday visitors of the house reef. The lucky ones can also meet some rarely coming dugongs.
Information: Dive Sites [pdf]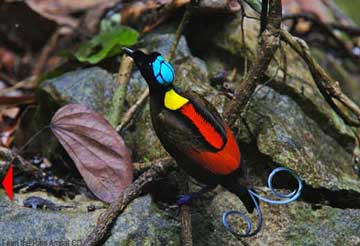 Non-Diving Activities
Among diving and relaxing at Papua Paradise Eco-Resort, the nearby smaller and bigger islands and wild jungle forests give the opportunity to other activities as well. We organise boat trips to the stunning mushroom islands, bat cave, traditional cemetery, visit the most beautiful birds of paradise or climb up to a breathtaking 60 metres high waterfall that should not be missed out.
Our Mission
We are strongly intend to support the conservation of Raja Ampat's spectacular underwater and rainforest realm, while also help and create real benefits for the local communities. Together with the local police, we regularly patrol the area to stop illegal fishing and shark fin hunting. We are really keen on protecting our no-take zone around the island and teach local people for environment awareness.