Home > Diving Indonesia > Indonesia Dive Resorts
Papua Paradise Eco Resort
Raja Ampat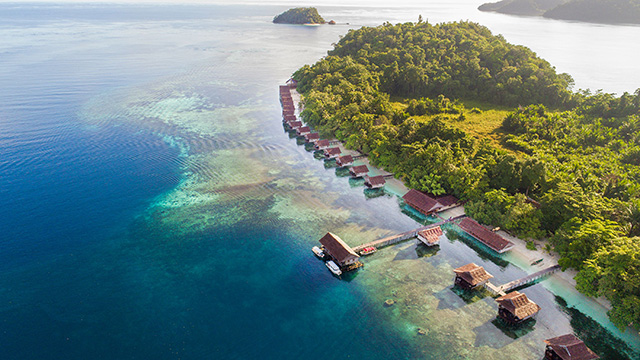 Papua Paradise Resort lies along the pristine shoreline of the uninhabited island of Birie, Raja Ampat. The island is teeming with exotic bird life, lush jungle foliage, and a spectacular array of fauna, while the reefs in the surrounding area offer world class diving.
Built in traditional style, Papua Paradise offers an exceptionally high standard of comfort and service. This ideal retreat away from civilization, echoing with only the sound of the birds and the lapping of the waves under the bungalows, Papua Paradise offers simple yet comfortable accommodation, and a high standard of service. The resort also offers the only luxury spa in Raja Ampat. Spa in Paradise is a place of healing, relaxation and rejuvenation.
This tailor made paradise for divers is the perfect place to see manta rays, sharks, and shoals of schooling fish, and explore reef slopes with some of the widest diversity of corals in the world. Seek out rare dugongs, hike at sunrise to see the stunning birds of paradise, and meet the wonderful local people of Raja Ampat. All this and more before ending the day with a perfect ocean sunset view from your private balcony.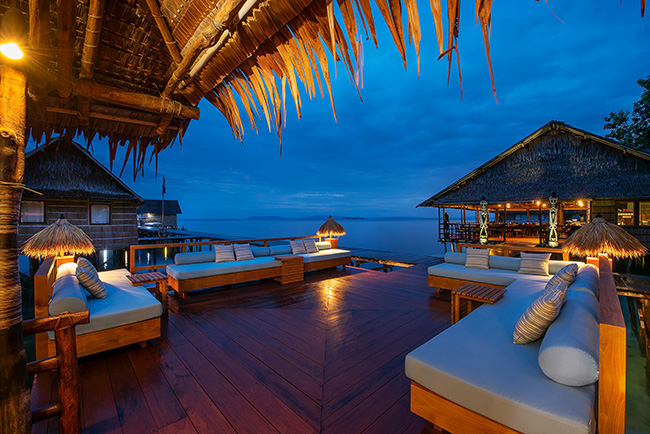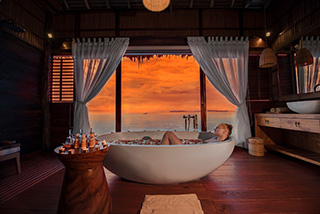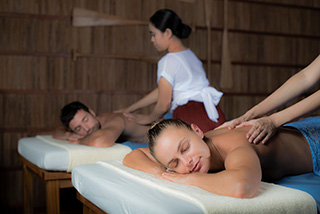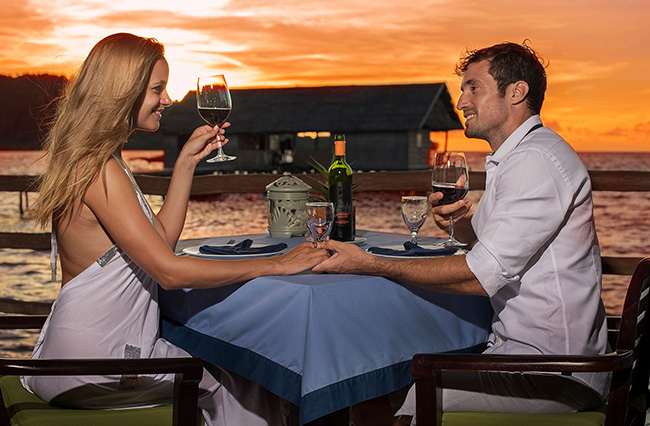 Accommodation
Our local architecturally inspired water bungalows with essential facilities are built on stilts and made with traditional materials sourced locally. Featuring a total of 26 over-water bungalows (10 Deluxe Rooms & 16 Superior Rooms) with spacious verandas overlooking the turquoise house reef and the Pacific Ocean.
Superior Room
Overlooking the ocean with waves lapping gently underneath are our Superior Over-Water Bungalows. These sturdy, traditionally built bungalows are roomy and quaint, with natural ventilation and shade from the locally-sourced, sustainable materials used in constructing these rooms. Every bungalow has a private bathroom as well as a verandah* that gives you a fantastic view of marine creatures swimming by and beautiful sunsets in the evenings.
70 meter square overwater bungalow with ocean/sunset view
Solid wood furniture
Private En-suite bathroom with hot/cold water shower
Large Sunset veranda sun beds and hammock
Queen sized bed with pedestal fan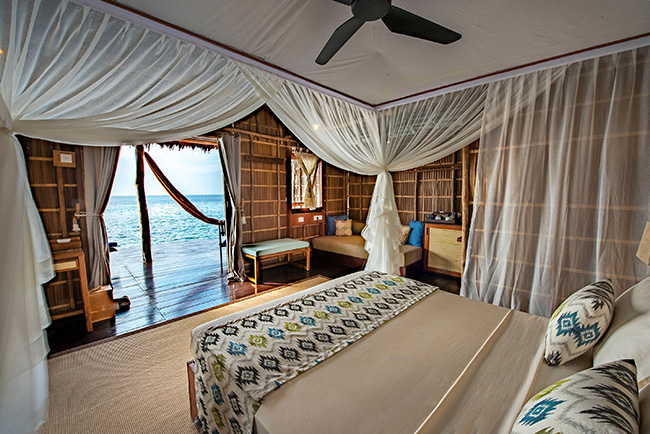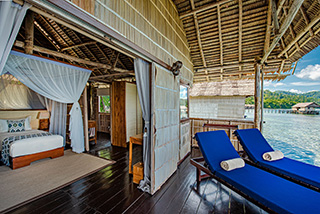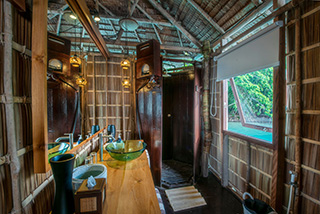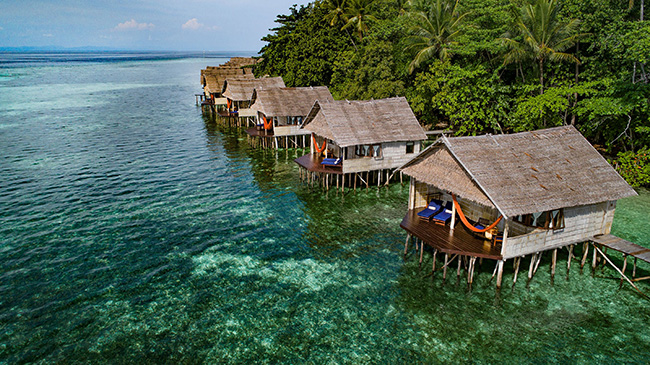 Deluxe Room
These gorgeously designed and elegantly decorated Over-Water bungalows are airy and spacious, at the same time retaining their traditional charm with natural building materials. With custom-made louvers all around, the ventilation of the rooms can be adjusted to your fancy, and the front glass doors leading out to the generous double-tier verandah* give the rooms plenty of natural light, providing you with the luxury of an absolutely panoramic view combined with spectacular sunsets and the addition of various marine life passing by.
85 meter square overwater bungalow with ocean/sunset view
Teak wood furniture
Indoor cozy corner with couches
4 poster King sized "King Koil" bed with ceiling fan
Private Semi-Open En-suite bathroom with hot/cold water shower
Sundeck with sun beds
Two tier open large sunset veranda with daybed
Mini Bar Papuan "Asmat" Artwork
Hair dryer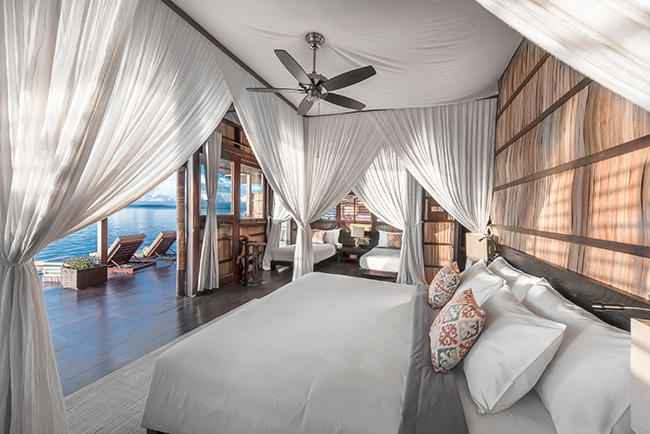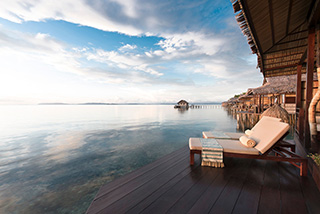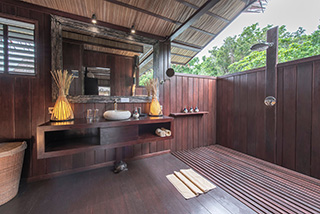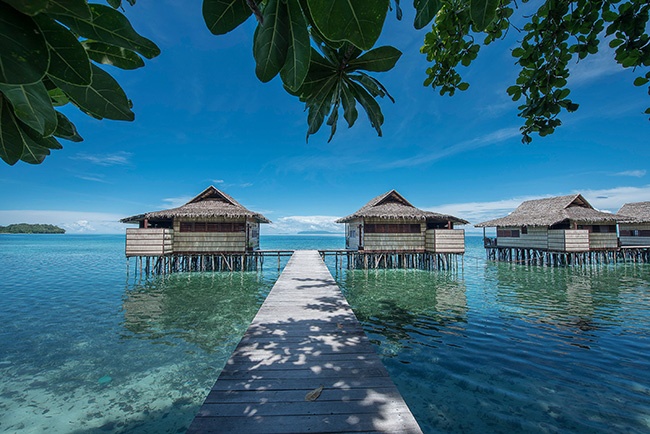 All rooms are equiped with:
Safety deposit box
Pedestal fan
Mosquito net
Ocean view desk
Long chairs on sunset veranda
Services
Welcome drink and face towel on arrival
Complimentary coffee/tea making facilities
Evening turn-down
Purified drinking water
Internet Access: Free Satellite Wi-Fi in the dive center lounge, adequate for emails and web browsing.
Concierge & ticketing confirmation service
Free laundry service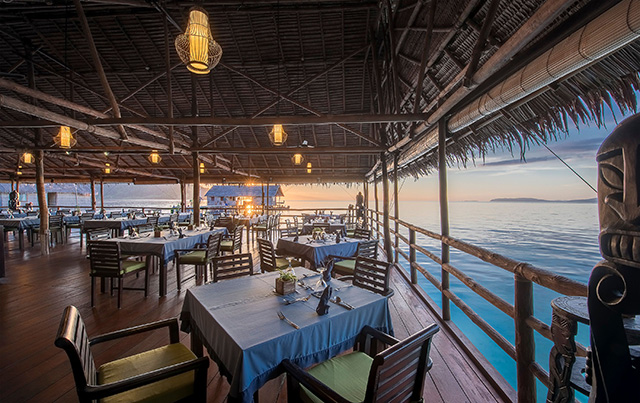 Dive Centre - Gangga Divers
Our professional diving facility operates according to best safety and PADI standards, with a personalized service and professionally trained dive guides. With this standard, the maximum diver to guide ratio is 4 divers to 1 dive guide, guiding you through the underwater world of Raja Ampat. With over 1300 fish species and 540 coral species, Raja Ampat is considered the richest coral reef ecosystem in the world with its splendid marine biodiversity.
Diving Center & Facilities
Library with a choice of marine books, plus flora and fauna books.
Classroom for PADI courses equipped with TV.
Male & Female Toilets
Equipment crates, washtubs and drying facilities for dive equipment
Locked storage room for dive equipment
New or well-maintained rental equipment by Aqualung
6, 8, 12 and 15 Liters Aluminum Tanks; Valves and adaptors INT and DIN
Nitrox (~32%) is available free of charge for Nitrox-certified divers
4 Well-maintained and well-aerated Coltri Compressors for safe air fills
1 NITROX membrane system and 1 continuous Gas Blending station
Air-conditioned camera room with workstations
Boats
1 Fiberglass boat with sundeck and toilet which can accommodate 8 to 12 divers, powered by 3 silent, 4 stroke 200 HP engines
1 Fiberglass boat which can accommodate 6 to 8 divers, powered by 2 silent, 4 stroke 200 HP engines
2 Fiberglass boat which can accommodate 6 to 8 divers, powered by 2 silent, 4 stroke 150 HP engines
4 Fiberglass boats which can accommodate 1 to 5 divers, each powered by two 2 silent, 4 stroke 50 HP engines
2 Fiberglass boats which can accommodate 1 to 5 divers, each powered by two 2strokes 40HP engines
Safety equipment such as VHF marine radios, GPS, life jackets, first aid kit, DAN First-aid Oxygen kits