Home > Diving Indonesia > Indonesia Dive Resorts
Nabucco Island Resort
Kalimantan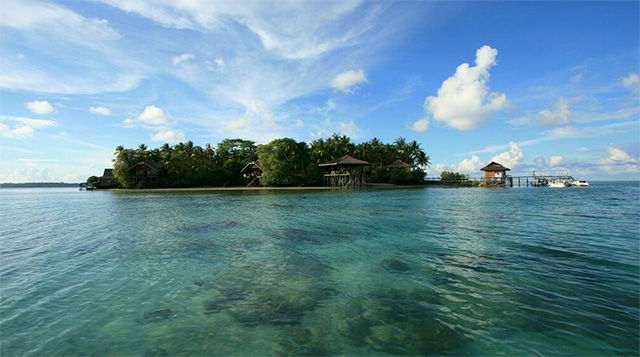 Location
About 40 km east of Berau district, East Kalimantan, Indonesia. You will feel like Robinson Crusoe finding a new place; quite; pure nature; no cut trees; all you hear is natural sound which takes your stress away. The unique creatures; Coconut Crab, black native lizard; crawl for food at night. You can see them on the pathway but must be quiet because they are afraid of human. The fantastic Collibries; King Fisher's wing movement is amazing. Canoing inside the lagoon is so cools; clear light blue colour;white sand will sooth your eyes. Excursion to meet with the native Maratua island and find yourself that they are very friendly. In one place you see all; above and underwater; for diver and non diver; for you and your family. Sooo Cools!
Accommodation
17 rooms for 34 persons (8 double and 1 single bungalows) seaview or gardenview, all with balcony equipped with shower, toilet, minibar, mosquito net. At the moment only 10 rooms with Aircondition.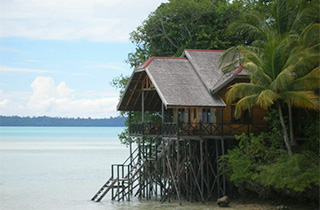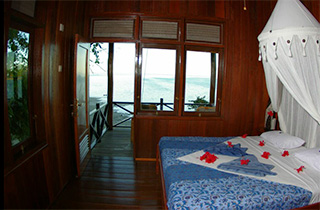 Supporting activity
Safety box; reading corner; bar and also boutique.Asian massage; excursion to see the native Maratua island. Those supporting activity will make your diving holiday as a complete great diving holiday; above and underwater.
Electricity
220 volt with 2 horizontal roundpin type connector; adaptor is also available.
Restaurant
Special built restaurant serve you delicious western and asian foods. Big breakfast will give you a lot of energy and 5 courses dinner menu will satisfy you after your great dive before going to bed. Mineral water can be purchased around USD 2 and refilling mineral water is USD. 1 . This system will help to minimize the plastic rubbish on the island. Soft drink and alcoholic drink is available. If you bring your own alcoholic drink, Please do not drink at the restaurant area.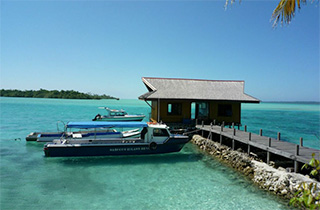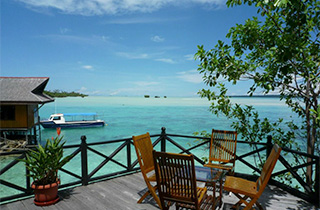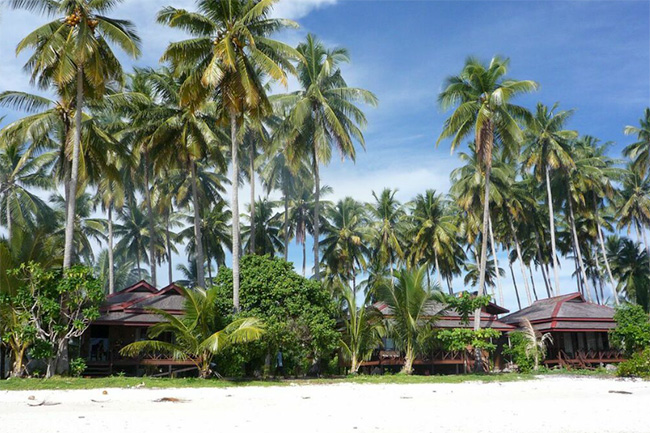 Diving activity
Managed by professional persons from Extra Diver; equipped with 15 full diving equipment in each sizes; 70 aluminium 12 L tanks with Din / Int valve; oxygen tank; rental dive computer and underwater camera are available at the resort. We also provide children diving equipment for them to do Discover diving to see the great underwater life preparing for them to take the Junior Openwater Diving course.
Nabucco diving boat will bring you out for diving around Sangalaki; kakaban and Maratua island to see the underwater life ; from macro to big fishes; non stinging jelly fishes and also the magnificent manta rays. Snorkeling and diving with manta rays at Sangalaki island is an unforgetable memory; can you imagine when you are circled by mantas? Kakaban island has also its own power to increase your andrenalin besides its unique Non Stinging Jellyfish. Night dive at Nabucco Jetty is also easy and excellent dive for the nocturnal sea life. Imagine you are sitting on a ring seat; The big fish country channel is look like an underwater Colosseum at 30 Meter; beneath you - an abyssal plunge beyond the depths of mortal endurance. Then the greatest show begin with the uncountable Barracudas; looks like a huge tornado swirling close to you ; Eagle rays; Big tooth Jacks; Dog Tooth Tunas; snappers; Groupers and also sharks. The light house; shark city; dolphin parade and lobster cave will make your dive a loving memory. You will be back again and again.