Home > Diving Indonesia > Indonesia Dive Resorts
Kri Island Resort
Raja Ampat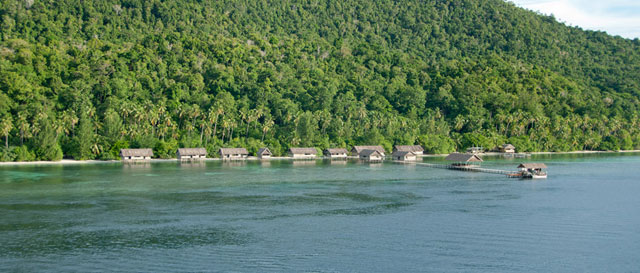 A simple, but comfortable dive resort
10 traditional over water bungalows and offer traditional Papuan accommodation perched on wooden stilts, right across abundant reefs and pristine jungle forest, with excellent food and a relaxed, friendly atmosphere.
It is truly part of nature and every morning guests are awoken by an orchestra of birds. The heart of our operation is the dining area and kitchen. 3 times a day meals are prepared in the open kitchen and are served on the communal table. A variety of vegetable and fruit will please vegetarians guests. Clean drinking water, coffee & tea are provided free of charge.
For an extra charge you can enjoy a cool beer to sundown on the sunset deck, soft drinks or fresh fruit juices. Watch the juvenile blacktip sharks grow up in the protected waters around the resort.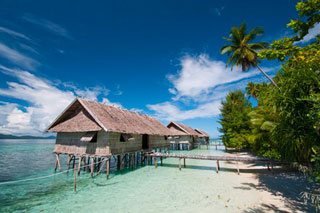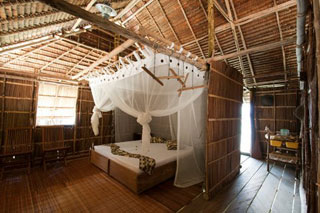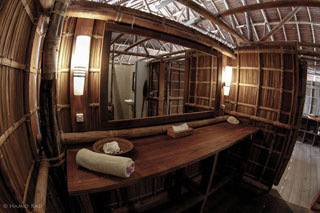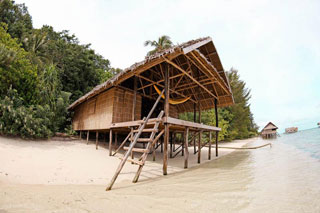 Dive Operation
Maximum 6 divers per boat with a min. of 2 dive guides.
Operating with 8 fiberglass boats (with each 2x 40HP Yamaha engines), all built by our local craftsmen on the island
3 guided boats dives per day plus an optional night/dusk dive. 2 dives in the morning, 1 in the afternoon and if requested an additional night dive.
Free Nitrox - for certified enriched air divers
Full day dive excursions are also being scheduled. Usually once a week. Depending on the guest's interests and weather conditions.
We use 12l aluminium tanks
Yoke valves (DIN adapters are limited, please bring your own if needed)
We offer unlimited diving with accomodation packages and separate dive packages. If you plan to do at least 2 dives a day, we recommend the accomodation with unlimited dive package.
The dives included in the unlimited package are for dive sites within a 10km radius around the resort. Outside of this zone, fuel surcharges apply, ranging from 25 euro p/p to 60 euro p/p for further away excursions/dive trips such as Fam Islands and the Passage.
Thanks to our central location and the close proximity to the dive 'Hot Spots', the boat rides to the dive sites will take approx. 5 - 15 minutes only
Therefore it is also our custom to return to the resort inbetween the dives.
Towels and fresh water are always provided on the boats
A snack/picnic will be offered on half day trips or lunch on full day trips.
Oxygen, Emergency Box, Tools, GPS and Radio are standards on the boats.