Home > Diving Indonesia > Indonesia Dive Resorts
Papua Explorers Dive Resort
Raja Ampat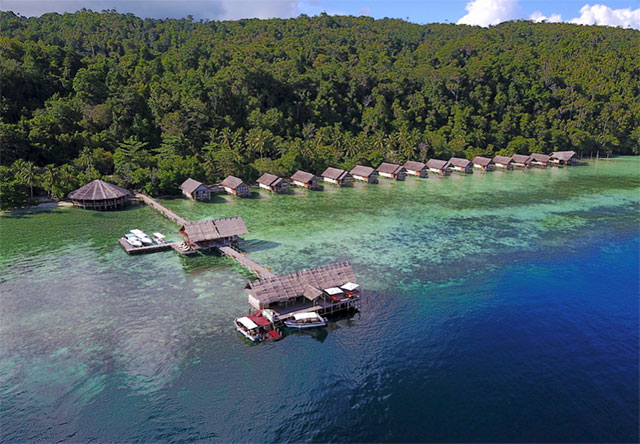 Papua Explorers Resort is located in the islands of Raja Ampat, which is on the northwest tip of the Bird's Head Peninsula of West Papua. Raja Ampat translates into English as Four Kings and gets its name from a local mythology about four kings that occupy the four big islands; Salawati, Batanta, Waigeo and Misool. It's a stunning archipelago comprising over 1,500 small islands, hosting thousands of species some of which are endemic to the region.
Some scientific surveys reveal that Raja Ampat has 603 hard coral species which represents more than 75% of all the species in the world. With its rich ecosystem and abundance of species, Raja Ampat is the bull's-eye of the Coral Triangle in every sense. Papua Explorers is located on the island of Gam and just along the coast of worldwide renowned Dampier Strait, only 10 to 15 minutes away from the most famous dive sites like Manta Point, Cape Kri, …..
Accommodation:
Papua Explorers Resort is constructed using local architectural techniques and natural materials. Walls are made from Daun Bobo , roofs are made from Daun Nipa, floors and window and door frames are made from teak wood. These are the typical materials used for traditional Papuan houses.
Our water bungalows are very specious with their 72m2 total area, that includes a 40m2 room, WC, shower and hot water, and a 20m2 veranda. There are single or double rooms upon request. Each standard room has a bed with mosquito net, ceiling fan, desk and chair, a seating area consisting of a two seater sofa and a coffee table. There are two sun loungers on each veranda as well as a hammock to enjoy the breath taking Raja Ampat sunsets. There is a stairway straight to the ocean on the veranda. Towels, shampoo, shower gel and soap are provided.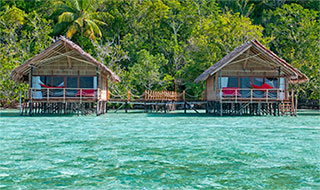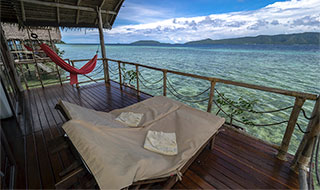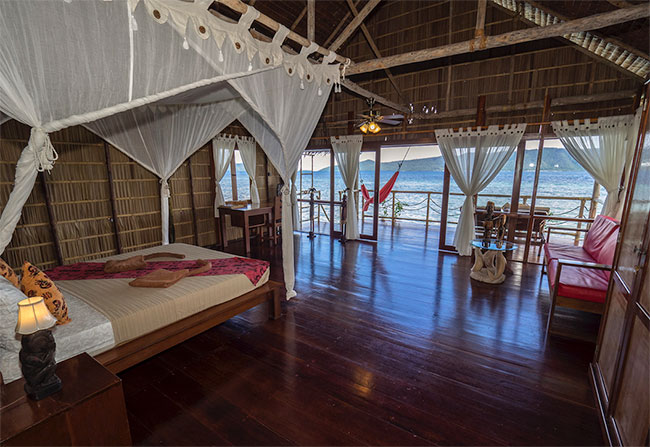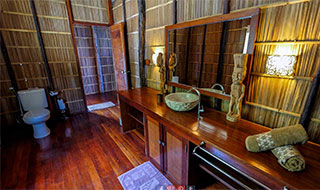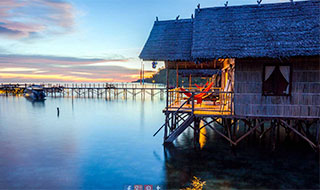 Diving:
We offer 3 boat dives and unlimited shore dives each day. Our boats leave at 08:00 usually for 2 dives (depending on dive sites to be visited) and 14:30 . All famous dive sites are included in our daily dive plans. Here are some of these world renowned dive sites and our distance to them:
| | | | |
| --- | --- | --- | --- |
| Manta Point: | 20 min | Mike's Point: | 10 min |
| Cape Kri: | 15min | Sardine Reef: | 25 min |
| Mioskon: | 25 min | Blue Magic: | 25 min |
| Odlima: | 5 min | Chicken Reef: | 20 min |
| Passage: | 45 min | Hidden Bay: | 30 min |
Raja Ampat waters are highly rich in nutrients the Dampier Strait is especially nutrient-rich due its fast moving currents. These currents attract a wide variety of species including migrating mammals and pelagic species. However, nutrient-rich means low visibility and the saying goes "no current, no fish".
We distribute reef hooks to all divers. All divers are required to bring their safety buoys and whistles with them when coming to our resort. It is mandatory for all divers to have DAN insurance to be able to dive with Papua Explorers.
Closest pressure chamber is in Manado and the costs for transportation can be extremely costly in case of an emergency. Therefore, all dives are planned and executed without deco stops and it is mandatory for all divers to use a dive computer.
We don't have a huge stock of rental equipment because most divers prefer to bring their own equipment here. So if you'd like to rent any equipment from our dive center, please book them 60 days in advance.