Home > Diving Indonesia > Indonesia Liveaboards
La Galigo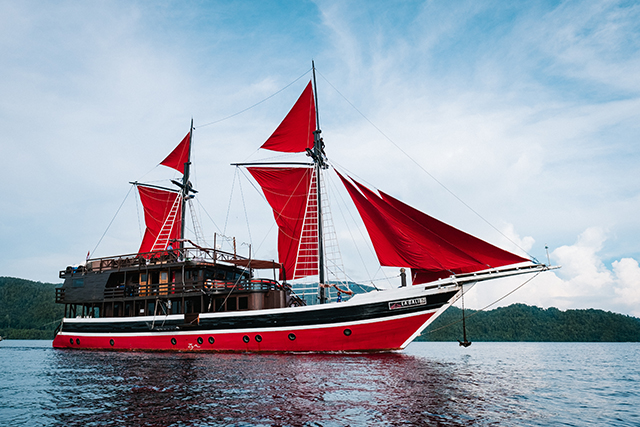 La Galigo has been built by traditional Southern Sulawesi craftsmen in Bira in 2012. She is a traditional two mast Phinisi style sailboat, which the Buginese have perfected over hundreds of years. Her sturdy hull has been built from Kalimantan ironwood and the rest of the vessel has been finished to perfection in warm tropical teak.
She has been designed by an avid liveaboard diver with the liveaboard diving lifestyle comfort and practicality in mind. Motor and generator noise have been engineered out by isolating the engine room away from rooms with thick walling. Cabins and ensuite's are filled with plentiful natural light and spectacular views of the passing seas and islands.
La Galigo consists of 3 main decks for living and diving plus an additional roof top deck that is opened during favourable conditions. All cabins have wardrobes with plenty of space for your luggage, and a desk to fill out your log book after a spectacular day diving. All cabins also have hot water in the showers.



Your service is guaranteed with a very low crew to customer ratio. Enjoy a unique cultural exchange with the local Indonesian people as you learn a little Bahasa Indonesia and immerse yourself in the culture of this mystical land.
The lower deck is where you will find our four deluxe cabins, each consisting of a american style deep spring mattress double bed, a single bed, eloquent stone finished ensuite with glass shower doors and fresh chilly air conditioning.
The main floor is the spacious living and diving area. The back area of the boat is our broad dive deck with twin curved stair cases. A well equipped preparation deck is next up from this with ample space to kit up into your gear with out the hassles of a crowded dive boat. The homey lounge area towards the vessels centre gives our new friends a perfect place to trade stories about the days diving and download brilliant photographs of your day. This space has many power points for charging and preparing your laptop, camera and video equipment. This space also has a large TV and a well stocked bookcase for your entertainment. This is also the place to enjoy the delicious creations that our Head Chef has been working hard on while you where marvelling at this unique underwater world.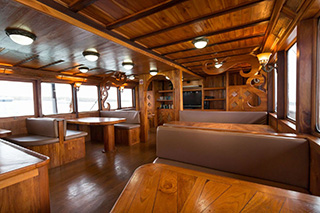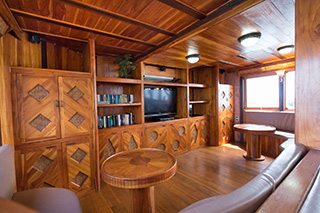 On board the La Galigo you will taste the flavours of Indonesia. If you don't have an adventurous pallet, no worries – your favourite dishes from back home will be available in addition to the local cuisine. Our new vegetarian and vegan friends will be catered for simply by request before your voyage. Non alcoholic drinks, tea and coffee are included in the price of the charter. Beer and wines will be available from our bar for purchase.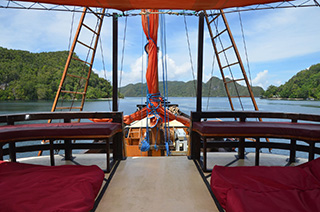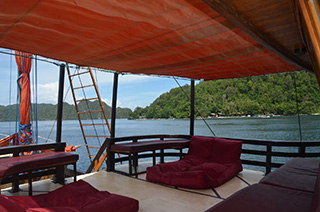 The upper floor is where you discover the first of our outdoor living areas, the two master cabins and the grand suite. In the outdoor living area you can lounge back in a comfortable reclining chair with ample shade and tranquil ocean breeze, a great way to unwind after another mind blowing dive in Raja Ampat. The next tier master cabins are more spacious and offer a double bed, a single bed, refreshing air conditioning and an even more spectacular panoramic view from your window.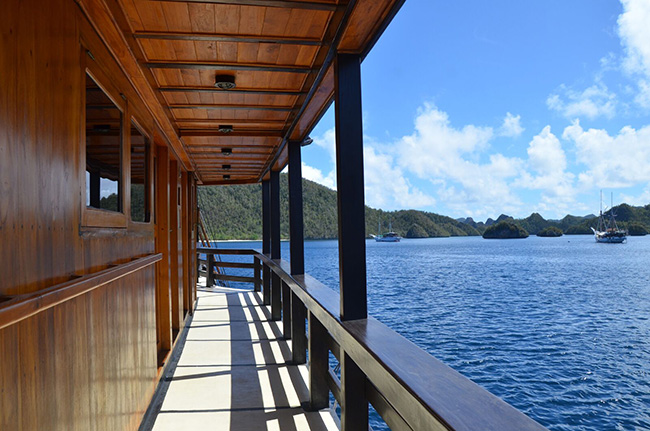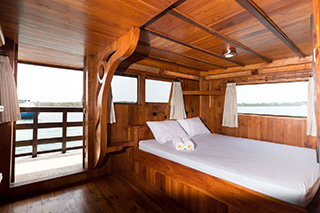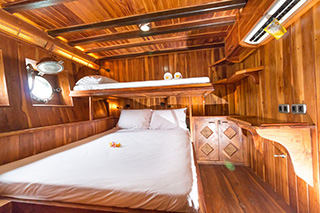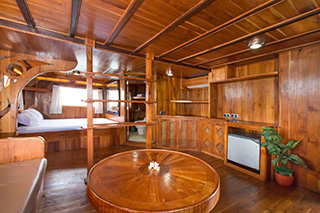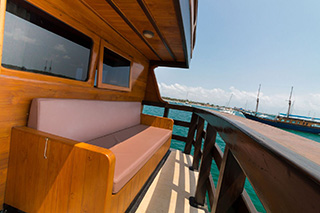 The grand suite is our premium accommodation, this is everything you need for your ultimate liveaboard experience. This huge room has a double bed, extra large ensuite, private balcony with table and chairs to maximise your panoramic views of the Archipelago, own private lounge rooms with couches and a state of the art 48" high definition flatscreen TV, PS4 with a selection of the latest games, own private fridge, 270 degree views. The couches can also be utilised for families with children to sleep a maximum of 4 in this suite.
Please note: most of our divers come with their own equipment, we do have a limited range of equipment for hire at an additional cost onboard our vessel.