Home > Diving Indonesia > Indonesia Dive Resorts
Alami Alor
Alor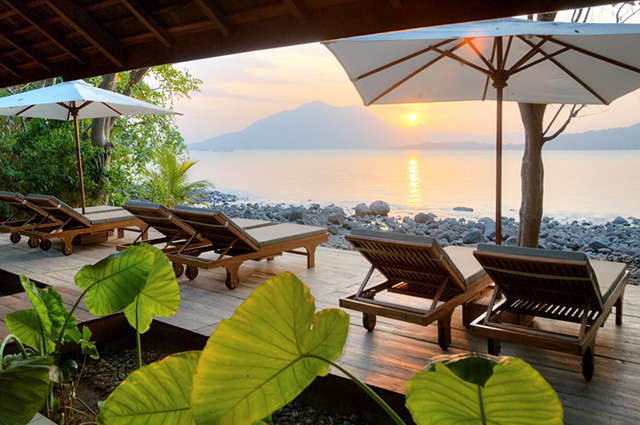 Alami Alor is a new dive and stay resort located in Alor, NTT, Indonesia, opening for the April-December 2015 season. Managing Directors are from the USA and UK. With a maximum of only 8 guests, the resort's focus is to provide scuba divers with access to both tropical coral reef diving and muck diving while providing a quality standard and personalized service both in the dive center and the resort. The resort grounds are well preserved and full of tropical trees, plants and flowers providing a shaded and breezy home base for guests in a waterfront garden environment.
Bungalows

Located waterfront in the tropical garden are the guest bungalows. In the air-conditioned bedroom guests will find one queen or two single spring beds, wardrobe and desk. Each bungalow is stocked with drinking water and an afternoon coffee and tea service is delivered each day. The open garden bathroom has a western toilet, natural stone sink and hot water rain shower. A shaded waterfront terrace provides guests with a quiet outdoor area for relaxation.

Dining and Lounge
Guests can enjoy a full breakfast, lunch and dinner in the dining room at the communal dining table. We serve an assortment of dishes influenced mostly by tropical Indonesian and Asian style, but also international cuisines. We use as many fresh local ingredients as possible in addition to some imported ingredients. Local beer and soft drinks are available for purchase. Wine and other specialty drinks are subject to availability.
A guest lounge and sundeck are located in front of the dining room at the water's edge and provide a place for relaxation and socializing before and after meals. The lounge also serves as one of the places for guests to connect to the wifi internet.
Dive Center
The Dive Center at Alami Alor houses both an equipment room with guest equipment lockers and terrace with a dive scheduling board and seating area. The front terrace is where guests will meet their guide before dives and view marine-life identification books and complete log books upon return. Access to the water for both boat dives and house reef dives is done via the dive center's jetty.
Housed in the dive center is a camera room where guests can rinse, soak and blow dry their camera housings out front and then enter to use a personal workbench for setting up and disassembling cameras, charging batteries and storing camera equipment in-between dives and overnight. A computer workdesk is also located in the camera room and wifi internet access is available throughout the Dive Center.
The dive boat is a fiberglass speedboat with 4 stroke engine that is purpose built for scuba diving. It is fully equipped with drinking water, emergency oxygen, first aid kit, tool kit, binoculars and communications. During the surface interval of 2 tank trips, hot drinks and a lite snack will be served on the boat. Dive site distances on the speed boat are 2-10 minutes for muck diving sites and 10-30 minutes for coral reef sites.