Home > Diving Indonesia > Indonesia Liveaboards
Pelagian
Wakatobi's Dive Yacht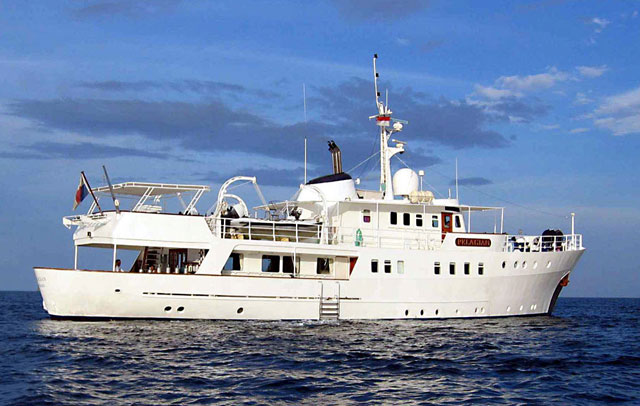 Imagine 115' / 36 meter of the finest motoryacht. A true exploration yacht built out of steel that's got a proven record of exceptional dive cruises spanning decades. Now in finer condition than ever before Pelagian is ready to pamper you and yours!
Boutique-hotel style accommodations and outstanding service: Pelagian.
This spacious vessel will make you feel like you're on a private yacht charter. There are no crowds, only ten guests!
Spacious and elegant guest areas, outstanding amenities and the most incredible marine life round off a vacation aboard Pelagian.
Few (if any) live-aboards around the world, can boast the comfort and level of personalized attention found on Wakatobi's premier live-aboard. See for yourself! Explore the information, images and videos we've provided and be your own judge. Be aware that in the videos provided here you will not see the brand spanking new and absolutely gorgeous interior. We are working on that and ask that you instead consider the photos and reach out to us with your questions and requests.
About The Accommodations
The newly remodeled Wakatobi dive yacht, Pelagian, is like a floating tropical boutique hotel with ever-changing topside and UW vistas. All of the cabins have been masterfully designed for comfort and aesthetics. Spacious floor plans, luxurious bathrooms and modern decor create relaxing environments for guests. With a maximum of ten guests, Pelagian offers more space per guest than any dive yacht of its kind. All interior spaces are air conditioned and each cabin has its own temperature control. Guests enjoy an unlimited hot and cold water supply and fresh towels daily.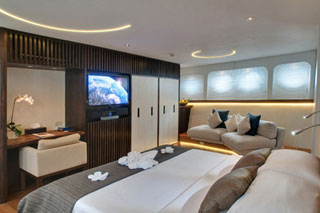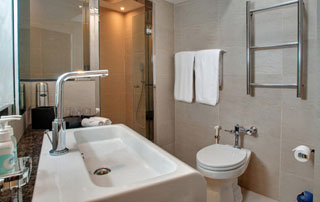 Master Cabin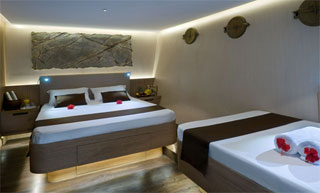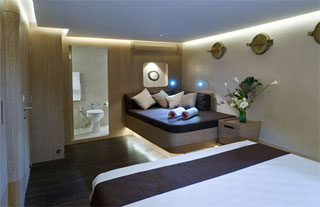 Superlux Cabin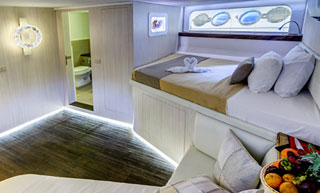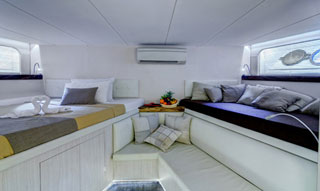 Deluxe Cabin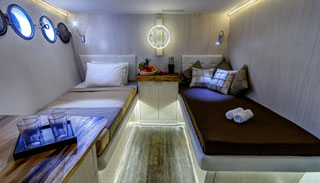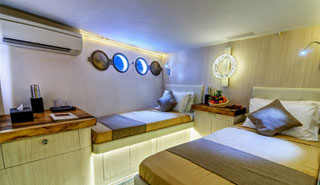 Standard Cabin
Common Areas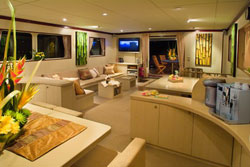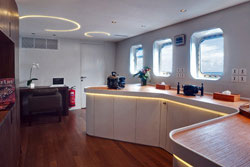 Pelagian Diving
Diving Freedom
Life aboard Wakatobi's Dive Yacht, Pelagian, is a mixture of the best divers can experience in the diving world: 5-star accommodations and amenities floating above the world's best most prolific marine environment. The yacht has been masterfully designed for diving safety, comfort, and convenience. Spacious dive-ready decks are complimented with ample seating, tables, dive briefing and equipment storage areas. Built in Norway as a 35 meter (115 feet) world-ranging motor yacht, Pelagian provides a secure and stable base for dive exploration. She cruises at 9 knots and has a range of over 8,000 nautical miles! Yet, unlike most dive live-aboards, Wakatobi limits yacht occupancy to ten guest divers per cruise. This ensures maximum comfort and the highest standards of service for each and every diver!
The Wakatobi dive yacht cruises through the islands of Binongko, Hoga, Wangi Wangi, and Buton -- offer exciting and varied dive environments. The cruise route is flexible to divers' marine life preferences, but is generally designed to offer guests an incredible sampling of wall, pinnacle, coral garden, drift, cavern, cave and muck diving! And since the Pelagian is a exploration dive platform, experiencing the best dive conditions is just a matter of moving the yacht!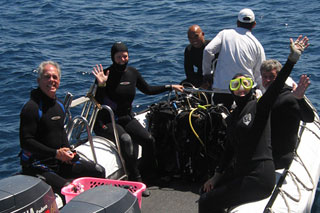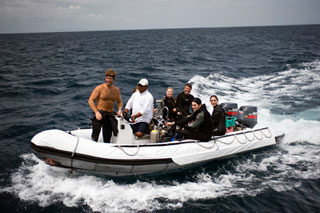 Experience the Outer Reaches . . . .
Two, custom-designed, 18-foot, rigid-hull inflatable (RHIB) dive tenders with double 60 HP outboard engines whisk divers off to dive sites in comfort. The inflatables are designed for diver safety, comfort and convenience with stainless steel ladders to make it easy to get back onboard. Diving is exclusively done from the tenders allowing the crew to drop divers at the best entry points based on diving conditions. It also facilitates fast and efficient diver pick-up at the end of the dive. This eliminates the need for divers to find their way back to the Pelagian post-dive. Best of all, Pelagian crew fills tanks using whips from the main ship so there is no need to take dive gear off the tenders until the end of the cruise! The crew is also trained to provide 5-star camera treatment at all times - helping divers with dive entry and exit.
All dives aboard Pelagian begin with an expert dive briefing. Instructor-level and very experienced dive guides offer dive planning advice to ensure each diver has the best time possible. Each dive site briefing includes an overview of site topography, dive conditions, types of marine life found on the site, areas of particular interest, and safety reminders. These briefings are not meant to restrict diver freedom, but to help ensure all divers experience "the best" on each dive. Dive guides are focused on helping divers find specific marine life on their "wish list." Due to the diversity of marine environments explored, divers have ample opportunity to check off many of the rare and unique fish and invertebrate species they'd like to encounter!