Home > Diving PNG > PNG Land Tours
Climbing Mt Whilem 4509m - PNG Highest Peak: 4 days/3 nights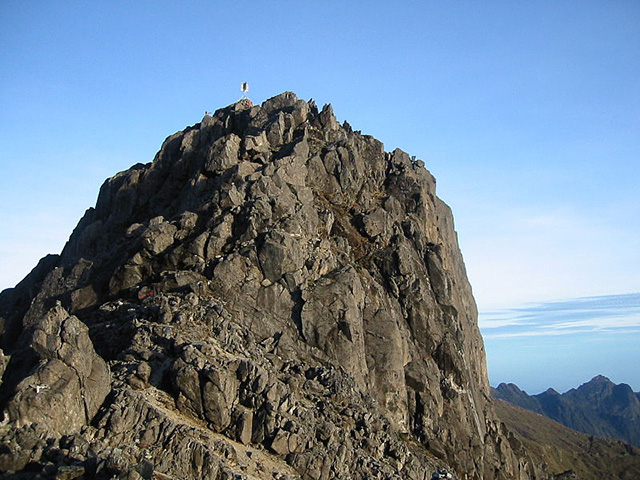 Mount Wilhelm - highest mountain in Papua New Guinea

Author: Nomadtales (talk · contribs) [CC BY-SA 2.1 au], via Wikimedia Commons
Itinerary
Day 01:
Fly into Mount Hagen Airport, Meet and transfer to Kegesugl, foothill of Mt Whilem.
Arrive Kegesugl and check into Kegesugl Guest House.
Dinner is served.
Overnight stay at Kegesugl Guest House, Single or Twin Room Accommodation.
Day 02:
Full day walk up to the base camp of Lake Piunde Yaundo.
07.00am commence walk uphill the trail under forest canopy and arrive onto the alphine grass land and arrive at the lake side. Walk around the lake and its area.
Overnight at the basic lake side lodge with meals cooked and served by your guides.
Day 03:
Climb up the rocky mountain path to reach the Peak Summit 4509m and return:
At 1.00am commence your uphill climb along the rocky path and track to reach the Summit Peak 4509m and watch the sun rise and return walk back to the Base Camp. Served your lunch.
Repack and return walk downhill back to Kegesugl Guest House.
Overnight stay at the Kegesugl Guest House with dinner.
Day 04:
Vehicle transfer back to Mount Hagen airport for your late flight to Port Moresby.
Early morning vehicle transfer by driving back to Mt Hagen airport via Kundiawa Town and onto Mt Hagen airport.
COST: Twin Share $1,220 per person based on 2 persons
Includes: Share Room Accommodation, All Meals, vehicle transports and Transfers, Guide and Trek Guide and 2 x Porter, Site Fee
For more information
Contact:
Dive Discovery
@
1 800 886-7321
(415) 444-5100
or
Request Info