Home > Diving PNG > PNG Culture
Mask Festival
Dates: July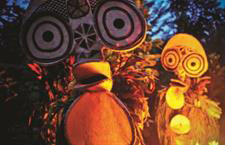 The Warwagira & Mask Festival was initially introduced in 1995 and is staged as an annual National event to promote the unique Mask Cultures of East New Britain.
The Festival will be a five-day extravaganza of cultural dancing, ritual performance, display, story-telling and exchange - with a variety of arts and crafts on display. The event will take place in Kokopo, East New Britain.
The festival opens with the arrival of the 'Kinavai' at dawn. The 'Kinavai' represents the arrival of the feared 'tubuans' who arrive amidst the chanting and beating of kundu drums by elders and initiated young men on canoes.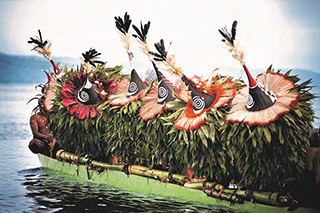 The 'tubuans' are revered ancestral spirits of the 'Tolai' people of East New Britain. Traditionally the arrival of the tubuans meant that shell money was to be paid for broken taboos.
Traditional masks will be on display during the festival – many of these masks are sacred and are not meant to be viewed or transported to alien places, hence the ceremonial 'kinavai' which acts as a cleansing or appeasement ritual for the broken taboos and to pay respects to the Tolai people of East New Britain.
Part of the festival includes the spectacular Baining Fire Dance from the Tolai's of the mainland of East New Britain province. In this night-time traditional dance, initiated young men perform harrowing dances through blazing fires amidst evocative chanting by their elders.