Home > Diving PNG > PNG Cuture
PNG Highlands North Expedition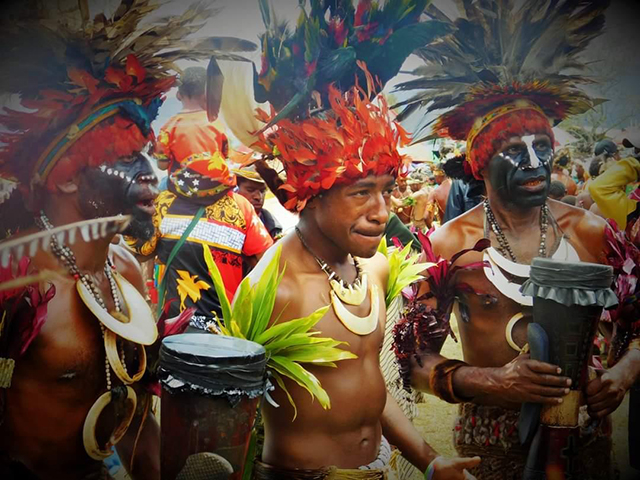 PNG Highlands North Expedition
Port Moresby - Goroka Show - Bingla Ingu Festival - Mount Hagen - Port Moresby
12 - 21 September 2024
SUMMARY
Departure Dates: 12 Sept 2024 - 21 Sept 2024 9 Days/10 Days
2024: Starts in Port Moresby - Goroka Show - Simbu ( Bingla Ingu Festival ) - Mount Hagen - Port Moresby
COST:
$6,490 per person twin share
$7,120 solo traveler
***based on today's current rate of exchange subject to change
**group rates available
Itinerary
Day 1: Arrival Papua New Guinea
You will touch down in Port Moresby - Capital of PNG at Jacksons International Arrival and you will be met by our guide and porter and transfer to Stanley Hotel and Suites on the Shuttle Bus. Have late breakfast and rest. After lunch we will tour the city of Port Moresby only sight seening tours. /AIRWAYS HOTEL/STANLEY HOTEL (LD)
Day 2: Port Moresby/Goroka Air Tranfers
Arrive Goroka (PX960 0800/0955 POM/GKA) Meet and greet and assist with transfer with luggage car to the Pacific Gardens Hotel for unpack.At 11 am you will be transferred down through the fertile Asaro Valley, past coffee plantations, vegetable Gardens, interplant with sweet potato, banana, taro cassava, sugar cane with other leaf vegetables and neatly laid out homesteads to Geremaika Village to witness the World famous Asaro Mudman Dance.
You will also experience and see the Village life of the Asaro Tribesmen in the Asaro Valley, face painting with village study and experience and observe villagers prepare and cook a meal in the traditional earth oven "tasty mumu" and you do tasting with the local villagers, enjoy picnic lunch in the village. You will be transfer in the late afternoon to your hotel for dinner and rest. PACIFIC GARDENS HOTEL Bird of Paradise Hotel - Premium Double/Twin (BLD)
Day 3: Goroka Festival
We recommend that you enjoy early breakfast to start at 7:00 am and we depart early at 7:30 for Early Bird Tours. After the Early Bird Tours ( How the Tribes Put on their Attire early hours of the Morning. visit singsing groups from different provinces in their camps to very closely see how their body decorations of colourful traditional costumes and very colourful face painting is done. Explanations will be given to you on the types of costumes and their significances in the cultures of these people.

Kalam Tribes – The Beetle Heads… ( Early Bird Tours during Goroka Festival)
We will proceed into the Show grounds to witness thousands of warriors, all dressed in their very finest traditional regalia, dancing and singing, each group in their own culture with languages with intention to outclass all the other groups. Walk among dancers, shake hands and meet them. PACIFIC GARDENS HOTEL /Bird of Paradise Hotel - Deluxe Premium (BLD)
Day 4: Goroka Festival Continuous
Another full day at the Festival and finish and you will be transferred to your hotel or sightseeing tours.
Today, you will still have a early Bird tour again to another Singsing Groups from another Tribal Clans in the Highlands or Coastal of New Guinea to witness how dressing are done and materials collected for the full attire.
Early Bird Tours can continue to other Tribal Clans as early as 7:00 - 7:30 am in the morning, The diversed Culture is too much to cover in a one hour, you will visit as many as 10 groups but the Sinsing groups is close to 60 - 100 gros will perform at the show ground. PACIFIC GARDENS HOTEL /Bird of Paradise Hotel - Deluxe Premium (BLD)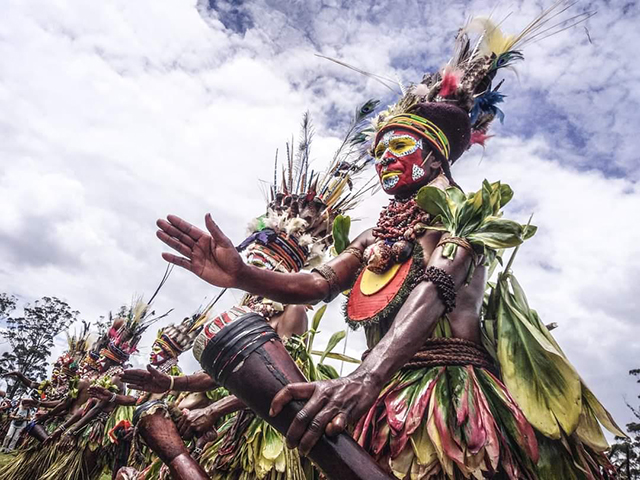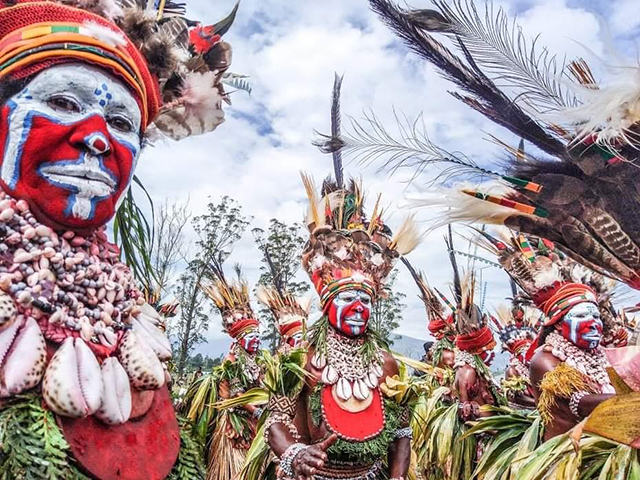 Mt Hagen Women at the Sipuu-waa (SImbu) Cultural Festival
Day 5: Tranfers Goroka to Bingla Ingu Tribal Ceremonial Exchange/Simbu Province
Early after breakfast, you will be tranfered to Simbu which is a two and half hours drive to Sinesine and have your tour at the Ceremonil Ground (Ples Singsing). There you will experience all activities that has been going on for a week now, You will meet the neigbouring Tribes as visitors living in the Long Houses built around the Singsing Ground.
See the raw food been exchanged, exereince the hist tribes and visiting tribes dressing and starting to sing ( they have been singing for the last five or six days), see all pigs linning up to domestrate prestiges of the host Tribes, Courting of young girls and boys preapraing for the night show, Chiefs demsonstrating their prestiges by linning up all their pigs in formt of the tribes for killing the next day. This is a experience that you will never have anywhere in the world. GREEN LAND MOTEL/MT WILHEAM LODGE (BLD)
Day 6: Bingla Ingu Tribal Ceremonial Exchanges Continues and Completes today
Today, will continue to theBingla Ingu Tribal Ceremnail Exchnages will regather women, children and men from each tribes will gather raw from, pigs demonstrated from each sub clans yesterday will all be killed today and displayed in the Ceremonial Gorund ( Pless Singsing) to hand over to the visiting Tribes ( Final occasion).
You will also have the chance to sit and talk with the Traditional Chiefs in the Men's House (HAUSMAN) in the Ceremonial grounds.
The Chiefs from ( Men's House) and brides chosen during the one week counrting also dresses in the finest attire and farwelled by family and tribes to be married to the visiting tribes who will take the cooked pork, raw food and travel back to their home land.
The visiting Tribes will host the same program ( Bigla Ingu Tribal Ceremonila Exchnage Program in their home land after 2 years which is 2026. You will complete the event with the tribes and relax backto KundiawaTown and have rest.GREEN LAND MOTEL/MT WILHEAM LODGE (BLD)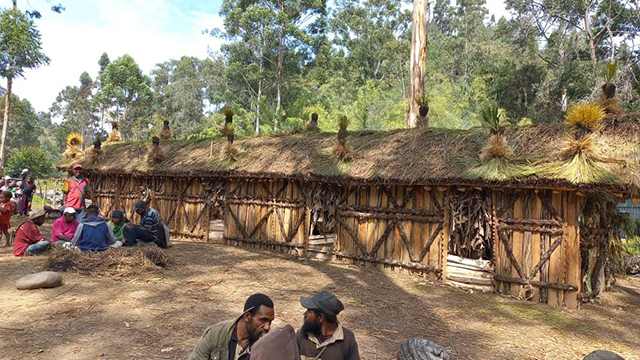 Long houses built for the Bingla Ingu Festival, the Visiting Tribes come in one week earky to have singsing, courting in the night and eat food that is giving by the Hosting tribes until the Bingla Ingu Festival begins.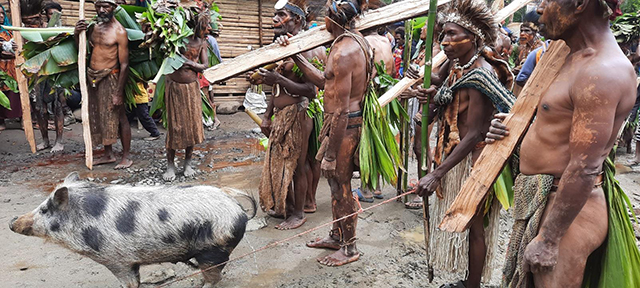 Hosting Tribes starting to Bring in their prestiges to demosnatrte to the other tribes that we are fit to participate in this Pig KILLING Ceremony, they are going into the Ceremonail Grounds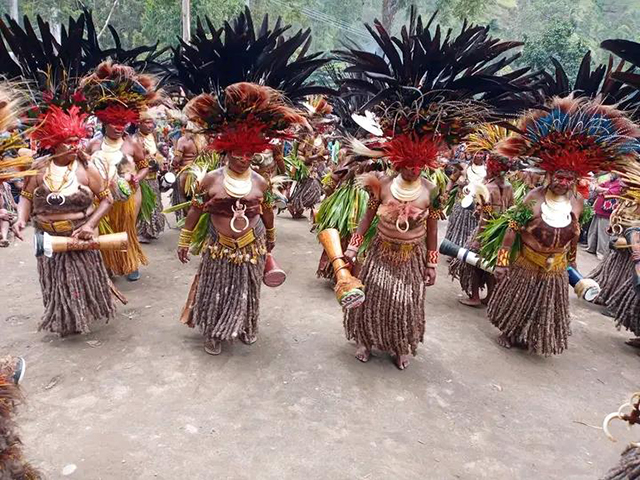 Singsing Groups Dance and Welcome the Crowds and Visitors and happy for the Ceremony to Begin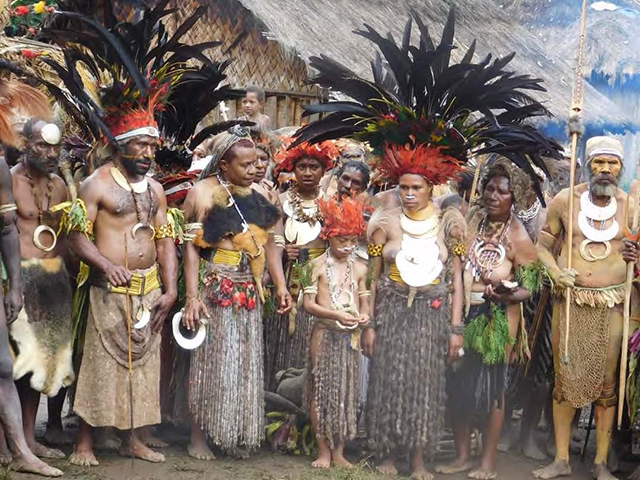 Bingla Ingu Festival includes Bride and Groom Exchange at the end part of the Ceremony
History of Nakane Pig Killing Festival
Day 7: Tranfers Simbu to Mt Hagen
We will travel to Mt Hagen this morning with all transfer vehicles,guide and porters/Escorts for groups.
On the way, we will continue with the luggage van and escorts to Mt Hagen which is another hour drive from Simbu Province. On our Way to Mt Hagen.
After breakfast we will continue to Mindima Village "Skeleton dancers" demonstrating hunting and food gathering skills, how hunting is done in the old days.
You will have the chance to visit Banz Kofi (Coffee) and Tea Plantations and Tasting of the premium Highlands Coffee.
Arriving in Mount Hagen in the afternoon at the Highlander Hotel for dinner and rest. Highlander Hotel (BLD)
Day 8: Mount Hagen Cultural Tours
Early after breakfast, you will have a 30-45 minutes tour to the Mt Hagen Market.
You will have full village Experience of the Melpa Tribes, Women's Singsing and Village Study and Experience of the Melpa Tribes in Mount Hagen.
You will also have a chance to visit the Widows House (wife still waiting for freedom - in the Highlands of PNG according to the customs. Highlander Hotel (BLD)
Day 9: Transfers Mt Hagen/Port Moresby by Air and Overnight Port Moresby
You will be tranfered to the Airport for departure to Port Moresby/International Departure on the same day or you will overnight in Port Moresby. Rest in the morning and and after luch , we have the sight seening tours all over Port Moresby Botanical Gardens, Parliament Haus, City Sight seening tours. AIRWAYS HOTEL (BLD)
Day 10: Tranfers Port Moresby/International Departure
Early after breakfast, you will be tranfered to the airport with our guide and porters for Intenational Departure. AIRWAYS HOTEL (B)
******** End of Services **********