PNG Travel Information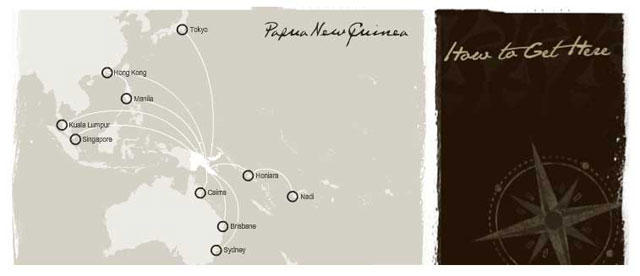 HOW TO GET HERE
Papua New Guinea relies on air transport probably more than any other country in the world due to its rugged terrain extending from coastal areas to highlands. Jackson International Airport, located in Port Moresby, provides air connections from major cities of the world. Direct flights are available from Australia, Singapore, the Philippines, Tokyo, Malaysia, Hong Kong and the Solomon Islands. National carrier Air Niugini services all international routes with Airlines PNG, Pacific Blue and Qantas Airlines providing additional Australian connections.
TOURIST VISAS
A 60 day visitor Visa is available on arrival for citizens of the USA and Canada. Visa on arrival is subject to a fee of 100 kina.
CURRENCY/CREDIT CARDS
The unit of currency in PNG is the kina. Most international currency travelers checks are accepted and banks can be found in all the major centers. Major credit cards are also accepted at most hotels, restaurants and travel agencies.
HEALTH REQUIREMENTS
Although water quality complies with World Health Organization standards, it is advisable for visitors to drink bottled or boiled water in towns and rural areas. While capital city Port Moresby is relatively malaria-free, Papua New Guinea is still classified as a malaria-prone zone, especially in the coastal wetland regions. It is advisable for travelers to consult a doctor for precautions against malaria. Insect repellent, long-sleeved shirts, trousers and closed shoes are recommended as protection against mosquitoes.
LANGUAGE
Although there are over 800 distinct languages in Papua New Guinea, English is widely spoken and is the official language of government and business. Pidgen English is also common and learning some phrases of this unique language is a fun addition to any traveler's visit.
CUISINE
Western cuisine is available in hotels, restaurants, guesthouses and lodges. Port Moresby in particular has many excellent Asian and European restaurants. Most hotels serve a variety of international and local cuisine utilizing fresh produce.
CLIMATE
Papua New Guinea's coastal regions experience a tropical climate year-round. Temperatures on the coast vary between 75°F - 85°F. In the Highlands, the temperature can be 60°F during the day and become quite chilly in the evenings. Dry season is May to November.
DRESS
Lightweight, casual clothing is the norm, with a sweater for cooler evenings in the Highlands. Good walking shoes are a must.
TIME
Papua New Guinea is 10 hours ahead of Greenwich Mean Time (GMT), in the same time zone as Brisbane, Australia. There is no daylight savings.
ELECTRICITY
Electricity supply is 240 volts AC 50Hz. Some hotels have 110 volt outlets in guest rooms. An Australian/New Zealand-style adaptor is required for all North American appliances.
TOURING
It is recommended to travel PNG on an organized tour. Tour operators will offer wide varieties of programs to suit all kinds of interests and budgets - adding to any visitor's experience with their local knowledge and expertise.
GUIDES & SAFETY
It is advisable to use local guides when exploring PNG. Your guide will be accustomed with local points of interest, language and safety considerations. If traveling independently, consult your hotel front desk for information on the surrounding area.
TIPPING/Gifting
Tipping is not expected however please consult your group leader or hotel manager before distributing any tips or gifts.
SHOPPING
All goods and services bought in PNG will include a 10% Goods & Service Tax (GST). Artifacts and handicrafts can be found throughout PNG and visitors can purchase a wide range of locally grown fruits and vegetables from local markets.
Photo and Information courtesy of Papua New Guinea Tourism Promotion Authority