Home > Diving PNG > PNG Dive Resorts
Walindi Plantation Resort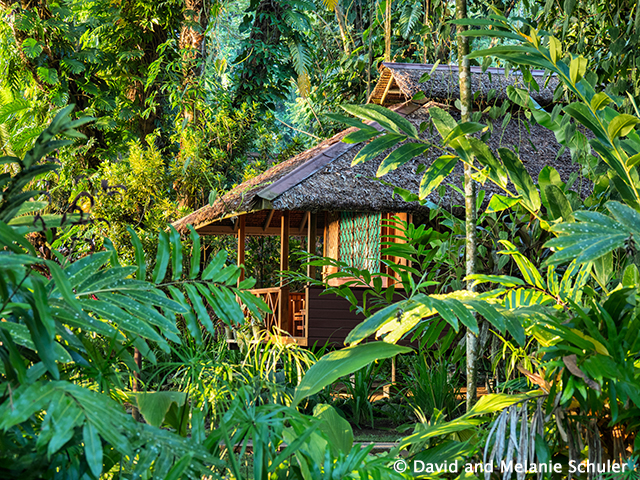 Walindi Plantation Resort, established in 1983, is an intimate dive resort situated on the shores of Kimbe Bay on the island of New Britain, Papua New Guinea. Celebrating over 25 years of operation, the resort is world famous for its quality of diving, international award-winning photography and warm hospitality. The resort's guest book reads like a Who's Who in the world of Sport Diving and Underwater Photography and the resort has been voted to have the "best diving from a resort anywhere in the world" by reader surveys.
Accommodation
Personalised attention in an informal atmosphere is the essence of the Walindi Plantation Resort experience. Relaxing surroundings and friendly staff welcome you with a smile and genuine hospitality .... you will feel at home the moment you arrive.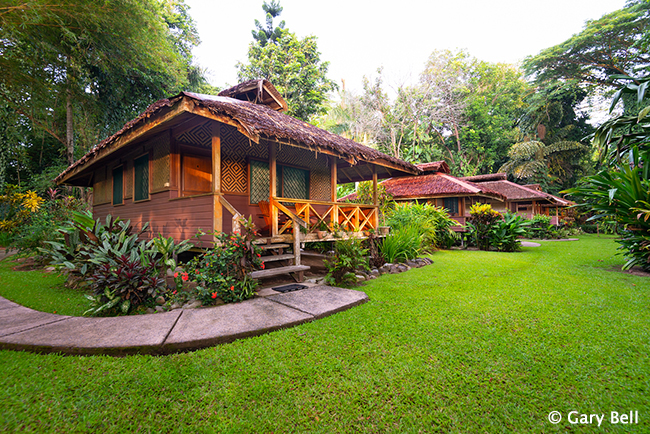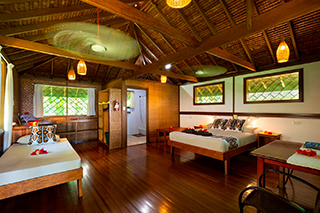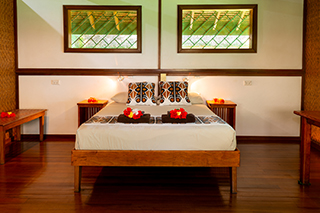 With only 12 bungalows and eight "Plantation House" rooms, crowds and queues are not something you will find at Walindi. Accommodation is spread along the beach front, nestled in tropical rainforest gardens, ensuring privacy and seclusion when you want it. The central resort area, just a short stroll from your accommodation, is the social hub of Walindi. Meal times are a social gathering of guests and staff alike, a chance to share your individual experiences of the day.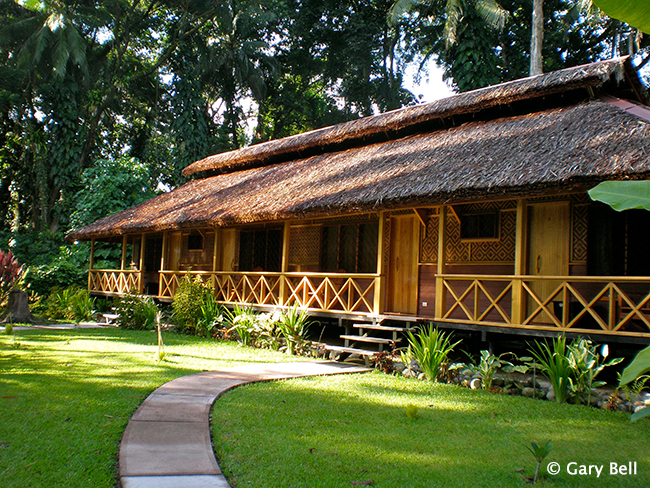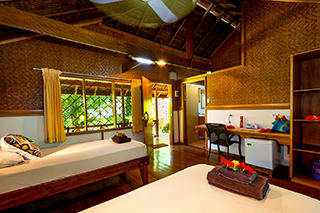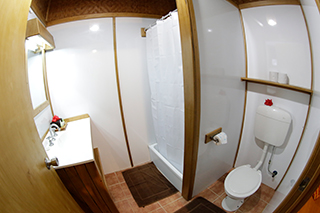 Resort Facilities
The central resort area is the social hub of Walindi. Here you will find the tropical and airy reception, Casuarina Restaurant, lounge and bar area (Planter's Bar), swimming pool, sundeck, Blue Taro Boutique and a comprehensive reference library with TV. Complimentary wireless internet is available in this central building.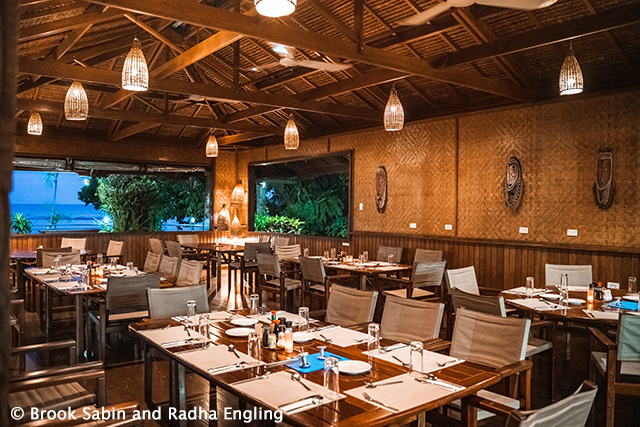 Diving at Walindi
Kimbe Bay, West New Britain
Kimbe Bay is home to some of the healthiest coral I've ever seen, as well as the largest diversity of both coral and fish any where on the planet. In fact, Prof Charles Veron, former chief scientist of the Australian Institute of Marine Science had this to say - "The coral reefs of Kimbe Bay take me back forty years to a time when corals grew in lush profusion, untroubled by the problems that beset them today ..."
Walindi Dive runs three purpose built and recently refurbished day boats to take you on an amazing adventure each day. Cheyne and Charmaine, our two larger boats hold a maximum of 12 divers, and Ema holds six divers.
We have a variety of different sorts of dive sites, underwater sea mounds where we're more likely to see bigger stuff, unbelievable sheer walls, fabulous coral gardens, huge fans and funky critters. Our dive sites are suitable for all levels of divers, and whatever the length of your stay we'll try and give you a great selection - the one thing we can promise is that you won't be bored!
Download PDF: Dive Sites in Walindi | Kimbe Bay Dive Site Map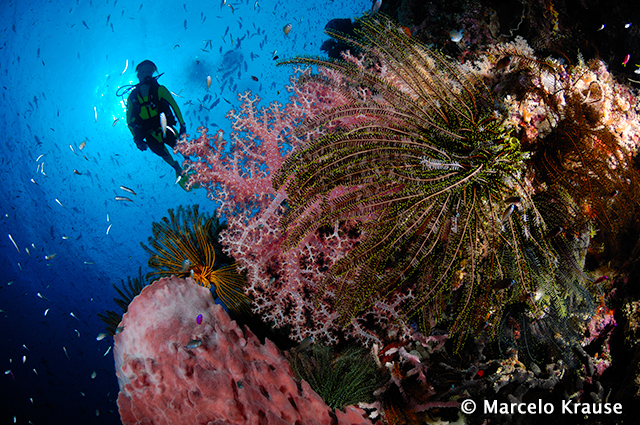 Snorkeling with Walindi
Kimbe Bay with its warm, clear, calm waters and small rainforest covered islands offers a unique and ideal place for Snorkeling. A large number of Kimbe Bay reefs come close to the surface so are very well suited for snorkeling and is one of the few places in the world where the snorkeling is at least as good (and possibly better in some areas) as the diving.
Pristine and colourful corals are home to a variety of fish, crustacean and invertebrate life and many of the reefs have resident schools of barracuda, tuna and jacks. A range of shark species are regularly sighted particularly on the offshore reefs. Resident pods of dolphins frequently entertain snorkelers transiting between sites. The occasional sightings of orcas, pilot whales, whale sharks and other marine life passing through Kimbe Bay waters delight both guests and staff.
Guests can also snorkel just in front of the resort or use the paddle boards and kayaks available to explore nearby reefs.
Freediving with Walindi
The configuration of the bay and its position relative to prevailing winds creates an unusually sheltered environment for the rich complex of seaward reefs. Coupled with the spectacular underwater terrain, composed largely of steep-sided, patch, saddle, or pinnacle reefs and 100m+ depths just a few hundred metres from the resort jetty, Kimbe Bay offers the most ideal location to train and experience freediving in calm, warm waters with little current.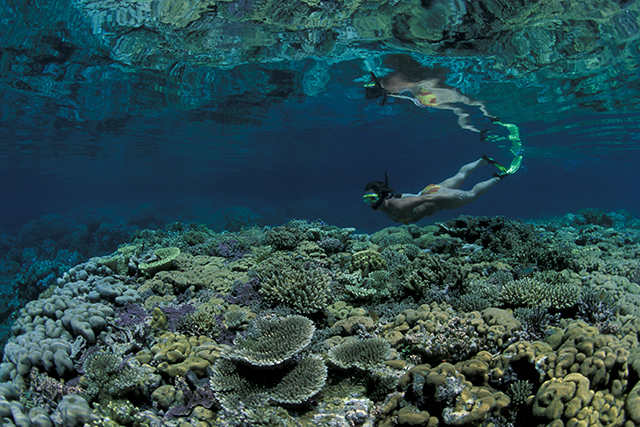 © Franco Banfi