Home > Diving PNG > PNG Dive Resorts
Walindi Plantation Resort
Walindi Plantation Resort, established in 1983, is an intimate dive resort situated on the shores of Kimbe Bay on the island of New Britain, Papua New Guinea. Celebrating over 25 years of operation, the resort is world famous for its quality of diving, international award-winning photography and warm hospitality. The resort's guest book reads like a Who's Who in the world of Sport Diving and Underwater Photography and the resort has been voted to have the "best diving from a resort anywhere in the world" by reader surveys.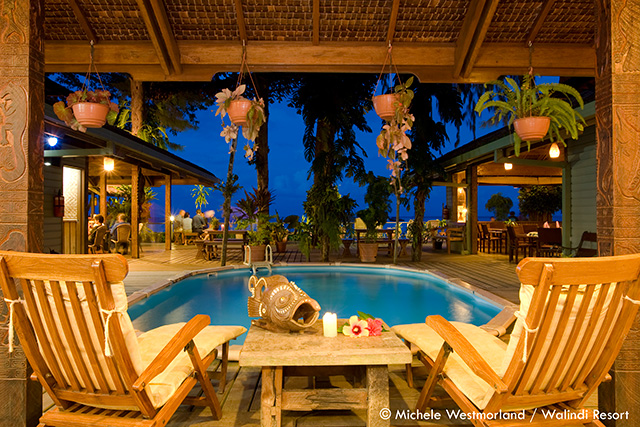 Accommodation
Personalised attention in an informal atmosphere is the essence of the Walindi Plantation Resort experience. Relaxing surroundings and friendly staff welcome you with a smile and genuine hospitality .... you will feel at home the moment you arrive.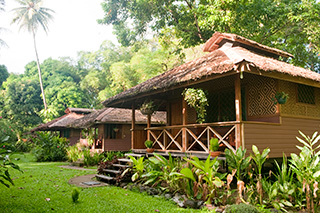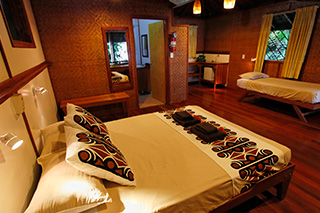 With only 12 bungalows and eight "Plantation House" rooms, crowds and queues are not something you will find at Walindi. Accommodation is spread along the beach front, nestled in tropical rainforest gardens, ensuring privacy and seclusion when you want it. The central resort area, just a short stroll from your accommodation, is the social hub of Walindi. Meal times are a social gathering of guests and staff alike, a chance to share your individual experiences of the day.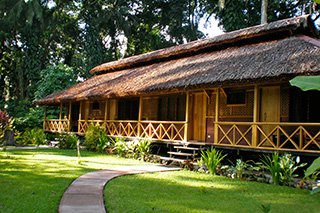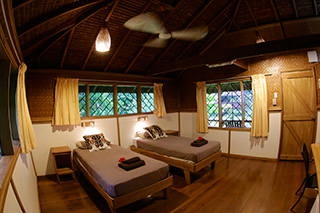 Diving at Walindi
Kimbe Bay, West New Britain
Kimbe Bay is home to some of the healthiest coral I've ever seen, as well as the largest diversity of both coral and fish any where on the planet. In fact, Prof Charles Veron, former chief scientist of the Australian Institute of Marine Science had this to say - "The coral reefs of Kimbe Bay take me back forty years to a time when corals grew in lush profusion, untroubled by the problems that beset them today ..."
Walindi Dive runs three purpose built and recently refurbished day boats to take you on an amazing adventure each day. Cheyne and Charmaine, our two larger boats hold a maximum of 12 divers, and Ema holds six divers.
We have a variety of different sorts of dive sites, underwater sea mounds where we're more likely to see bigger stuff, unbelievable sheer walls, fabulous coral gardens, huge fans and funky critters. Our dive sites are suitable for all levels of divers, and whatever the length of your stay we'll try and give you a great selection - the one thing we can promise is that you won't be bored!
Download PDF: Dive Sites in Walindi | Kimbe Bay Dive Site Map
MV FeBrina
"Every dive will be a new experience"
MV FeBrina, together with skipper/owner Alan Raabe, has been working in Papua New Guinea waters since 1991 when the vessel arrived at Walindi Resort. The quality diving experience MV FeBrina offers can be quantified by the high number of repeat clientele she enjoys.
FeBrina cruises from her home port, Walindi Plantation Resort, visiting areas further afield such as Witu Islands, Fathers Reefs, South Coast New Britain and Rabaul. FeBrina's signature itinerary is Kimbe Bay, Witu Islands and Fathers Reefs which is offered in April, May and June, September, October and November.
During July and August, FeBrina operates mid year itineraries, diving Kimbe Bay, Fathers Reefs and Lolobau Island. Selected mid year itineraries travel from Walindi to Rabaul and return. January, February and March see FeBrina exploring the Southern Coast of New Britain, based out of Rabaul. On selected itineraries during the year, the boat also visits the New Hanover area up towards Kavieng.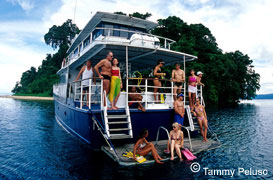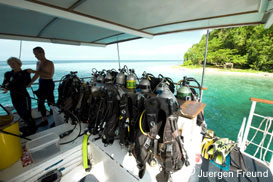 FeBrina is a very comfortable and stable vessel, offering seven, roomy, air conditioned cabins, all with ensuite facilities, in a combination of double, twin and single configurations for a maximum of 12 divers. The well laid out dive deck and water level duck board make your diving a breeze. With permanent moorings on most dive sites, your gear all set up and ready for you and an attentive dive crew on hand to assist with camera gear, diving couldn't be easier.
For more detailed information on the FeBrina, take a look at our FeBrina page.