Home > Diving PNG > PNG Culture
Goroka Show
Dates: September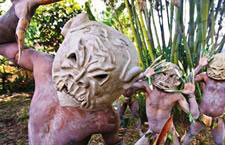 The 'Goroka Show' is a significant cultural event in the Highlands region of Papua New Guinea (PNG).
The Goroka Show aims to once more provide the best in cultural entertainment to the people of the Eastern Highlands Province and make visitors feel welcome from Papua New Guinea and around the world.
Held every year during the weekend closest to Independence Day, the Goroka Show is Papua New Guinea's most well-known tribal gathering and cultural event.
More than 100 tribes participate in the event performing extraordinary displays of 'singsings' - traditional songs, dances and ritual performances.
The staging of the Goroka Show began in 1957 and was first introduced and organized by Australian patrol officers known locally as 'kiaps'. Kiaps from each district built round houses typical of their districts where they displayed the various and unique cultures of the people living there. The kiaps brought in 'singsing' groups from surrounding areas. It created an entertaining weekend for everyone in the Province helping people forget their tribal differences.