Home > Diving PNG > PNG Dive Resorts
Lissenung Island Resort
near Kavieng, New Ireland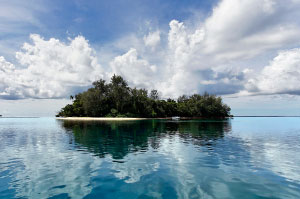 Lissenung Island Resort is located a 20-minute boat ride from Kavieng, the capital of New Ireland Province. The resort was started by Dietmar in early 1996 and it still remains all there is on the island. Seven ocean-front rooms (Six with private facilities) in four duplex bungalows, furnished with hardwood floors and spacious verandahs, are spread out over the island. Other than a handful of local staff, you won't see another soul, and you can easily circumnavigate the island in about 10 - 15 minutes.
Deckchairs and a bottle of wine on the beach at sunset time are the perfect way to end an exciting day of diving. A minimum age limit of 12 years for our guests ensures a relaxed and tranquil atmosphere.With a maximum of 14 guests, personal service is guaranteed and your holiday truly exclusive!
Accommodation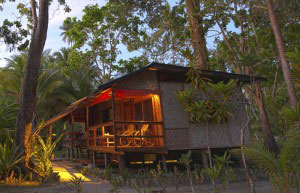 The four bungalows are spread out over the island, giving guests plenty of privacy. Three of the bungalows house two rooms, each with its own ensuite bathroom. The last bungalow is a one-room bungalow and uses the share facilities, which are located approx. 20m away. As the island is only 400 x 100m (450 x 110yd), all bungalows are ocean-front.
The bungalows are built in traditional style and blend into their surroundings. The walls are made from woven bamboo, one side of the roof is thatched (Sago Palm leaves), the other side has corrogated iron to collect the rainwater we use for all our water supply. The roof collects the water and feeds it into a big water tank, and gas on-demand water heaters are installed to provide hot and cold water.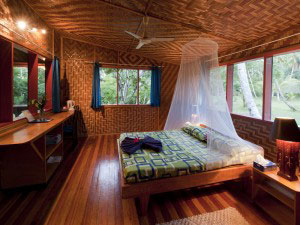 The rooms are fitted with a mosquito net over the bed, a ceiling fan, a large desk and a wardrobe. The windows don't have glass, but are fitted with flyscreen to keep little creepy crawlies out, and let the beautiful breeze in. This ensures that no air-conditioning is necessary. All bungalows also have a big verandah with comfortable chairs to relax in after diving.
The big desk in front of the window is ideal for photographers, giving them plenty of natural light to work by and ensure that all camera gear is ready for the next dive. There are a number of powerpoints (240V, Australian socket) in each room and together with 24-hour electricity, the ensure that batteries can be recharged at all times.
The rooms are serviced daily and all linen and towels (room and boat) are provided.
Diving
New Ireland is known for its pelagic fish action, but you need currents to attract big fish. These currents can sometimes be strong and make diving a little difficult. Our experienced dive staff will show you the easiest and safest way to dive with us and once you've made it, you will be rewarded with world class diving.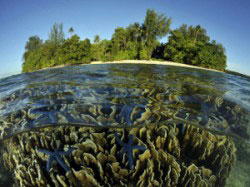 Please keep in mind that nature prevails and that strong currents (and pelagics) cannot be guaranteed to occur daily, or to run the right direction. There are no working tide tables for the Kavieng area, so where normally, the incoming and outgoing tides move in a 6-hour interval, we can have 10 hours of outgoing tide, followed by 3 hours of incoming, followed by another 9 hours of outgoing.
It would also be wrong to come to Kavieng and expect to see just big fish and lots of sharks. There is so much more to see in these waters if one looks beyond the pelagics and keeps an open mind about the diving on offer. After all, Papua New Guinea's oceans are part of the Coral Triangle and have one of the largest bio-diverse reefs in the world!
Daily boat trips to the outer reefs, drop offs and wrecks with a maximum of three dives per day are offered. We usually start at 8.30am with 2 morning dives and return to the island for lunch. In the afternoon, you can either go out for a third boat dive, relax on the island or do a shore dive on our fabulous house reef. For divers staying at Lissenung and booking boat dives in the morning, these shore dives are free of charge. With over 175 different species of fish, this is a nice little added bonus! Our house reef is also the spot to do night dives, with another whole bunch of different fish, molluscs and crustaceans coming out to play and feed.
Water temperature in this area ranges from 28 - 30 degrees Celsius (83 - 87F) all year round and underwater visibility from 20 - 40m (60 - 120ft) on most dives.
Due to the fact that we are a dedicated dive resort and thus work around the diving and the best conditions for diving, departure times may be changed to suit our guests' wishes and/or the conditions. This means that we may depart at 8am in order to catch an incoming current, and hopefully lots of fish, at our chosen dive site for that day.
We use permanent moorings on almost all of our dive sites to avoid camage from anchoring. Our 'no-touch' policy should also be followed. The traditional reef owners receive a user fee from us, which is paid per diver per day. A part of these payments go to community projects such as schools, aid posts etc. This fee is not passed on to our guests, unlike the Environment & Safety Fee of K 12.00 per diver per dive day.
A Memorandum of Understanding between the dive operators and the traditional reef owners has been signed, which includes issues such as fees to be paid, looking after the reef and its inhabitants and much more. The introduction of this MOU has been a great success as we can see a fast improvement at the dive sites where the reef owners have signed the MOU.