Home > Diving PNG > PNG Dive Resorts
Tufi Resort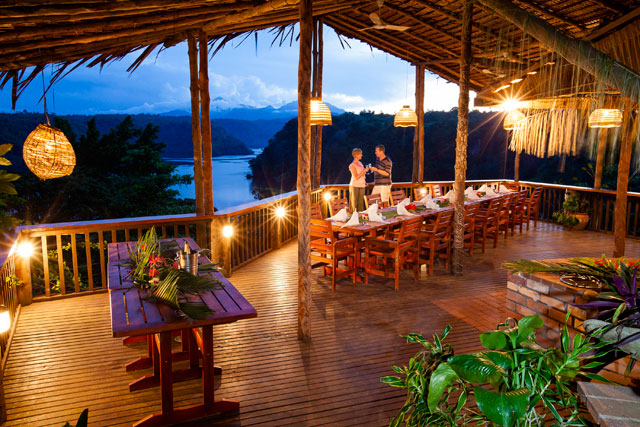 This personalised boutique resort is a hidden oasis nestled atop a breath-taking fjord, with 180° panoramic views of the sea, fjords and mountains.
Tufi Resort is a place that makes the outside world and all its daily stress seem a million miles away. The Resort is perched on an amazing, cliff-top terrace overlooking Tufi Harbour.
Located in Oro Province and only 129 kilometres (80 miles) east of Kokoda, Tufi Resort is the perfect place to rest the weary body after the challenges of the Kokoda or Black Cat Trail.
The deluxe bungalows have polished timber floors and the walls are lined with traditional woven material. All the creature comforts are available, including insect screens, 24 hour electricity, air-conditioning, hot water, bedroom with en suite, bar fridge, coffee and tea making facilities. Most bungalows have verandas overlooking the Coral Sea or Tufi fjord.
Deluxe Bungalows which are fully air-conditioned, screened and fanned, with private balconies and ensuites.
Standard Bungalows which are air-conditioned, screened and fanned, ensuites, some with private balconies some with not.
Deluxe Rooms all deluxe rooms have balconies with outdoor settings.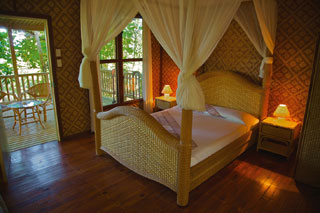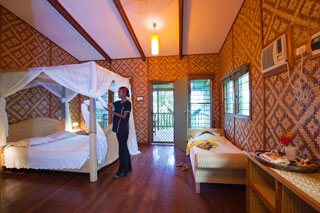 Amenities include BBQ and dining settings, in-ground pool with views of the fjord below. The main building is a remarkable design that incorporates the reception, gift shop, library, restaurant and alfresco bar... hello margaritas!
Dine on a selection of local seafood, vegetables and tropical fruits in the resort dining room or enjoy a BBQ grill on the Fjord Terrace accompanied by a wide selection of wines and ice-cold beer.
Activities include diving, fishing, bush and nature walks, snorkeling, canoeing, traditional outrigger safaris, kayaking, trekking, bird watching, beach BBQ and great cultural interaction in the village, where you can experience many activities like sago-making, net and spear works, tapa printing, face and body tattooing.
Tufi is a stress-free environment where the locals are warm and friendly. A place where you can be left alone or mix with guests and villagers. A place where you can relax, recharge and feel totally invigorated.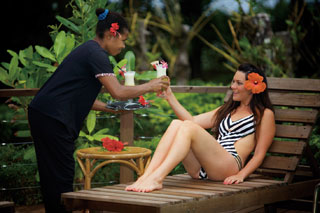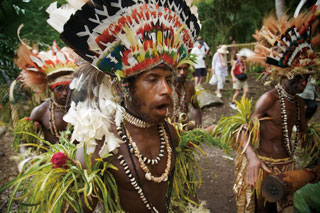 Diving
Tufi offers a wide variety of diving experiences. From diving the fiords to unchartered reefs and WW2 wrecks. Constant visibility of 30 metres plus and water temperatures of 26°C to 29°C all year round.
Dive the fjords, experience our unique macro world and check out the WW2 PT boat wrecks. Day or night, a wide variety of gobie, nudibranchs, Mandarin Fish, Ghost Pipe Fish, Pigmy Seahorse and a plethora of other fascinating creatures. A wonderful array of sponge and shelf corals that line the walls of the tropical rainforest fiord, a truly different dive environment.
The outer reef experience is unsurpassed with a choice of dozens of world-class dive sites. Moor onto a few of our favourites, Cyclone Cay, Black Rocks, Stewarts Reef and Shark Tip.
Dive the famous Dutch cargo ship the "S Jacob" or Blackjack - an intact B17 bomber - as specialty charter dives. Spectacular marine life in abundance: schooling barracuda and reef fish, hammerheads, reef sharks, manta rays, eagle rays, grouper and cruising palegic as well as soft and hard corals. A pristine environment unspoiled.
The fjords are excellent for macro diving with gobies, nudibranch, shrimps and clams. These animals can be seen by diving, but conditions are also ideal for snorkelling.
Because there is very little current movement in the fjords, many sponges and coral species grow prolifically and there are some very large sponges and shelf corals that are not common on the outer reefs.
5-10 nautical miles offshore lies a string of reefs - 'bommies' that come up from a staggering depth of up to 600 m to a nice safety-stop level of 7-5 m below the surface. The outer reef experience is unsurpassed with visibility exceeding 30m all year round and water temperature from 26-29°C.
Spectacular marine life in abundance with schooling Barracuda and reef fish, variety of sharks including the rare white Hammerhead Shark and an abundance of little critters, ideal for macro photography.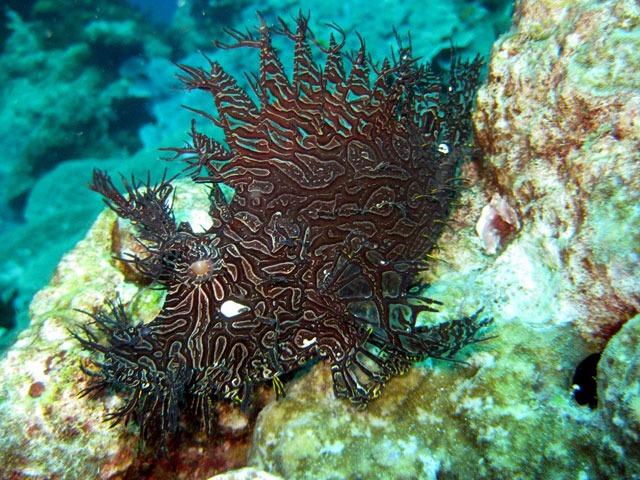 The majority of reefs in the region remain unexplored and it will be some time before the full diversity of the Tufi reefs are known. The resort focuses on reef and muck diving and all diving is carried out under the guidance of PADI dive professionals.
The resort is well appointed with dive boats. Crystal at 30 foot, is spacious and has comfortable seating. The boat features a shower and toilet facility and is well equipped with all safety features. A cruise speed of 20 knots provides divers less time travelling and more time underwater.
All vessels are fully equipped with first aid kits and oxygen therapy equipment. The resort has four other smaller multi purpose boats equipped for diving, fishing or sight seeing.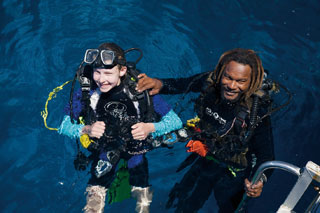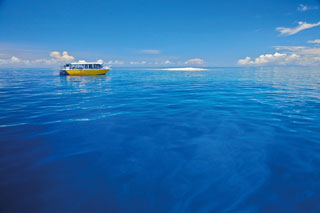 Conferences in Papua New Guinea
The resort specialises in conferences, team building workshops and directors' meetings. A conference area with modern facilities is available. A large boardroom table for more formal conferences and small tables for group discussions, whiteboard and markers are provided. An overhead projector and multi-media projector is also available.
With a maximum capacity of 38 guests, the confidentiality of conference discussions and participation can be assured. Other resorts and hotel venues because of their size and proximity to major centres cannot offer such privacy. Our staff are discreet and understanding of your needs.
After a long day of exhausting discussion and debate guests can relax in the comfort of a fully air conditioned bungalow or enjoy the ocean and fjord views from their verandah or Dolphin bar. Extra course work and study can be continued in the privacy of the guest's own rooms.
A major advantage for business meetings at Tufi is the location. Unlike other resorts there are no night clubs or poker machines to distract participants. We offer peace and tranquillity. The large verandahs encompassing the main building provide an excellent venue for break- out group discussions and the grounds are ideal for any team building activity. A place where people can be truly focused.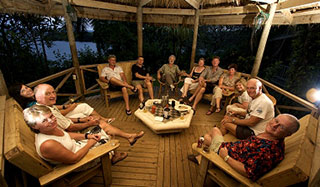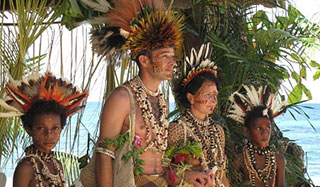 Weddings in Papua New Guinea
Tufi Dive Resort is also an ideal location for weddings and anniversaries.
Sensible economical packages are available and we can tailor your conference or your wedding to your needs. Try a traditional wedding in a local village or a conventional wedding at the resort. Whatever the choice the resort will be able to accommodate to your needs.
If you are planning a wedding we can advise on all necessary documentation required for a ceremony in Papua New Guinea and make all the necessary arrangements to ensure your wedding day is the most memorable day in your life.