Home > Diving Australia > Australia Liveaboards
True North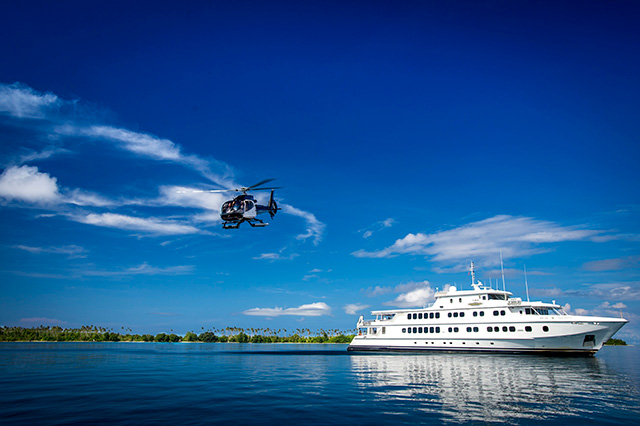 The True North allows discerning adventurers to experience wilderness in surroundings more akin to one of the world's most exclusive hotels! Guests are able to take advantage of a number of lavish vantage points including a sundeck, a forward observation lounge, a ship's lounge and an alfresco bar. The ship's naturalist presents interpretative information on wall mounted screens in the ship's lounge and, an internet café enables convenient communication with the outside world.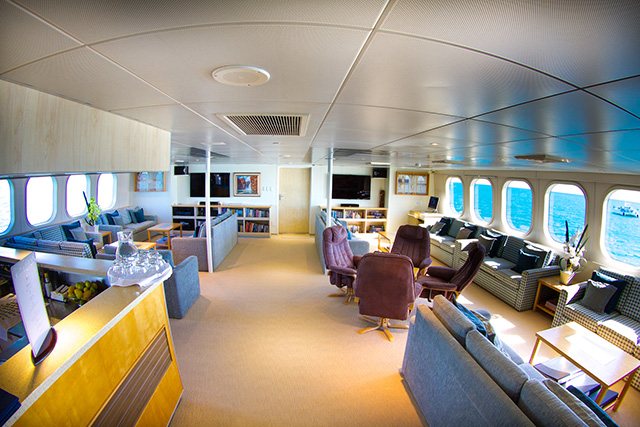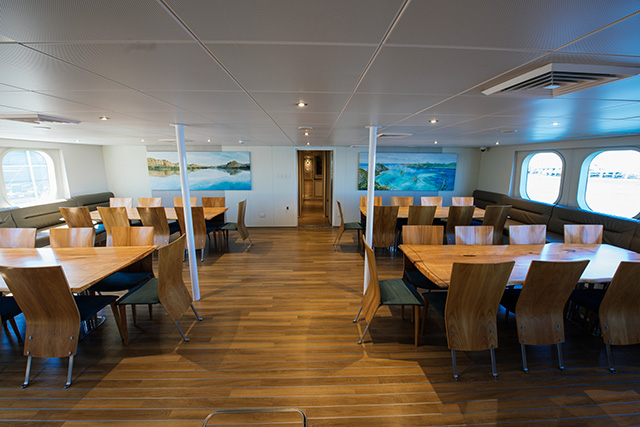 A popular venue on any True North cruise, the lower deck dining room offers the ultimate in comfort and uninterrupted vista – large panoramic windows ensure that guests never miss any of the action, even when they are enjoying the 'finest in fine dining'. All cabins feature stylish décor, en-suite facilities, in-house entertainment and satellite telephones. The Explorer Class and River Class staterooms offer king size beds that can be converted to singles and the Ocean Class twins feature roomy single beds.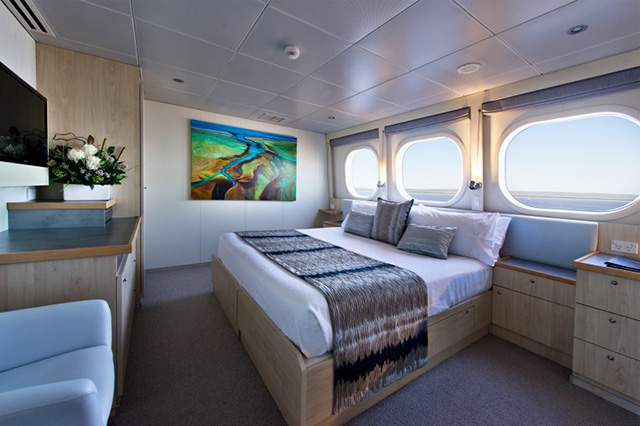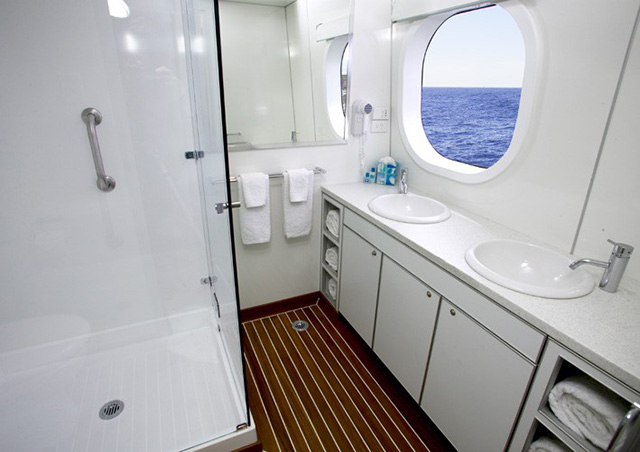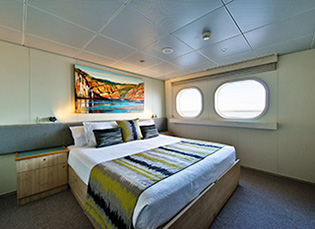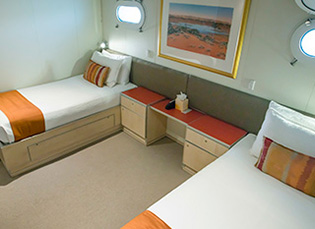 Multiple adventure boats provide guests with greater opportunity to do "what they want, when they want" and, to add yet another dimension to adventure, most cruise options feature an on-board helicopter! The purpose built True North is able to explore the upper reaches of shallow river systems – guests need only step out of their cabins to experience wilderness and, the latest in computer controlled motion stabilizers ensures a comfortable ride.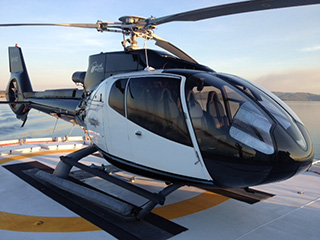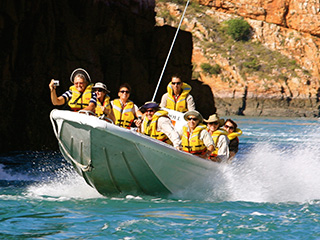 Specification
Length:
50 metres / 164 feet
Safety:
Full compliance under the International Marine Orders
Cabin Features:
En-suite, in-cabin entertainment and satellite telephone
Cabin Power:
240 V and 110 V (Australian socket)
Bed Sizing (cm):
Explorer & River = King 183 wide x 205 long OR King Single 106 wide x 203 long
Ocean = 90 wide x 185 long
Camden & Lacepede = 90 wide x 190 long
Day Areas:
Sun deck, observation lounge, ship's lounge, alfresco bar, sports deck and dining room
Adventure Vessels:
6 (3x 150hp + 3x 115hp)
Helicopter:
Eurocopter EC 130 (6 pax all facing forward/air conditioned)
Diving and Snorkelling
Snorkelling equipment (mask, snorkel & fins) is available for complimentary use on-board. However, bringing your own equipment is the best way to ensure a perfect fit.
We recommend that divers bring an appropriate exposure suit. A short sleeve/leg wetsuit may be a good idea for snorkellers who get cold easily and a rash shirt provides excellent sun protection. Exposure suits may be available for sale on-board however we cannot guarantee that we will have your size in stock.
Divers are provided with cylinders, weight belts and weights.
Divers normally bring their own personal dive equipment including regulators, BCD and wetsuit.
True North has limited dive equipment (BCDs, regulators and dive computers) available for hire on-board. Please confirm arrangements in advance.
It is highly recommended that divers bring their own dive computer. THE SHARING OF DIVE COMPUTERS IS NOT PERMITTED.
Divers MUST dive with a safety sausage. If you do not bring your own you will be required to purchase one on-board.
Night dives MAY be offered. If you intent to night dive, you MUST bring your own primary light source. A secondary or back up light source is also recommended. Dive lights may be available for sale on-board however stock levels cannot be guaranteed.
Divers MUST provide proof of certification on-board.