Home > Diving Australia > Australia Liveaboards
True North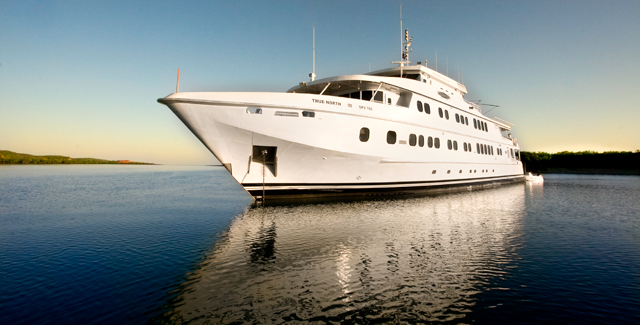 The True North allows discerning adventurers to experience wilderness in surroundings more akin to one of the world's most exclusive hotels! Guests are able to take advantage of a number of lavish vantage points including a sundeck, a forward observation lounge, a ship's lounge and an alfresco bar. The ship's naturalist presents interpretative information on plasma screens and, an internet café enables convenient communication with the outside world.
A popular venue on any True North cruise, the lower deck dining room offers the ultimate in comfort and uninterrupted vista – large panoramic windows ensure that guests never miss any of the action, even when they are enjoying the 'finest in fine dining'.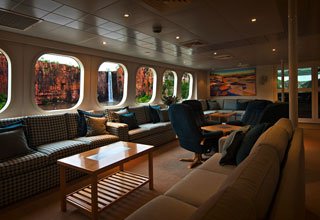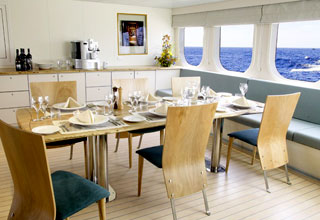 All cabins feature stylish décor, en-suite facilities, in-house entertainment and satellite telephones. The Explorer Class staterooms and the River Class cabins offer king size beds that can be converted to singles and the Ocean Class twins feature roomy single beds.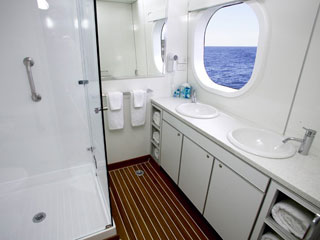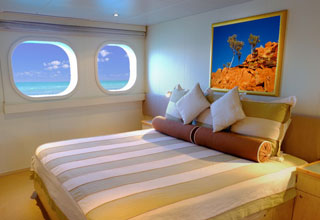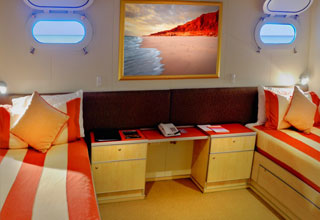 True North conducts adventure-cruises around the Australian coastline and in the stunning waters of Indonesia and Papua New Guinea. All cruises are activity based - extended periods at sea are specifically excluded and carefully crafted itineraries provide ultimate opportunity to experience the destination. Daily activities can include walks, fishing, snorkelling, diving, picnics, natural history, cultural events and more.
The True North is an Australian registered ship and is not required to exit territorial waters during Australian voyages – every day on-board the True North is an activity day! The vessel is also purpose built to access wilderness - bigger ships cannot go where we go! Multiple expedition vessels take guests away in small groups and, to add another dimension to adventure, most cruise options feature a ship's helicopter. Guest numbers are limited to 36 and an Australian crew of 20 uniquely chaperones every experience in comfort and style.
Our Cruise Destinations
Our Kimberley cruises are our flagship destination however with the presence of crocodiles in the water, diving is not offered on any of our Kimberley cruises. On most our other cruises – our West Coast Explorer (cruises north from Perth along the West Coast), Coral Atoll cruises and all our cruises to West Papua and Papua New Guinea, certified divers are offered the opportunity to dive multiple times a day!
We are not solely a dive vessel so alongside the diving activities, guests can tailor their daily activities to suit their interests and fitness levels - snorkelling, visiting local villages, fishing or taking walks and scenic tender rides to just name a few! At least one Dive Master is onboard for all cruises where diving is offered. The Dive Master will attend every dive, ensuring guests are safe and have all the equipment required as well as guide to the best dive spots. The engineers will fill the tanks for every dive and there is always a crew member on "bubble watch."
Each cruise offers amazing and unique dive sites such as the wreck of the Batavia, WWII wrecks in PNG, the coral triangle on West Papua and the spectacular atolls of the Rowley Shoals. We provide masks, snorkels, flippers, tanks and weights. A small selection of BCD's, regulators and computers are available for hire onboard however guests can bring their own gear to ensure a perfect fit.
Sample Itineraries
Download: True North Cruise Map [Hi Res PDF, 0.5Mb]