Home > Diving PNG > PNG Adventures
PNG Hiking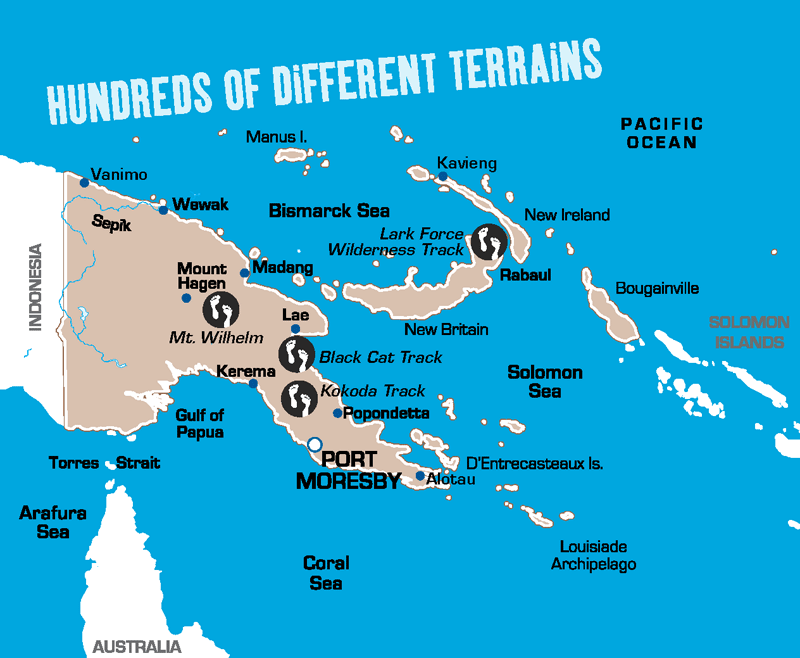 HIKES OF PAPUA NEW GUINEA
Kokoda Track
Kokoda is perhaps the most famous of the trails in Papua New Guinea, rich in history from its role as a major frontline of WWII. Trekkers on this journey will learn about the daily lives of the brave soldiers and the "Fuzzy Wuzzy Angels" who provided care to the wounded. Taken as a minimum six-day journey, this 60-mile trek in the Northern Province of Papua New Guinea involves multiple challenging sections and full days of walking.
Download Kokoda Track - Sample Itinerary [pdf]
Milne Bay Trekking, Kayaking & Stand Up Paddle Boarding
Are you looking for the next exciting adventure? We invite you to come and visit and share with us this most beautiful area of Papua New Guinea. This expedition is raw and out there. Very few tourists have walked none have paddled here. Be the first group along this trekking/paddling corridor.
Download Milne Bay Trekking - Sample Itinerary [pdf]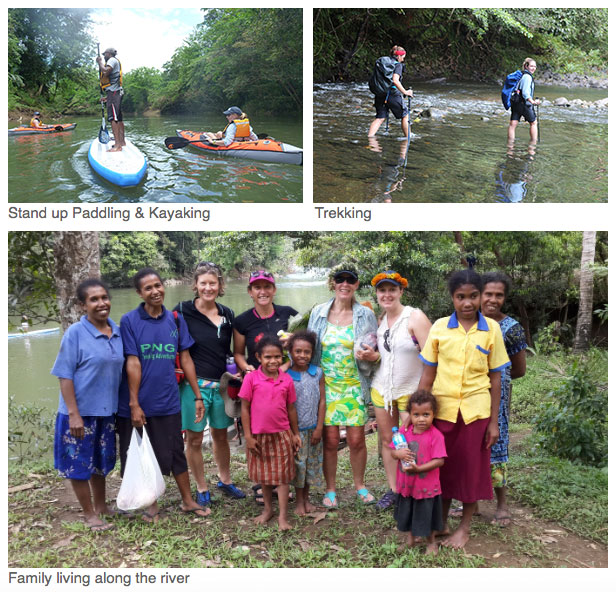 Black Cat Track
Black Cat is a newer option for Hikers in PNG but certainly no less challenging! Exotic flora and fauna entices hikers to keep going on this minimum four-day journey-not to mention the unending World War II relics. Departing from Wau in the Morobe Province, visitors will camp in villages and guesthouses along the trek receiving first hand experiences of Papua New Guinea culture. The journey often ends with an exciting raft trip and an overnight at Salamaua Beach - the perfect reward for accomplishing the Black Cat.
Mt Wilhelm
Mt Wilhelm in the Simbu province of Papua New Guinea stands at 14,793 feet - a minimum three-day ascent. Easy accessibility and accommodation in National Park huts makes Wilhelm the most popular target for mountain climbers although no technical gear is required. Hikers will likely feel the affects of altitude during this trip and, like all multiple day treks in Papua New Guinea, a guide should be taken for assistance and enhancement of the journey!
Download Mt Wilhelm Climb - Sample Itinerary [pdf]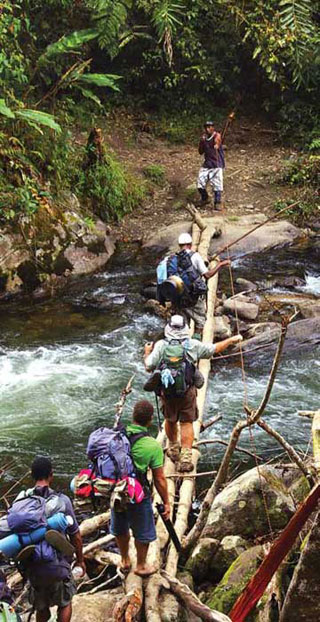 HUNDREDS OF DIFFERENT FOOTPRINTS
With over 5 Million people living in Papua New Guinea and less than 50 thousand motor vehicles, it is not hard to imagine that walking is the main mode of transportation! Consequently there are thousands of hikes to be enjoyed by everyone from a casual adventurer to the most experienced trekker. Located in the center of the Asia-Pacific region Papua New Guinea's location, isolation & dramatic landscapes all lead to the perfect setting for hiking! From North America, PNG is accessible via Hong Kong, Singapore, Japan, Australia, the Philippines, Malaysia and The Solomon Islands.
DISCOVER OUR ENVIRONMENT
The unique flora and fauna and rich history of Papua New Guinea can turn a simple stroll into an adventure. Hikers will explore stunning waterfalls, pristine beaches, World War II relics and isolated villages - all still relatively untouched by the outside world. The rugged and mountainous terrain is abundant with walking tracks and provide endless opportunity for hikers. Guides are always recommended on treks throughout Papua New Guinea, providing local knowledge and insight to enhance the experience for all travelers.
Hiking Seasons -Tour operators run specific trekking tours at intervals throughout the year however independent journeys are available anytime throughout the country.
Temperatures - Coastal regions experience a tropical climate year-round with temperatures varying between 75° F - 85° F. If traveling to the highlands, prepare for mid 60° F during the day with cooler evenings. Dry season is May - November.
Luggage - For domestic flights within PNG, standard luggage allowance is 35lbs and carry on luggage is restricted to 15lbs. It is recommended that camera equipment is well packed and secured if checking is required. Consult your airline before departure on specific restrictions for your flight.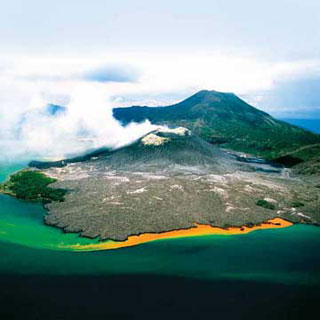 CHOOSE YOUR PATH
Hikes in Papua New Guinea can range from a few hours to a couple of weeks! Accommodations on multiple day hikes are often guesthouses or tented camping however a variety of hotel options are available throughout the country for pre and post nights. Many of our operators will have a program for short duration walks and hikes. Additionally hotels and tour operators can add any number of activities to compliment a hiking itinerary such as birding or learning about the World War II history of Papua New Guinea.
Hikers in PNG may also take the opportunity to experience any number of our cultural activities. With over 800 languages and 850 tribes in Papua New Guinea, learning about the diversity of Papua New Guinean culture is an exciting enhancement to your tour.
TOURIST VISAS
A 60 day visitor Visa is available on arrival for citizens of the USA and Canada. Visa on arrival is subject to a fee of 100 kina.
CURRENCY/CREDIT CARDS
The unit of currency in PNG is the kina. Most international currency travelers checks are accepted and banks can be found in all the major centers. Major credit cards are also accepted at most hotels, restaurants and travel agencies.
HEALTH REQUIREMENTS
Although water quality complies with World Health Organization standards, it is advisable for visitors to drink bottled or boiled water in towns and rural areas. While capital city Port Moresby is relatively malaria-free, Papua New Guinea is still classified as a malaria-prone zone, especially in the coastal wetland regions. It is advisable for travelers to consult a doctor for precautions against malaria. Insect repellent, long-sleeved shirts, trousers and closed shoes are recommended as protection against mosquitoes.
Before departing for any hiking vacation it is recommended you undertake a training program suited to the level of difficulty of your chosen path and consult your doctor. Travel insurance is recommended for all travelers to PNG.
Photos and information courtesy of Papua New Guinea Tourism Promotion Authority