Home > Diving PNG > PNG Culture
Kenu & Kundu Festival
Dates: November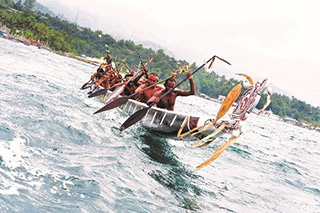 The annual Kenu and Kundu Festival will be held in November, in Alotau, Milne Bay Province.
Canoes and kundu drums are a significant part of the lives of the people of Milne Bay, Papua New Guinea.
The canoe and the kundu are widely used in traditional ceremonies and rituals in Milne Bay. The 'war canoes' are especially crafted from special woods under strict customs to derive the best results and ensure their use is a successful or victorious one.
The Kenu and Kundu Festival was first held in Milne Bay in 2003.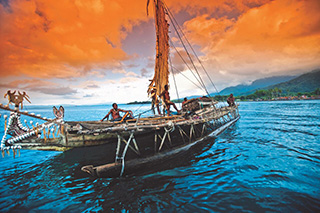 The canoes used in the festival are crafted the same way as the ancestors of the Milne Bay people built their own canoes many years ago.
The colours and patterns reflect the tribe and the area the canoe comes from.
Traditional dancing groups will be represented from all over the Milne Bay province, including Eastern parts of the Papuan Region - creating a rich variety of performances.
The event usually takes place early November on an annual basis. Prizes are given to winning groups and the canoes are assembled a day earlier at Wagawaga Island, to form a convoy before sailing to Alotau for the official opening ceremony.
Other activities include arts and craft displays, string band competitions and traditional and contemporary drama performances.