Home > Diving PNG > PNG Resorts & Culture Lodges
Lake Murray Lodge
Western Province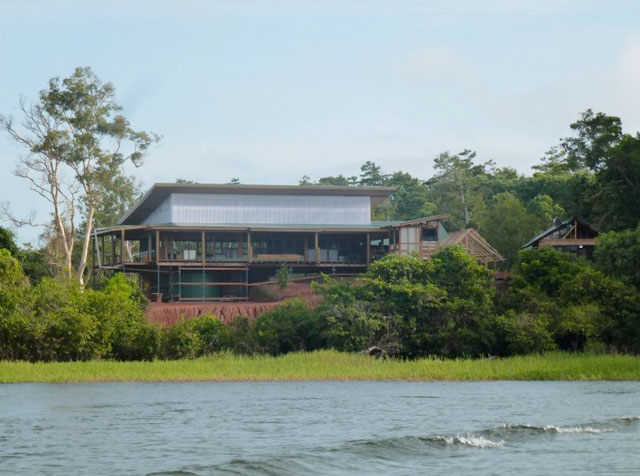 We are undertaking an exciting new project. A new lodge is being constructed at Lake Murray in Western Province, named "Lake Murray Lodge".
Nestled amongst the trees on an island spit, this new lodge has 12 rooms overlooking the Lake. They are all individual cabins with en suite washrooms, twin/double king beds and a large veranda looking over the water. A ceiling fan will keep the atmosphere comfortable with screened windows from which the view can be seen.
The main lodge with a wraparound veranda will house a dining room, bar, lounge and reception. This also looks out over the lake. The veranda will be the place to view the exceptional sunsets. All of the buildings have made use of local sago woven matting and timber from the area, providing a natural setting to fit with the location.
In keeping with our eco-friendly philosophy, the entire operation is solar powered. This provides 24 hour electricity. A large garden area is underway to provide fresh vegetables and fruit on site. The kitchen will use a wood fired cook stove and grill for your daily catch and garden selections.
Lake Murray is the largest lake in Papua New Guinea. During the wet season it spreads to occupy an area of about 2000 sq kilometers. It has a population of about 5,000 people scattered in small villages, both on tiny islands and coastal areas of the lake.
Of interest, the lake also has had sightings of its' own "Nessie" believed to be a relative of the Theropod dinosaur family.
Western Province is home to over 50% of New Guinea's total bird population. Lake Murray is one of the best bird watching areas in the province. In addition to a host of migratory birds, several Bird of Paradise species, pelicans, hornbills, eagles, parrots and numerous other birds have been sighted. We are working on a bird list now and hope to add this in the near future.
The lodge will have three, 8 passenger, river trucks to tour around the Lake. Lake Murray is known for its fishing of black bass, barramundi and saratoga. With a rich population of birds, great fishing and unique culture, we feel this lodge will be an exceptional experience for travellers wanting to experience the remote PNG destinations in comfort.