Home > Diving PNG > PNG Resorts & Culture Lodges
Karawari Lodge
East Sepik Province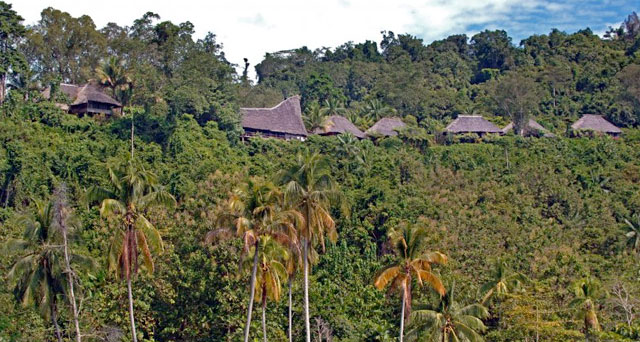 Standing majestically on a lone ridge, 300 meters above the banks of the Karawari River and overlooking an endless expanse of dense tropical lowland rain forest is Karawari Lodge.
One of the most remote and un-spoilt destinations in Papua New Guinea - the lodges private airstrip and the Karawari River being the only way in or out. Stilted villages line the edges of flooded waterways and dug out canoes are the primary mode of transport.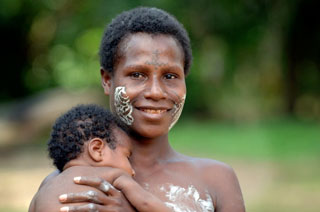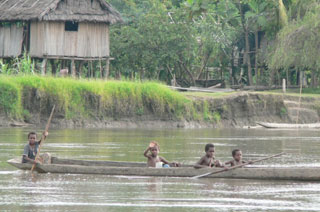 There are no roads, no shops and no phones. Sepik's live completely off the land, weaving baskets for catching fish; gathering, preparing and cooking their staple food from the Sago Palm. Karawari Lodge arranges river excursions in 18-seat motorized jet boats to the surrounding villages where you visit traditional homes, witness ceremonial dances and celebrations and are honored with a glimpse of what life must have been like.
Sepik's express their culture and beliefs through their art, inspiring the carving of incredible masks, drums, baskets and sculptures that integrate with their daily life and animist beliefs. Village tours allow you to observe master carvers at work and purchase from a selection of finely hand-crafted artifacts.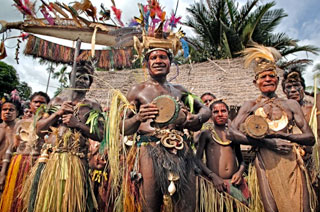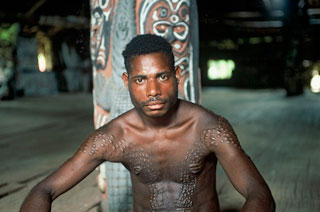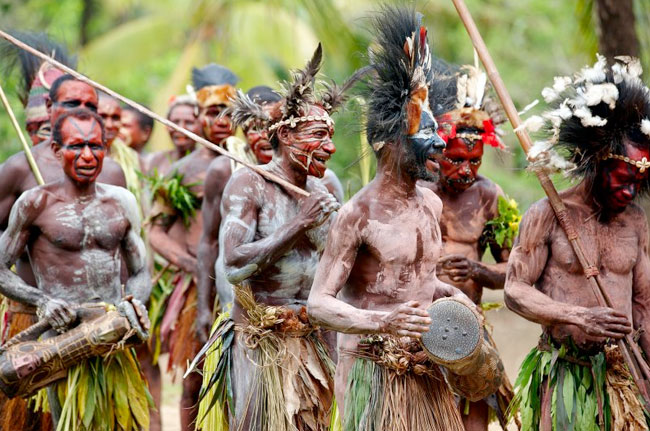 This tropical lowland rainforest is one of earth's most complex of habitats, housing an immense variety of flora and fauna - a staggering 229 different bird species have been recorded at Karawari. Optional birding cruises are available with opportunities to spot elusive 12-Wire Birds of Paradise, cockatoos, parrots, hornbills, cormorants and other water birds.
Guests are accommodated in ten separate cottages, each built out of local bush materials and inspired by traditional architecture. Each cottage has two private twin rooms, each with modern en-suite bathrooms, and a communal veranda. Despite its remoteness, the lodge has 220V electricity, hot & cold water, comfortable mosquito-netted beds, ceiling fans, and a breezy veranda - all make for a welcome sanctuary after a day's exploration.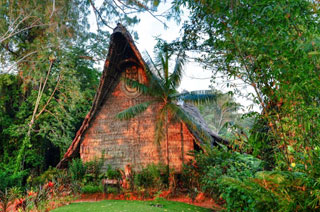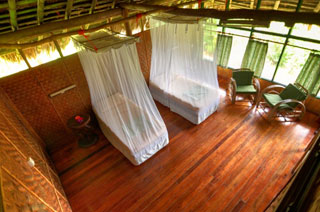 The dining and lounge areas, "Puk Puk" Bar and a vast collection of Sepik artifacts are housed in Karawari's main lodge building, designed and built in the form of a traditional "haus tambaran" or spirit house. The awe inspiring view at dusk has to be experienced to be believed and while contemplating the vast expanse of jungle as the setting sun colors the clouds, one could almost believe that the world was born yesterday. For the more adventurous, overnight stays in nearby traditional villages are also available from Karawari Lodge.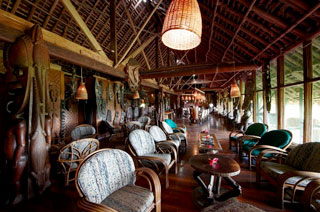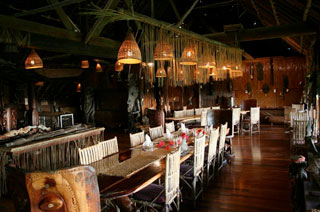 Karawari Lodge is only accessible on our own air service on Mondays, Wednesdays and Fridays from either Mount Hagen or Ambua Lodge; or on completion of a Sepik cruise on the MV Sepik Spirit.