Home > Diving PNG > PNG Liveaboards
MV Golden Dawn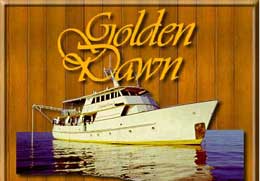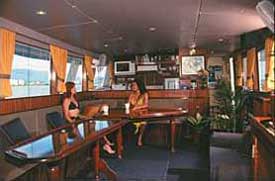 Golden Dawn is a beautiful 80 ft dive boat outfitted to accommodate 10 guests in 5 air conditioned cabins, some with ensuite facilities. Taking advantage of the best weather and diving conditions in Papua New Guinea, MV Golden Dawn changes location throughout the year, offering a unique and diverse diving experience.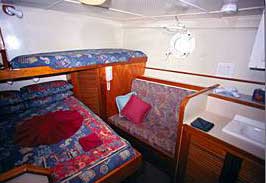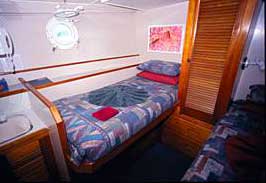 Diving - Milne Bay/ Eastern Fields/Wewak/Madang
Because of the diversity of dive locations, the MV Golden Dawn has two rigid hull inflatables. One 18ft / 6mtr zodiac pro that is powered by a 70 HP outboard, one 14ft / 4.5mtr inflatable powered by a 15hp outboard.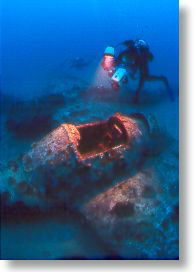 This allows us to anchor MV Golden Dawnin a suitable anchorage and gives us the ability to move ten divers around with great ease. This flexibility allows one tender to return divers to the comfort of the MV Golden Dawn, while the other stays on station on the dive site awaiting the divers who generally have longer dives.
Often one of the smaller tenders is dedicated to carrying just cameras to avoid unwanted knocks from clumsy divers. When the dive site and conditions allow, the diving is done from the MV Golden Dawnwith the divers either returning to the MV Golden Dawnor being picked up by one of the dive tenders. Night dives are also offered.
While there is now a DAN recognised recompression chamber in PNG, you should take particular care with deep or long dives. MV Golden Dawndoes carry large quantities of medical oxygen on board but we prefer to use it for making nitrox and not for treatment for the bends.
All divers are encouraged to use correct multilevel skills: start with the deepest part of your dive and finish with a Safety stop after every dive. Craig will give full dive briefings on any dive requiring one and he or the other trained dive staff will be happy to assist with advice or suggestions concerning a dive or even guide you on the dive.
However divers will be free to plan and conduct their own dives. Please remember to bring your certification card with you. All divers must be certified in order to dive. You may be requested to present the said card before being allowed to dive.