Home > Diving PNG > PNG Cuture
Tumbuna Festival, 15 - 24 May 2020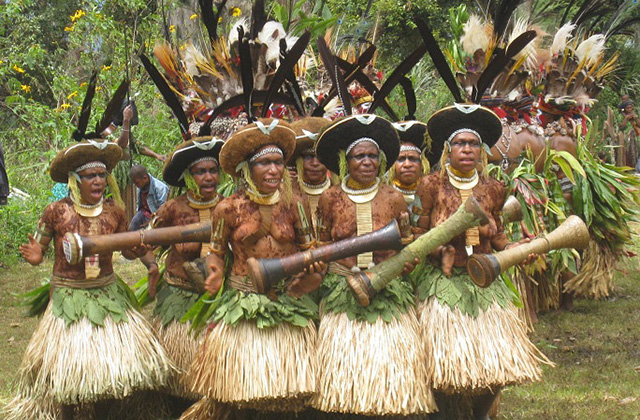 The Tumbuna Show is a grand celebration of culture and tradition - celebrating 'pasin bilong tumbuna,' - the way of the ancestors. The 'Tumbuna' Show (Tok Pisin for ancestors) is held annually on the beautiful Kum mountain.
The show is attended by over 100 tribesmen and women from more than 10 different tribes in the highlands and coastal areas of the mainland. The show is "small" in comparison to the more famous provincial shows, but its relaxed intimacy and friendliness, combined with its stunning village location make it one of the most memorable shows in PNG. Our guests are treated to watching the groups dress up and prepare their bilas (traditional dress) before the dancing starts, and are then free to mingle with the performers and even take part in the festivities.
In true "Tumbuna" style for a celebration of this nature a big "mumu" (underground oven) is fired up for lunch and guests are free to explore the village and socialize with the local residents.
Our "Tumbuna Show Tour" is an unescorted 10 day / 9 night program beginning in Mount Hagen. From there you will fly to Lake Murray Lodge in the Western Province. You will learn all about this fascinating culture and have the opportunity to see rare Bird of Paradise on our early morning birding tours.
From the Western Province we fly you across the majestic Central Ranges into the lowlands of the Sepik Basin to Karawari lodge on the Karawari River.
After an unforgettable Sepik experience we fly you to Mount Hagen for the highlight and grand finale of the tour; the "Tumbuna Show", where you will spend a full day immersed in the "Tumbuna" festivities.
Itinerary
Fri 15 May
Arrive in Port Moresby. Fly to Mount Hagen with Air Niugini. Overnight Rondon Ridge
Thurs 21 May
Charter flight to Mount Hagen. Afternoon Tour. Overnight Rondon Ridge
Sat 23 May
Fly with Air Niugini to Port Moresby. Afternoon Tour. Overnight Airways Hotel
Sun 24 May
Transfer to international flight out
COST: $5,065 per person (twin share). $6,009 single throughout except twin share at Rondon Ridge
Charter Flights: $2,100 per person
Saturday 16 May Mount Hagen/Lake Murray
Monday 18 May Lake Murray/Karawari
Thursday 21 May Karawari/Mount Hagen
Special Note Regarding Charters:
Maximum baggage allowance is 10kg per person and a maximum of 5kg carry on baggage per person.Large, hard sided suitcases are not permitted on charter aircraft.
Land Cost Includes:
Accommodation, airport transfers and tours on a seat in a bus basis, meals from dinner on 15 May to breakfast on 24 May 2020, services of local guides at each location and show gate fees.
Land Cost Does Not Include:
Domestic and international flights, gratuities, visa fees and services of a personal nature such as beverage, laundry charges, phone and fax bills etc.
Important Note:
You are only to book and ticket the domestic Air Niugini flights together with your international flights. We will book the Air Charter flights.
The Air Niugini flights you are to book and ticket are:
Friday 15 May PX888 Port Moresby/Mount Hagen
Saturday 23 May PX881 Mount Hagen/Port Moresby
*To secure space due to the popularity of our show programs, a non-refundable deposit of $500 per person is required to confirm the booking.
For more information
Contact:
Dive Discovery
@
1 800 886-7321
(415) 444-5100
or
Request Info