Home > Diving PNG > PNG Cuture
Goroka Classic Tour, 9 - 21 September 2021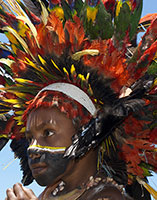 Our "Goroka Classic Tour" is an unescorted 13 day/12 night program. Escorted programs have the same guide throughout whereas with unescorted programs, you still have guides to assist you at each location, the only difference being that guides change at the different locations.
Your journey begins in Mount Hagen in the upper Waghi valley with a night at the luxurious Rondon Ridge, overlooking the Wahgi Valley, a valley unknown to the outside world until 70 years ago. From Mount Hagen travel by charter aircraft into the Sepik Region, for a 3-nights aboard our "floating lodge" the Sepik Spirit. Explore the waterways of the Sepik River and its tributaries.
From there travel across the majestic Central Ranges to Lake Murray Lodge where you will have the opportunity to witness and interact in a number of traditional activities including traditional weaving, face and body painting, and tribal warrior demonstrations.
On the Friday of the show weekend, your charter aircraft will fly you to Goroka for two full days of show festivities before traveling back to Port Moresby.
Itinerary
Thursday 9 September 2021
Upon your arrival in Port Moresby you will be met by Trans Niugini Tours staff and transferred toyour Air Niugini flight from Port Moresby to Mount Hagen; the heart of the PNG highlands. On arrival you will be transferred to Rondon Ridge. From its location in themountains on the edge of the valley, Rondon Ridge boasts panoramic views of the surroundingmountains and the city below.After settling in, enjoy the remainder of the afternoon on a guided birding and nature walk in thesurrounding nature trails.
Overnight: RONDON RIDGE (-D)
Friday 10 September 2021
This morning fly by charter flight into the deep heart of the jungle where your wondrous journeycontinues at the Karawari Lodge in the Sepik region. Sitting on a ridge above the Karawari River, thelodge boasts a spectacular view of hundreds of kilometers of dense tropical jungle. Proceed withlunch, followed by an afternoon visit to a nearby village to learn about the customary process ofharvesting and preparing the sago palm; the staple food for the Karawari tribes.
Overnight: KARAWARI LODGE (BLD)
Saturday 11 September 2021
After breakfast you will be transferred from Karawari Lodge to the comfort of the Sepik Spirit.Its' unique design was inspired by the local art and architecture of the "Haus Tambaran" or SpiritHouse. Enjoy lunch onboard as you begin the cruise along the swirling waters of the Karawari River,cruising past the remote villages and wild jungle that line the banks of the river. This afternoon travelinto one of the local villages to catch your first glimpse into the unique tribal traditions of the riverpeople.
Overnight: SEPIK SPIRIT (BLD)
Sunday 12 & Monday 13 September 2021
Your journey on this trip will focus on the tributary system of the Sepik River, beginning at theKarawari river and traveling to the Krosmeri river junction and Black Water Lakes.This extremely remote area of the East Sepik Province is home to some of the most untouchedvillages in the region. Find yourself meandering along the dark water as it weaves through thickjungle, past small riverside villages and men poling silently through the waters in traditional dugoutcanoes. More than just a cruise, each day you will travel via open-air jetboat to reach the remote villages, where you will learn the Sepik customs and experience their day to-day life in modern times (which still closely reflects their traditional tribal lifestyle).
Overnights: SEPIK SPIRIT (BLD)
Tuesday 14 September 2021
This morning you will fly to the remote Lake Murray, watch as the landscape below transforms tounveil the vast Lake Murray in the flat lands of Western Province. . Here in the remote reaches of PapuaNew Guinea, one truly feels that they are on the edge of the earth. Settle in for a short rest on your own lake side veranda, taking in the silence of this steamy remote world. After lunch, enjoy a walk around the island to acquaint yourself with the beautiful surroundings.
Overnight: LAKE MURRAY LODGE (BLD)
Wednesday 15 September, 2021
Spend your day in the local villages where you will experience the unique customs of the local tribes.The beliefs and customs of the Lake Murray tribes are centered around the lake and the rich food source that it offers. You will travel by boat to various villages to gain insight into the daily lives of the tribes, their ancient customs and the ways in which their traditional ways of life are evolved with influences from the western world.
Overnight: LAKE MURRAY LODGE (BLD)
Thursday 16 September 2021
This morning fly to Mount Hagen. Today's full day tour will include a visit to a local village of Kopeng, located 15km outside Mount Hagen city. Kopeng is a beautiful example of a Melpa village, entrenched in both the traditions of the past and the influences of the present. The villagers will proudly stage a mini show to share some of their central traditions, such as traditional methods of fire-making, log pulling, bamboo cooking and tapa cloth dressing. The main highlight of your day will be the traditional Melpa singsing group whom will proudly perform their celebratory dance for their honoured guests.
Overnight: RONDON RIDGE (BLD)
Friday 17 September 2021
Fly by charter from Mount Hagen to Goroka, which will be your base for the duration of 2021 Goroka Cultural Show.
Overnight: BIRD OF PARADISE HOTEL (BLD)
Saturday 18 & Sunday 19 September 2021
Spend two days at the Goroka Cultural Show. The show is truly a unique and splendid cultural experience,unparalleled both in diversity and authenticity. It is a stunning reflection of the incredible diversity of Papua New Guinea's cultural landscape.The Show brings together more than 50 unique and colourful sing-sing groups from across Papua New Guinea; each of whom share their unique celebration display through colorful traditional dress, dance and song.
Overnights: BIRD OF PARADISE HOTEL (BLD)
Monday 20 September 2021
As your Goroka Classic tour draws to a close, you depart from Goroka to Port Moresby. In the afternoon enjoy a half-day city sightseeing tour which includes visits to the National Parliament (outside view only), and the National Museum. Time permitting, a visit will also be made to the Nature park, which is home to a wide variety of birds and animals of PNG.
Overnight: AIRWAYS HOTEL (BLD)
Tuesday 21 September 2021
In the morning Trans Niugini Tours staff will meet you at your hotel and transfer you to the airportfor your outgoing international flight. (B--)
***********End of Trans Niugini Tours Arrangements ************
LAND COST: US$8149.00 per person (twin share).
US$9059.00 per person Additional for Single Throughout except twin share on the Sepik Spirit and Bird of Paradise Hotel.
LAND COST INCLUDES
This unescorted program (local guides throughout) includes accommodation,airport transfers and tours on a seat in a bus basis, meals from dinner on 9 September 2021 to breakfast on 21 September 2021, local guides and show gate fees.
LAND COST DOES NOT INCLUDE
Domestic and international flights,services of a personal nature such as beverage, laundry charges, phone and all gratuities to hotel, restaurant staff, local drivers, guides and porters.
ADDITIONAL AIR CHARTER COSTS FOR 4 SECTORS
Total for 4 flights: US$2485.00 per person.
Fri 10 Sept Mount Hagen/Karawari
Tue 14 Sept Karawari/Lake Murray
Thu 16 Sept Lake Murray/Mt Hagen
Fri 17 Sept Mt Hagen/Goroka
SPECIAL NOTE REGARDING CHARTERS: Maximum baggage allowance per person is one 10kg bag plus a maximum of 5kg in a small carry-on bag. Large, hard sided suit cases are not permitted on charter aircraft.
DOMESTIC AIR NIUGINI FLIGHTS
Domestic and international flights are not included in the cost and we do not arrange these. You book and ticket the domestic Air Niugini flights together with your international flights. We will book the internal air charter flights.
BOOK THESE AIR NIUGINI FLIGHTS:
Thurs 9 Sept PX186 Port Moresby / Mount Hagen
Monday 20 Sept PX161 Goroka / Port Moresby
For more information
Contact:
Dive Discovery
@
1 800 886-7321
(415) 444-5100
or
Request Info