Home > Diving Mexico > Mexico Dive Tours
Dive with Humboldt Squids in the Sea of Cortez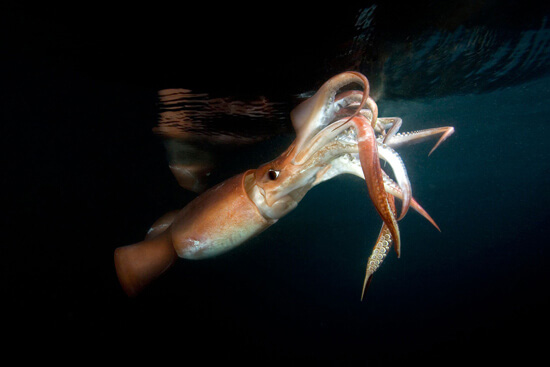 Imagine being able to dive with humboldt squid (dosidicus gigas), the smaller cousin of the giant squid (architeuthis) on a Sea of Cortez aboard our beautiful luxury yacht; the Nautilus Gallant Lady. We will be staging these dives for the first time on our Bahia de Los Angeles departures this coming July and August. It will be an adventure for sure, just like the old days when we would head out on expeditions not knowing exactly what we were going to find or even what we would be doing the next day. We love these kinds of adventures!!
Although we have never offered these humboldt squid trips before, we have been thinking about, researching, investigating and reading every scientific paper possible on it for almost a decade. There is no question that the squid are present in great numbers in the deep waters of Bahia de LA all the way down to Santa Rosalia. Dosidicus gigas range as far north as Alaska and as far south as Chile. The Sea of Cortez is one of two primary mating and breeding areas for the squid and they are reported by both scientists and fishermen to be in this area from May to October. So Whooohooo!! Let's go diving!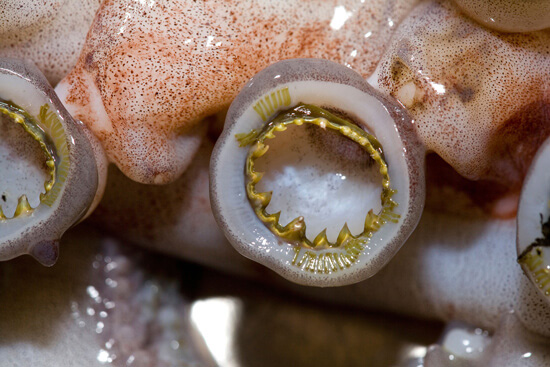 Serrated suckers of the Dosidicus
These squid are super cool with 8 arms that can grasp their prey in the blink of an eye and two fearsome tentacles with rotating suckers lined with teeth to subdue their prey. Dosidicus average 4 - 5 feet in length, growing to a maximum of 8 feet, living for 1 to 2 years. They are close cousins of our beloved giant pacific octopus of British Columbia and Alaska (enteroctopus dofleini - point of interest; now you know why a superior suite on each of our boats is named "dofleini") and reportedly exhibit similar curiosity, intelligence and the ability to change colour in the blink of an eye as their surface layer of chromatophors change size.
Humboldt squid spend their day in deep water thousands of feet deep and then migrate to the surface to feed from dusk to dawn. We will be diving in perfect squid habitat as the deep water trenches of the Sea of Cortez shallow out around Bahia de Los Angeles and the San Pedro Martir area. Vast upwellings of ocean water rise to the surface with a plethora of planktonic animals including plankton, tiny crustaceans and many other organisms. It's a smorgasbord for the squid and great diving for us.
We will be staging these dives from the safety of a custom designed "squid cage". We have installed high intensity LED lighting in the hull of the Gallant Lady to draw in prey for dosidicus.
Sample Itinerary
Day 1:
0800 departure from San Diego for 3.5 to 4 hour transfer to San Felipe using "Rocket", our 20 passenger mini-bus configured for 12 passengers. (Our mini-bus is named after Rocket, our favourite juvenile great white shark who used to dart in and out of our Guadalupe shark cages when he was a little guy). Noon arrival in San Felipe. Boarding the Gallant Lady for a lovely afternoon cruise and overnight run south to the Isla San Pedro Martir area.
Day 2, 3, 4:
Four dives on offer every day for the best diving in the northern Sea of Cortez. Primarily around the Isla San Pedro Martir area. Kayaks and paddle boards will be on standby for those who want to take a break from diving or snorkelling. Every evening, we will have our underwater lighting turned on and squid cage in the water as dusk rolls around with fingers crossed that dosidocus will pay us a visit.
Day 5:
Bahia de Los Angeles and snorkelling with the largest aggregation of whale sharks on the west coast of the Americas!! Every year, between 85 and 220 of these gentle giants visit the nutrient rich waters off the estuary at the south end of the bay. We commonly see a lot of whale sharks while it's uncommon to see any or many other boats.
Day 6:
Morning arrival at San Felipe. Disembark after lunch with transfer via Rocket back to San Diego. Arriving approximately 6:30 p.m. depending on US Customs.
******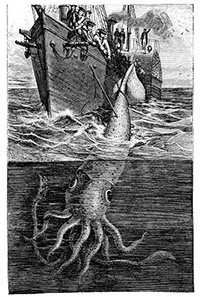 Dates & Rates
Individual and group bookings available on the following dates:
July 12 (8 berths)
July 27 (1 berth)
Aug 1 (2 berths)
Aug 11 (8 berths)
Aug 16 (8 berths)
Aug 26 (1 berth)
The yacht is available for charter in June and up until July 12.
COST: from $2,495 per person for twin share
* Prices do not include 5% Tax
* IVA tax has been harmonized at 16% across Mexico. The original 11% tax is included in your trip fee. The 5% increase in tax is shown separately
For more information
Contact:
Dive Discovery
@
1 800 886-7321
(415) 444-5100
or
Request Info