Home > Diving Mexico > Mexico Dive Tours
10 Day Kayak & Whale Watching Combo
Baja, Mexico
TRIP LENGTH:
10 days
SEASON:
Late January - mid March
DATES IN 2019:

Jan 17 -26
Jan 24 - Feb 02
Jan 31 - Feb 09
Feb 07 - 16
Feb 14 - 23
Feb 21 - Mar 02
Feb 28 - Mar 09
Mar 07 - 16
Mar 14 - 23
Mar 21 - 30
Mar 28 - Apr 06
Apr 04 - Apr 13
Apr 11 - Apr 20
Apr 18 - Apr 27

RATES IN 2019:
$2,295 per adult, $2,134 per youth
ACTIVITIES:
Sea Kayaking
Snorkeling
Whale Watching
Camping
Family Focus
MINIMUM AGE:
12 years
TRIP BEGINS/ENDS:
Loreto or LaPaz, Baja California / Loreto or LaPaz, Baja California
NEAREST AIRPORTS:
Loreto (LTO)
La Paz (LAP)
or San Jose del Cabo (SJD)
ITINERARY:
Download itinerary [pdf]
Our 10-day kayaking and whale watching combo tour is the ultimate Baja experience, combining watching the gray whales as they test the waters of the Pacific Ocean with their calve, exploring the beautiful desert islands in the Sea of Cortez by kayak and snorkeling along isolated coves in warm, turquoise waters.
It's truly the ultimate Baja tour. Enjoy 3 days of plush beach side camping at our exclusive Gray Whale Camp on Santo Domingo Island in Magdalena Bay, or later in the season at San Ignacio Bay, where you will get four chances to go eye-to-eye with gray whales then cross the Baja Penninsula to spend five days kayaking in either the quaint town of Loreto or the beautiful island of Espiritu Santo in La Paz.
January through April, hundreds of gray whales mate and bear their young in the protected waters of Magdalena Bay after traveling over 5000 miles from the Bering Strait. A motorized skiff will take you swiftly and safely into the deeper parts of the bay, where you won't just view the "mommy and me" action, you may be able to actually pet some of the whales that swim by. Staying on the island at our camp provides you with the opportunity to be delighted by a host of other wildlife such as dolphins, seals, sea lions, sea gulls, pelicans and more often right from camp! Plush camping allows you to relax and enjoy the scenery while your professional naturalist guides provide you with dinner, drinks, and plenty of education.
As the whales migrate north to arctic waters, we also move our whale watching tours north from Magdalena Bay to San Ignacio Lagoon. This is one of the three prime whale watching areas in Baja, with several hundred whales visiting each winter. While not as close to Loreto as our Magdalena Bay whale camp, traveling to San Ignacio gives us the opportunity to have the powerful experience of getting up close to the gray whales for another month into the spring. To get to San Igancio Lagoon, we drive north from Loreto to the historic French mining town of Santa Rosalia (where we visit a church designed by Gustave Eiffel of Eiffel tower fame) and on to the historic Spanish mission town of San Ignacio. From here it's another hour to the bay and our accommodations.
After you have had your fill of breaching, and spy hopping whales then head back over to Loreto or La Paz for five days of Baja sea kayaking and camping on remote islands in Loreto Bay National Marine Park or Espiritu Santo, where the surrounding water is a sanctuary for blue-footed boobies, fin and blue whales, dolphins and sea lions. The Sea of Cortez is a UNESCO World Heritage Site and offers the perfect blend of Baja kayaking, hiking and snorkeling. Abundant wildlife, massive whales, sunny weather and warm, crystalline waters make the Sea of Cortez one of the best winter adventure destinations in North America and Mexico.
With each of these tours, your first and last nights will be hotel-based in Loreto or La Paz with an extra hotel night between kayaking and whale watching. All activities are led by naturalist guides, who dish out tasty chile relleno and margaritas in tented beach camps at days end. You'll bring home a lifetime of memories.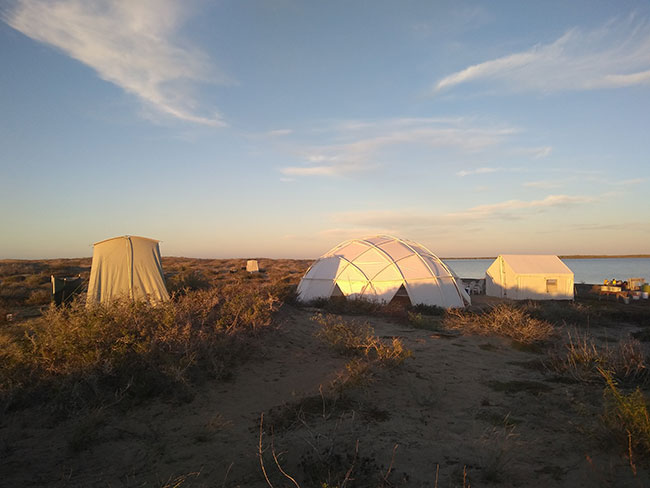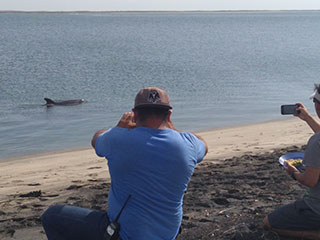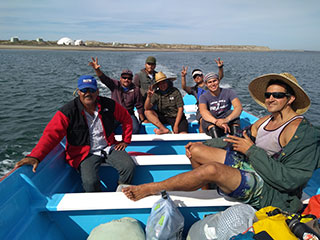 For more information
Contact:
Dive Discovery
@
1 800 886-7321
(415) 444-5100
or
Request Info