Home > Dive Discovery Trip Reports
Indonesia: Komodo, aboard Arenui
August 8-19 2015 Trip Report - Page Two
Escorted by: Cindi LaRaia
1 | 2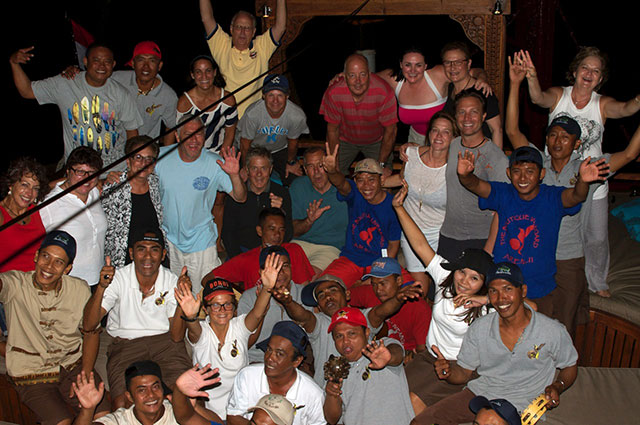 The Arenui boat matched our diving! I have been waiting 3 years since I chartered it to finally have the privilege to be with my guests and enjoy this gorgeous boat! The Arenui did not disappoint! They have mastered the art of Liveaboard diving. Truly a 5 star enterprise. The cabins are all artistically appointed. The boat is 70% reclaimed wood from all over Indonesia, artfully assembled (took 2 yrs) with lovely art from the many far flung provinces of Indonesia incorporating all the cultures. All the rooms have different art. The cabins are very comfortable, with king beds and day beds or 2 twin beds. The upper deck Master cabins have big windows so the views are amazing with King bed and day bed, also a small balcony. The lower deck cabins only have portholes so can be a big dark with all the wood. Still very beautiful!
The dive deck is adequete, the crew do almost everything for you. Your gear is looked after and waiting for you on the tenders. The tenders are wonderful, well thought out for divers, stable and comfortable. The crew take all your bits and bobs to the boat and ask what you need, they put it all in a bin. You take nothing to the boat. It was odd at first, seems like you are forgetting something, however after a couple days, all very normal!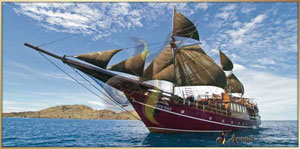 The boat crew are very hard working, most helpful, happy, kind and gracious! They are all happy with fun smiles for all, they are truly a gift to have as part of this wonderful experience! This was one of the best crew teams I have had!
Our cruise directors Lisa and G, are FABULOUS!! A young couple, who really love what they are doing! A lot of energy, knowledge and FUN!!! They offer excellent dive briefings, they are very approachable, and only aim to please in any way! They are also very good listeners! They are smart to advice at the very beginning to PLEASE let them know if you are unhappy with anything, they can fix, or help and take care of it then. Not after you leave the boat and complain to your dive travel agent!!!

I asked for more hooks in our cabin and G put them in for me! Same with others, whatever you needed they would do whatever they could to help the situation and make it good! What more could you ask for?
The dive masters and crew were outstanding! Most of them were from Manado, started diving in Lembeh Strait, so they have those great 'eye's for all the little stuff! They can find a needle in a hay stack! Truly amazing to me! They found us everything!
The Food and the Chef simply incredible! Five star food and presentation! Very creative, wonderful flavorful food every day. Early morning you can have small breakfast, then after the morning first dive is Big Breakfast cooked to order from a menu. They have an espresso machine, and lovely Bali Coffee and a rich assortment of excellent teas. Lunch a buffet that always had 4 main dishes to choose from; fish, seafood, meat and veg, plus all the different salad, fried rice or noodles. All excellent!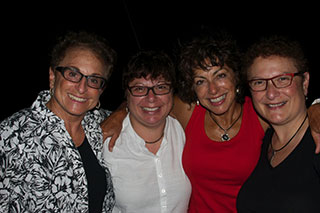 Dinner served upstairs on the top deck under the stars (unless traveling or bad weather), I love this, a wonderful way to end the day, being outside! At lunch you choose what you want for dinner, a fish dish or meat, or whatever needs you would have they can accommodate! Always presented with artistic beauty, color and flair! Always fantastic and never disappointed!
Even the meat dishes if you ask for med rare, came to you med rare!! That always impresses me

.
They have a wine list that is quite nice, not cheap since this is a Muslim country, and duty is 60%! You are welcome to bring your own spirits and they will have the mixer for you.
Massage is done on the top deck lounges under the Bedouin canopy. Very professional as they dress in Balinese outfit with real massage type layout. They were trained at a lovely spa in Labuanbajo, I was very impressed as I need a deep tissue massage and they could offer that easily! Wonderful!!
I am looking forward to making a 2nd trip on Arenui next September 2016 when we head to The Forgotten Islands!
We all had the most enjoyable 11nts on the beautiful Arenui with her outstanding crew!
Many thanks from us all!
Cindi LaRaia