Home > Dive Discovery Trip Reports
Antarctic Peninsula Basecamp, On board the M/V Plancius
March 3-14 2015 Trip Report
Escorted by: Cindi LaRaia
Page Six
Day 6 – Sunday 8th March 2015
Port Charcot, Antarctica
GPS 08.00 Position: 065°04'S / 064°01'W
Weather: Wind: W 3. Sea State: Calm. Weather: Overcast/snow. Temperature: 0°C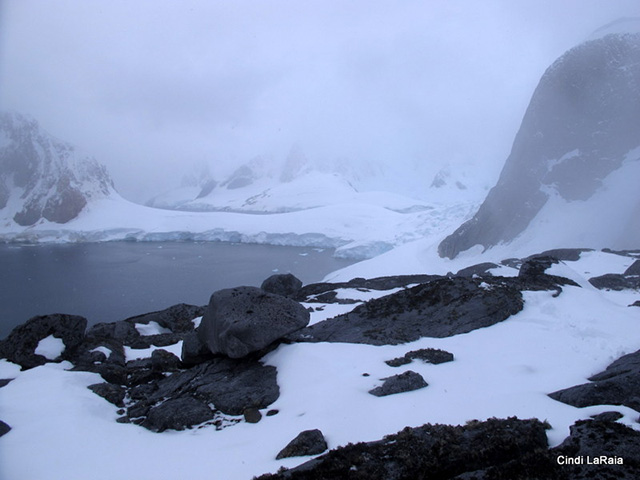 It was a snowy morning as the campers were collected from their campsite on Hovegaard but it really felt like a true Antarctic scene with light snow and icebergs all around the ship as we emerged from our cabins on this, the third day of Basecamp.
Breakfast was served at 7:30 and the ship re‐located further into the bay at Port Charcot. We had plenty of time to enjoy a good meal ready for the activities of the day. As always there were organised groups and signup sheets so there was plenty to keep everyone occupied during the course of the morning. The first group to go ashore were the mountaineers who were led by Markus and Andrew up to one of the higher peaks overlooking the bay. The divers went off towards the icebergs in search of Leopard seals and were lucky enough to have almost 40 minutes snorkelling with a curious Lep during the course of the morning. Paul led his kayak group around the shoreline and they were lucky enough to see a Leopard seal quite close to the kayaks which was an exciting experience for everyone. The snowshoe hikers were led by Ali along the hillside and up onto the snow field from where they could reach the low summit where Charcot's cross is located. The views across the sea and the Iceberg Graveyard were fantastic and everyone reached the summit cairn without any difficulty at all. Those who just wanted to go ashore this morning had a lovely morning enjoying the penguins and exploring the beach area on the opposite side to the landing. There were lots of stranded icebergs in the bay which made for some great photo opportunities, especially the berg with the Crabeater seals hauled out on it.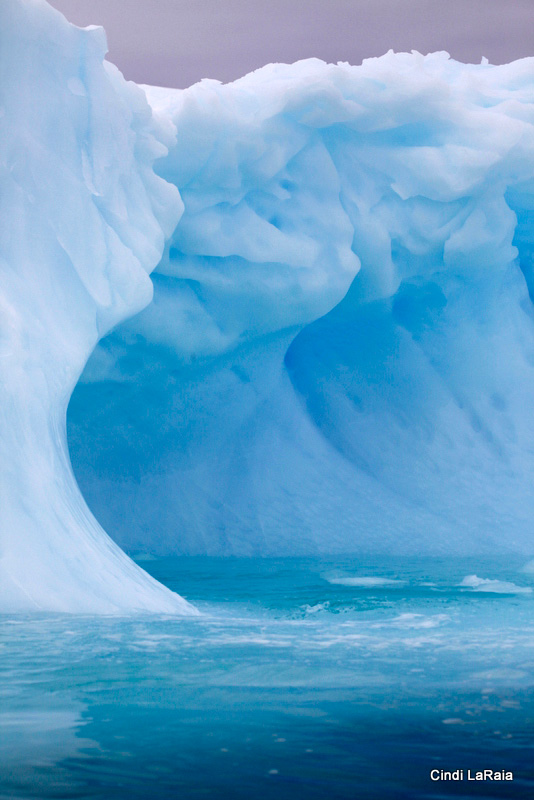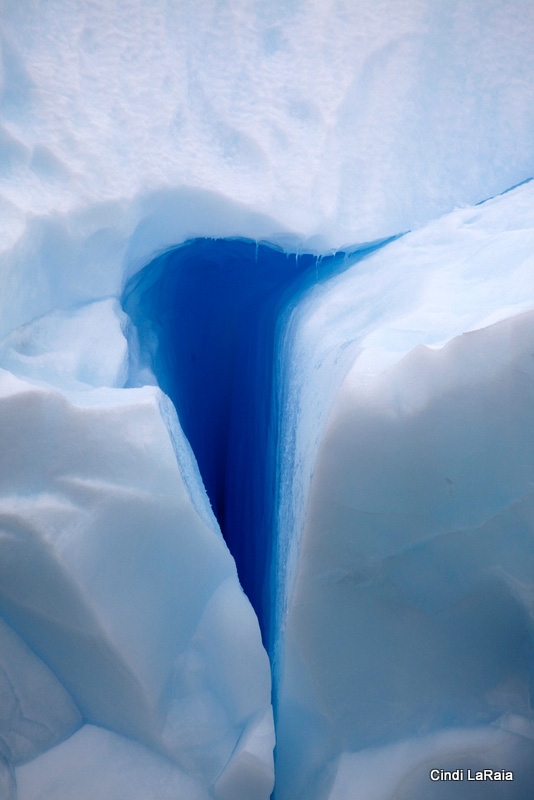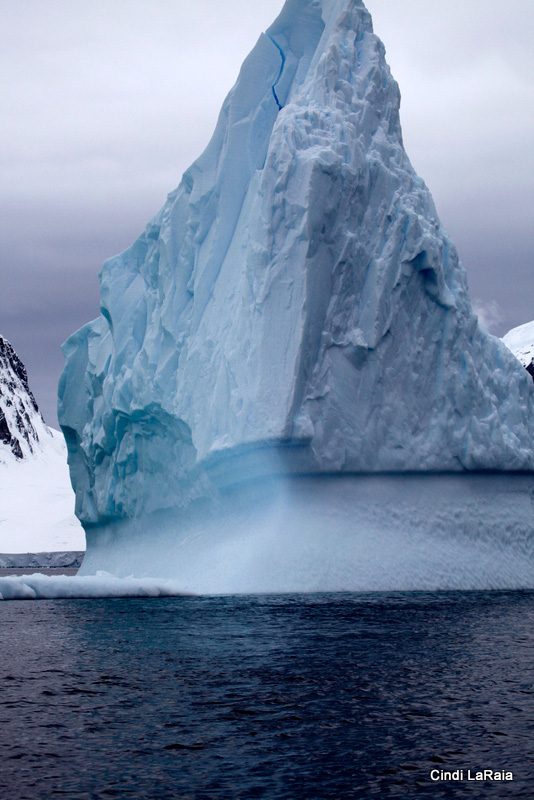 All in all a very good 'Basecamp' morning with everyone enjoying their chosen activities. By 12:30 most people were back on board and enjoying a hot drink before being called to lunch at 1pm. There was time for some relaxation after lunch before we were gathered together and organised for our afternoon's zodiac cruise in the Port Charcot area.
This bay is renowned for its amazing icebergs that get stranded here in the relatively shallow water. We headed out into the bay and spent a lovely few hours cruising some incredible towering icebergs. Some had towers like churches and cathedrals, others had spectacular blue holes while others had intricately sculptured sides and edges that human imagination and creativity could never come up with. On some of the lower floes there were groups of Crabeater seals hauled out and resting. These animals are the most numerous seals in Antarctica with an estimated population of around 40 – 50 million. They primarily feed on Krill with specially adapted teeth to filter the Krill from the water. We started our cruise at Port Charcot and cruised down the channel to finish just off shore Pleaneau Island. It had been a bit of a cold afternoon but a stunning cruise with icebergs and seals.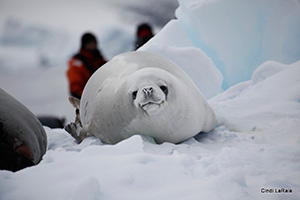 ****on our afternoon zodiac ride – I would always request a sighting of Orca (they have eluded me in Alaska 2 times and seattle,,,,) they would look at me with daggers and say ' well if we are really, really lucky '… So what did we get on this amazing ride thru amazing giant blue icebergs and peaked granite mountains covered in snow and glacier but a family of Minke whales, right next to us!!!! Yeahhhhhhh, gorgeous they were so close and hanging around One came up right under our bow! Love love love this place!!!!!
Back on board there was time to warm up before we gathered in the lounge for Re‐cap where Lori explained a little bit about Leopard Seals and Crabeater seals and how well they're adapted for feeding on Krill, although at this time of year Leopard seals are feeding on penguins around the colonies. Kelvin then outlined our plans for tomorrow during which time we'll be cruising at the Yalour Islands and visiting Vernadsky station, a Ukrainian research station in the Argentine Islands. After a buffet dinner, the last camping group were delivered to the shore for their night out under the Antarctic sky. The tents were already in place from last night's camp so the operation to get everyone ashore was fast and before too long staff and crew were able to sign off for the evening. Another long, busy Basecamp day.
***** This place called Antarctica is crazy surreal! Dieter called it 'Wonderland'. Rita was always saying "wow." WOW. WOW! Shari and I would look at each other with sheer amazement, like 'are we really seeing this?"
The closest I could come to a comparison is if you have seen the Fairy Tale movie or read the books The Lion, Witches and Wardrobe! A Place called NARNIA! We left the wardrobe and planet earth and landed on NARNIA!!
Kayaking
AM Port Charcot saw the turn of Team F & just like every other kayaking session, they were not disappointed. Conditions were calm, yet cloudy & snowing, which presented them with an eerie atmosphere. Once in the kayaks, the team headed for the Gentoo penguin colony for some initial photographs. Following this, they continued along the shoreline but were soon distracted by a rather large leopard seal who decided he was not interested in them. As they continued, so they came across two more leopard seals, one of which seemed very interested & friendly as it nudged up against one of the kayaks. It was time to head into the iceberg graveyard to explore both big & small.
What interesting natural sculptures they came across, with their varying shades of blue, white & grey!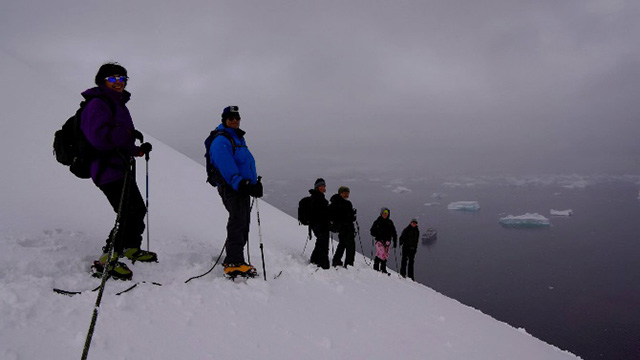 Mountaineering
Port Charcot – Jeanne Hill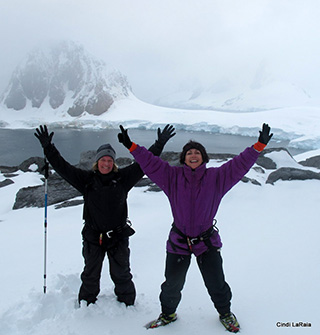 **** Finally our turn to Mountaineer!!! I have been chomping at the bit each morning looking on the board to see when it would be our turn to go!!! I loved it!! My first time doing this, the climb for a first time was exhilarating and gorgeous! It was a very special experience and to be at the edge of this crevasse a bit unnerving! Read on……..
This morning the mountaineers ascended Jeanne Hill, located to the east of our landing at Port Charcot. We put on our harnesses and crampons and set off across the snow, walking around several crèches of fledging Gentoos and aware of their curious looks towards these funny multi‐colour penguins. Once we were roped up Markus led us towards the edge of a large crevasse so we could have a look into its depths. It was an impressive sight, looking down from the cobalt blue at the top towards the deeper indigo blue at the bottom then up through the layers of ice and snow of the opposite side.
We continued up from here, winding backwards and forwards across the slope to make the ascent easier before following a knife edge for several metres, giving us a dizzying view of the slope below. The low clouds decreased visibility out across Pleneau Bay and the landing site but added to the atmosphere as we gained the summit at about 210m. The clouds were high enough to afford a view into the Lemaire Channel and we took the opportunity to take some happy snaps of each other before roping back up to begin our return journey. The penguins were too much of a temptation once we'd made it back down and unroped so we took the time to sit down and watch as they came closer to investigate us.
***TIP- bring walking sticks!