Home > Dive Discovery Trip Reports
Antarctic Peninsula Basecamp, On board the M/V Plancius
March 3-14 2015 Trip Report
Escorted by: Cindi LaRaia
Page Twelve
Day 12 – Saturday 14th March 2015
Disembarkation in Ushuaia
GPS 08.00 Position: 054°48'S / 068°18'W
Today is disembarkation day in Ushuaia. Coming alongside, we were boarded by the Argentine officials who cleared our vessel. On the pier we bade farewell to many of the friends we have come to know over the past 12 days, and had one last look at the Plancius, the ship that took us on such an incredible voyage to Antarctica. This trip will last us a lifetime – in our memories, our imaginations, and in our dreams.
--- The End ---

Total distance sailed on our voyage: 1654 Nautical Miles / 3063 Kilometres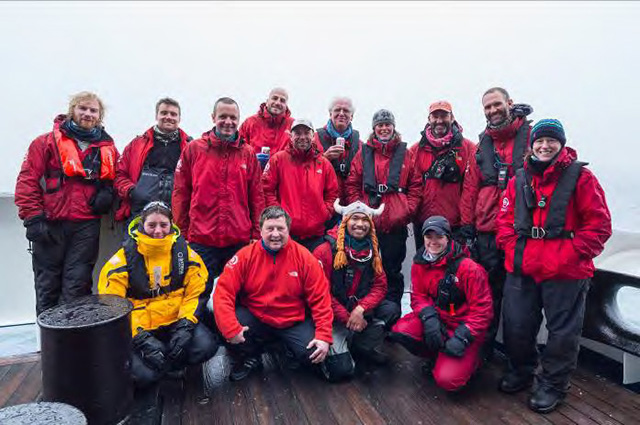 The Expedition Team
Back row Left to Right
Peter Webster, Henrik Enkell, Markus Amon, André Fahrni, Paul Donovan, Doc René van Tol Ali Liddle, Kelvin Murray, Lori Gross
Front row Left to Right
2/O Anika Albrecht, Oliver Vogler, Wilson Cheung, Erin McFadden
---
Thank you crew of Plancius, all the amazing fun adorable penguins, the Universe for blessing us with upclose whales next to our zodiac and my long awaited ORCA'S!!!!!
We all had the time of our life for sure!
Ciao until next time!
Cindi LaRaia
Dive & Africa Discovery travel