Home > Diving Philippines > Philippines Liveaboards
Discovery Palawan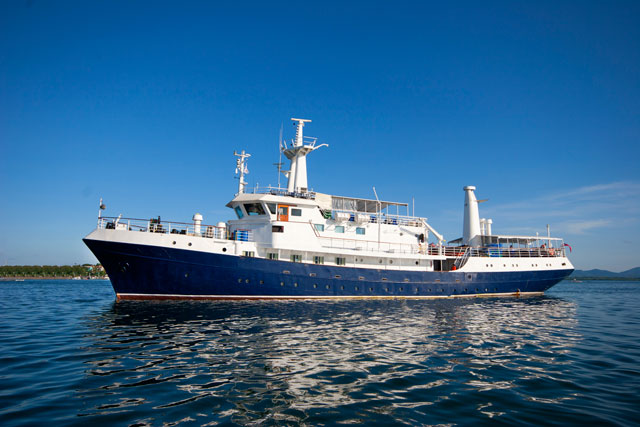 Year-round dive cruising in the Philippines
Built in 1972 in Groningen, Holland as a three-mast schooner cruising the Caribbean with well heeled tourists, she was later rebuilt as a navigation training ship.
The ship was refitted in 2006 and moved to the Philippines to serve as an adventure cruise ship, equipped with a new and more powerful engine and all modern navigational equipment.
In 2013 she underwent a USD 1.5 million renovation to give her interior a more modern look.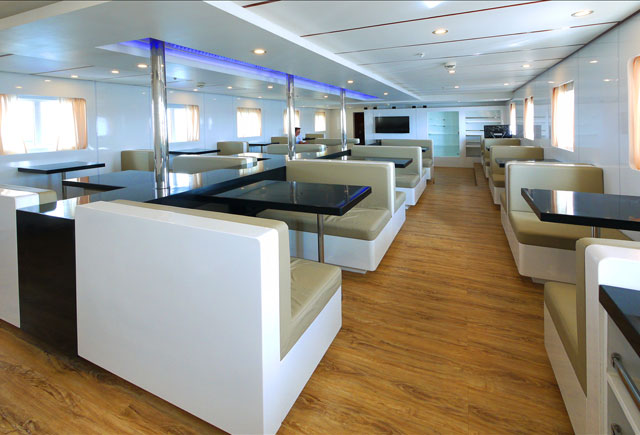 Boat Specifications
Maximum number of divers:
Tubbataha = 32 divers
Northern Route = 16 divers / 24 – 26 non divers
Satellite Phone
Immarsat
20 rooms
16 standard rooms (lower deck) with centralized air conditioning
4 upper deck rooms with personal climate control




Air conditioned salon / camera room, sundeck, 2 shaded decks :
dining deck and separate bar deck
Number of crew
20 - 32
Length overall
49.20 meters
Width overall
8.50 meters
Draft
3.20 meters
Tonnage
539 tons (gross), 161 tons (net)
Maximum cruising speed
10 knots
Electricity
220 V
Class Registry
Lloyds Registered
Diving Equipment
Tanks 80cu and 100cu, compressors, 3 chaseboats, nitrox available, medical oxygen onboard. Complete rental equipment.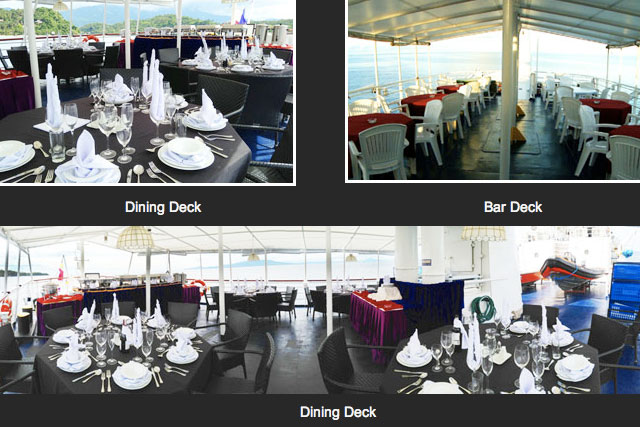 Dive Destinations
• Tubbataha - world class diving in the Philippines ( Late March - Mid June )
Tubbataha - Cruise Itinerary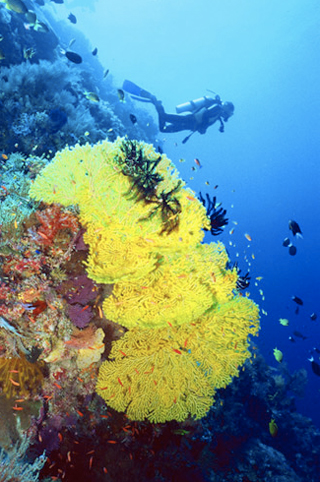 Tubbataha Reefs Natural Park (TRNP) is recognized as being the best diving destination in the Philippines .
This 100,000 hectare natural park is only accessible from Late March to Mid June due to sea and weather conditions.
Divers come here for the incredible corals, huge schools of fish and the chance to see lots of sharks and manta rays. Tubbataha Reefs Natural Park is both a National Marine Park and a UNESCO World Heritage Site, and was nominated recently as one of the 7 wonders of nature.
This is also one of the last places in Asia with guaranteed shark sightings on almost every dive. Expect to encounter white tip, grey reef, nurse and hammerhead sharks.
A Tubbataha dive safari on the Discovery Fleet is the perfect way to explore the wonders of this special
Place and during this period the ship turns into a full-fledged diving live aboard whose activities center around diving exclusively.
Itinerary for Tubbataha only liveaboard
Day 1 -> Guest embarkation in Puerto Princesa Port between 2 – 4pm, lift anchor in the evening.
Day 2 -> South of North Atoll (Dive sites: Ranger Station, Amos Rock, Wall Street)
Day 3 -> South of South Atoll (Dive sites: Delsan Wreck, Southwest wall, Triggerfish City)
Day 4 -> North of South Atoll (Dive sites: Black Rock, T Wreck, Ko-ok)
Day 5 -> North of North Atoll (Dive sites: Shark Airport, Seafan Alley, Washing Machine)
Day 6 -> Malayan Wreck of North Atoll and Jessie Beazley
Day 7 -> Disembarkation in Puerto Princesa Port after breakfast, 8am onwards.
*Itinerary is subject to change due to tide tables and sea conditions.
• Northern Route ( Mid October - Mid March )
Northern Palawan 8D/7N cruise - diving and non-divers itinerary download [pdf]
Day 1 - Departure from Batangas International Port Embarkation time is between 2-4 pm
Day 2 - Apo Reef
Day 3 - Barracuda Lake-Siete Pecados (7 Islands)-Maquinit Hot Spring-Kayangan Lake
Day 4 - Sangat Island – Culion
Day 5 - Calumbuyan & North Cay Islands
Day 6 - Dibotonai
Day 7 - Tara Islands, Dimakya Island Club Paradise
Day 8 - Disembark Batangas International Port 11 am
** Subject to weather and sea conditions