Home > Diving Philippines > Philippines Dive Resorts
Magic Island Dive Resort
Moalboal, Cebu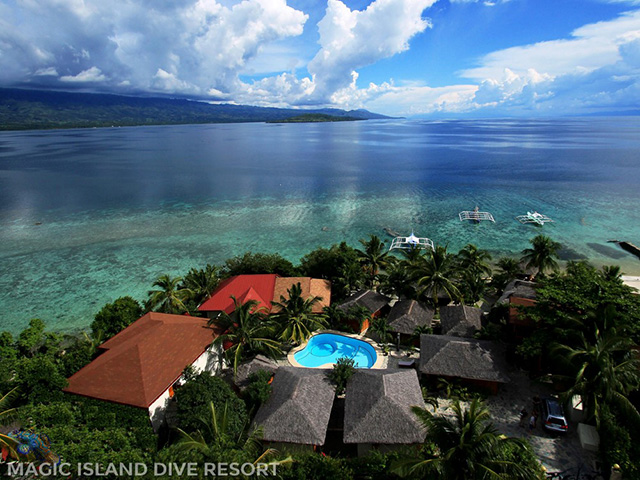 Magic Island is nestled between palm trees on the west coast of Cebu Island in the town of Moalboal. Ideally located between the town center and Panagsama (the main touristic area) offering a nice quiet location to relax. Situated right on the rocky coast line giving perfect access to the amazing house reef with a drop off down to 50m, sporting an array of marine creatures from; Giant Green Sea Turtles, Frogfish, Pygmy Sea Horse and unspoiled Coral Reefs.
With 10 individual cottages on the premises and a dive center fully equipped to handle thirty plus divers it never seems overly busy, allowing you to fully enjoy all of our amazing amenities, all of the time.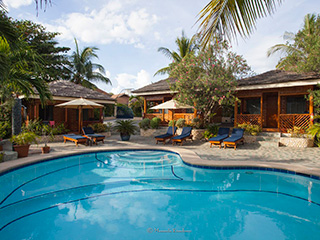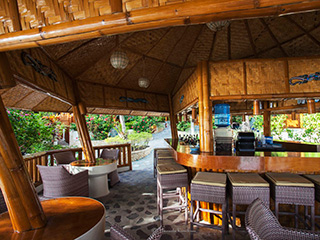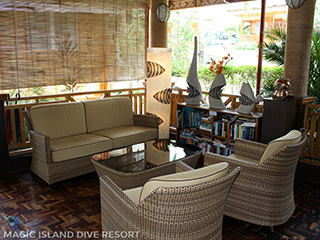 Accommodation
All of our cottages have either a sea or swimming pool view and are equipped with:
Aircon & Ceiling fan
Hot water Shower
Soaps & Shampoo
Hair Dryer
Safety Deposit Box
Pool & Bathroom Towels
Mini Bar
Unlimited free Mineral Water
Private Balcony with comfy seating
Our cottages can be set up with either a queensized double or twin beds, and in five of our cottages we can add a 3rd bed if required.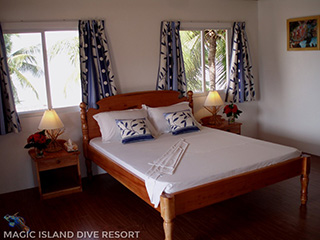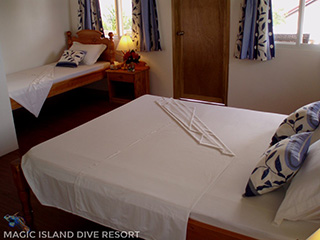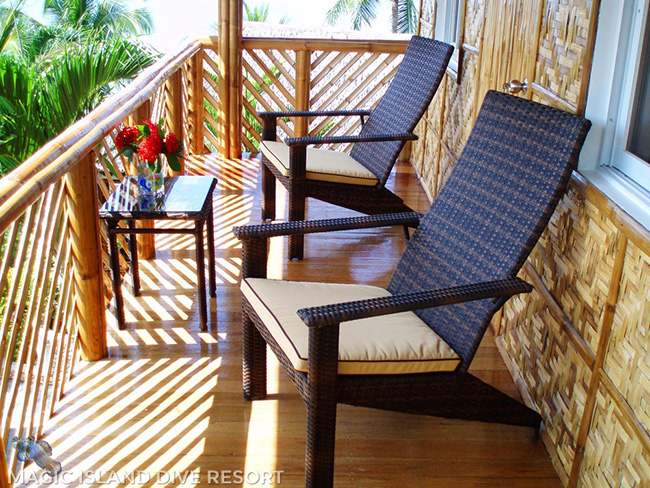 Diving in Moalboal
It's why we are here! If you haven't noticed already Magic Island is primarily a Scuba Diving Resort, of course all are welcome, but we mainly cater to divers or people who are interested in becoming divers.
Our dive center is located right on the sea front facing out towards our fantastic house reef, where you can dive any time, day or night. Inside the dive center everyone has their own individual post and crate, giving lots of space to hang or place all of your dive gear. Outside there is lots of room to prepare your equipment, plan your dives or just sit in the sun and soak up some rays. Most of the time the tide is high enough that the boats can pull all the way up to the dive center, so it just one step and you're aboard.
We have 12ltr/80ft³ aluminum tanks with both DIN and Int. connection, suitable for both air and Nitrox. Of course the tanks are filled with a minimum 200bar/3000psi pressure, if not, just return the tank and get a new one! The water temperature ranges from tis coldest in January 26C/80F to its warmest in July 29C/84F.