Home > Diving Philippines > Philippines Liveaboards
Atlantis Azores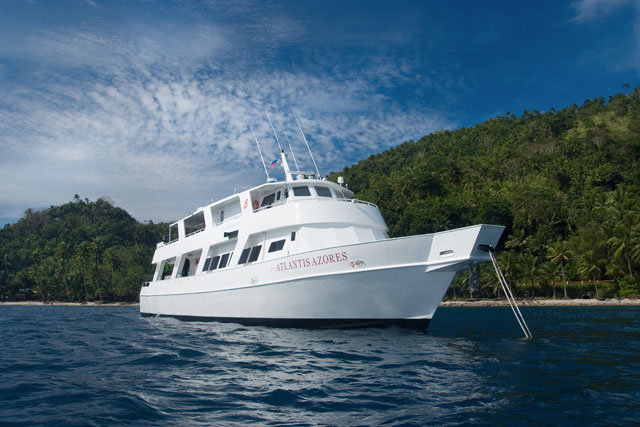 The Azores has set new standards in liveaboard diving in the Philippines and, many of our guests say, in Asia. Azores is the perfect place from which to explore some of the best diving in the world - we offer four distinct itineraries showcasing parts of the Philippines, or schedules only possible by liveaboard. What stays the same are the creature comforts, great food and welcoming crew.
January through to mid March is Whaleshark season in Southern Leyte; enjoy unrivaled snorkeling action with these gentle giants and dive some unspoiled walls and slopes during the week.
Tubbataha is our most popular season running from mid March through to early June - explore kilometers pristine drop offs and see just about anything.
Dumaguete is our base for the summer months of June through to September and our Visayas Safari is a unique opportunity to take in several beautiful islands in one week - something that would take several weeks, or several vacations to do any other way.
Last, by no means least, we spend October through to December based out of Puerto Galera exploring the birth place of diving in the Philippines - Anilao, and heading down to Apo Reef on the West coast of Mindoro - a hidden gem only a few get to see.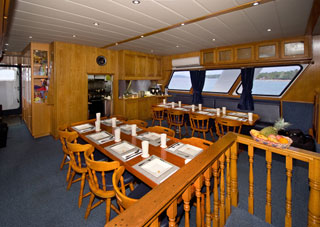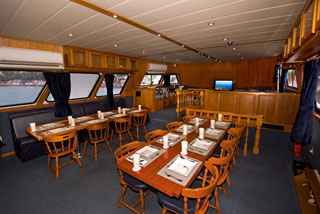 State Rooms
Azores has seven deluxe staterooms - with double and single berths, lavatory and hairdryer, private head and shower - and one suite on the top deck. Rooms are serviced daily.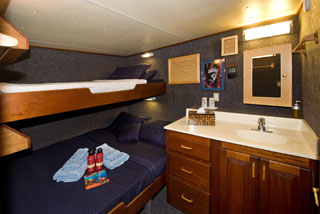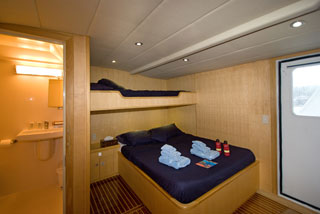 Specifications & Safety
Construction: Aluminum Monohull
Length: 107 feet; Beam: 18 feet; Draft: 7 feet, 1 inch
Cruising Speed: 10 knots
Range: 2,500 nautical miles
Year Built: 1989; Year Refit: 2000/2005
Builder: Seacraft Shipyard, Amelia, Louisiana
State Rooms: 8; Passengers: 16; Crew: (6+)
Azores captains and crew members are professionally licensed as required by the law in which the vessel operates and they are required to comply with the Standard Operations Procedures. Dive instructors and Divemasters are trained and certified by national certification agencies.
Safety:
Safety equipment includes;
First Aid Kit
Oxygen System with 100% Demand
Defibrillator
Automatic Fire Extinguishers & Fire Fighting Equipment
406 EPIRB - Emergency Position Indicating Radio Beacons on the mother boat and both zodiacs
Life Rafts
Life Jackets with lights and whistles for all passengers and crew
Full complement of Safety and Rescue equipment.
The crew conducts regular drills and rescue training.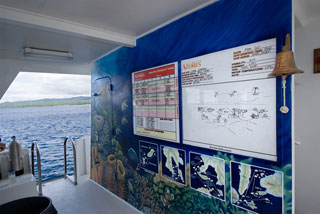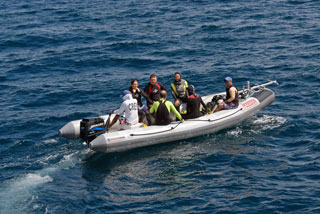 Diving
Dive Deck & Photography:
Our spacious dive deck allows you to gear up in comfort. A roomy three-tier camera table is available for photographers along with a charging station. All divers have their own storage area for dive equipment and there are fresh water showers on the back platform.
Most dives are done from two zodiac tender boats with a short ride to dives sites. Our dive team will ensure you get the best from every dive.
Courses:
The Azores offers a full range of PADI Programs; popular specialties such as Nitrox, Underwater Photography & Naturalist can be easily completed around the dive schedule.
Nitrox, Tech and Rebreathers:
Nitrox is available on all charters. Technical diving and rebreather diving is possible if pre-arranged.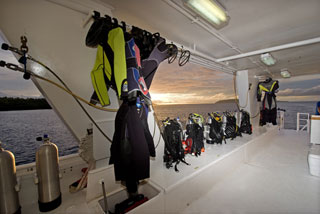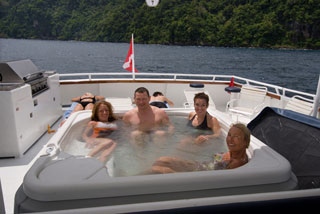 Trip Information Sheet
Trip 1: Visayas Safari - Bohol
This cruise runs out of, and back in to Atlantis Dumaguete from June through to October; take in Balicasag, Cabilao, Siquijor and other top sites from the region.
Trip 2: Visayas Safari - Southern Leyte
Between January and March this trip gives you an opportunity to explore Sogod Bay, one of the most undove and pristine parts of the archipelago... and a chance to snorkel with whale sharks. The trip departs from and returns to Cebu.
Trip 4: Anilao Safari
Long recognized by marine biologists as one of the most bio diverse parts of Asia and at the heart of the coral triangle this trip offer some great macro dives; operating out of, and back to Atlantis Puerto Galera between October and January.
Trip 5: Visayas Safari - Cebu To Sipalay
A unique chance once a year to take in the best sites around Southern Negros; from the walls of Cabilao to the reefs of Apo Island. The cruise starts from Cebu and finishes at Sipalay (with a drive back to Atlantis Dumaguete)
Trip 6: Tubbataha Reef Safari
The jewel in the crown; the huge expanses of reef are only accessible between March and June. You can literally see anything from Manta Rays to hammerheads; whitetips and turtles are seen in abundance. Our trip operates through Atlantis Dumaguete with a drive to and back from Sipalay.
Trip 7: Resort To Resort - Transition East
Transition trips are a unique opportunity to take in large parts of the Philippines on one trip; this trip takes in everything from one of the best wreck dives in the country to the beaches of Boracay; leaving from Atlantis Puerto Galera the trip finishes in Cebu
Trip 8: Resort To Resort - Transition West
The West Transition Trip starts from Atlantis Dumaguete and finishes at Atlantis Puerto Galera. On the way you'll take in spectacular reefs and walls as well as the wrecks of Coron